Ceramic Mosaic Mural Marks Vietnam-Kazakhstan's 30-Year Anniversary
A ceramic mosaic mural depicting the image of Kazakhstan, was just unveiled in Hanoi
At the launching ceremony. (Photo: Vu Khanh)
A ceramic painting, showing images of popular cultural heritages of Kazakhstan, has just been inaugurated on June 30 at the Diplomatic Academy of Vietnam's campus, with the participation of Nguyen Phuong Nga, President of the Vietnam Union of Friendship Organizations (VUFO), Kazakhstan Ambassador to Vietnam Yerlan Baizhanov, Acting President of Diplomatic Academy of Vietnam Pham Lan Dung and guests, DAV lecturers and students.
Artist Nguyen Thu Thuy, the prestigious Bui Xuan Phai award in 2008, and New Hanoi (Tan Hanoi) arts company have been assigned to complete the ceramic mosaic mural.
The mural, is 14m long, 1.8m high, and is mounted on the wall of the DAV campus, marking the 30th anniversary of diplomatic ties between the two countries (June 29, 1992-2022), said Ambassador Yerlan Baizhanov.
It was made based on the artwork painted by the famous Kazakh artist Leyla Makhat. This is to acquaint young Vietnamese diplomats with the image of Kazakhstan, which is geographically distant, but spiritually close to the country, added the diplomat.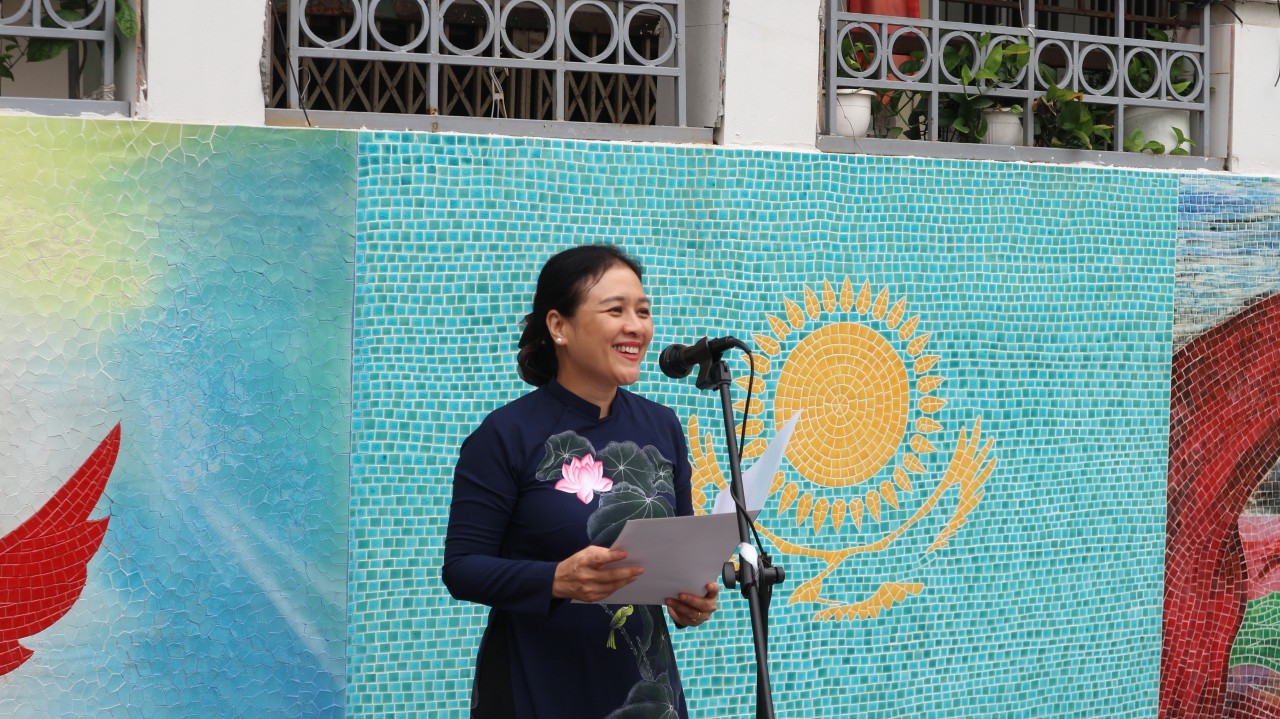 VUFO President Nguyen Phuong Nga delivers her speech at the event. (Photo: Vu Khanh)
VUFO President Nguyen Phuong Nga expressed gratitude to the Government and people of Kazakhstan for this precious gift. This is also a vivid symbol of the good relationship between the two countries.
Generations of Vietnamese people always remember and are grateful for the valuable help and support of the Kazakh people for the Vietnamese people during the years of struggle for independence and freedom as well as in the construction work. and development of the country today, Nga shared
Ambassador Baizhanov and VUFO President Nga believed that with the harmonious combination of the arts of the two ethnic groups, the mural will bring the people of the two countries, especially the young generation, closer together, and at the same time will provide more support and inspiration for the young generation of Vietnam, especially future diplomats, to continue to preserve and develop the traditional friendship and cooperation relations.
Vietnam and Kazakhstan established diplomatic relations in 1992. Vietnam is now an important trading partner of Kazakhstan in Southeast Asia. Their two-way trade has recorded constant expansion since the free trade agreement (FTA) between Vietnam and the Eurasian Economic Union took effect in 2016.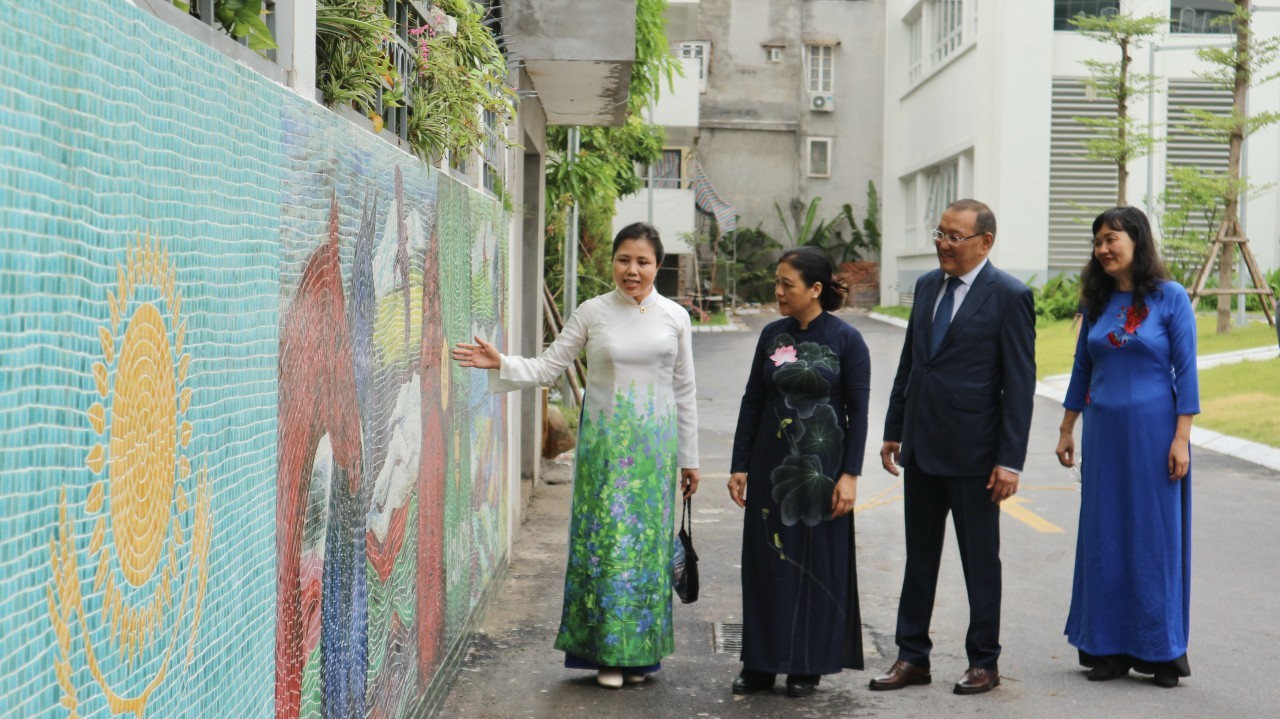 Artist Nguyen Thu Thuy introduces details on the ceramic mosaic mural to delegates. (Photo: Vu Khanh)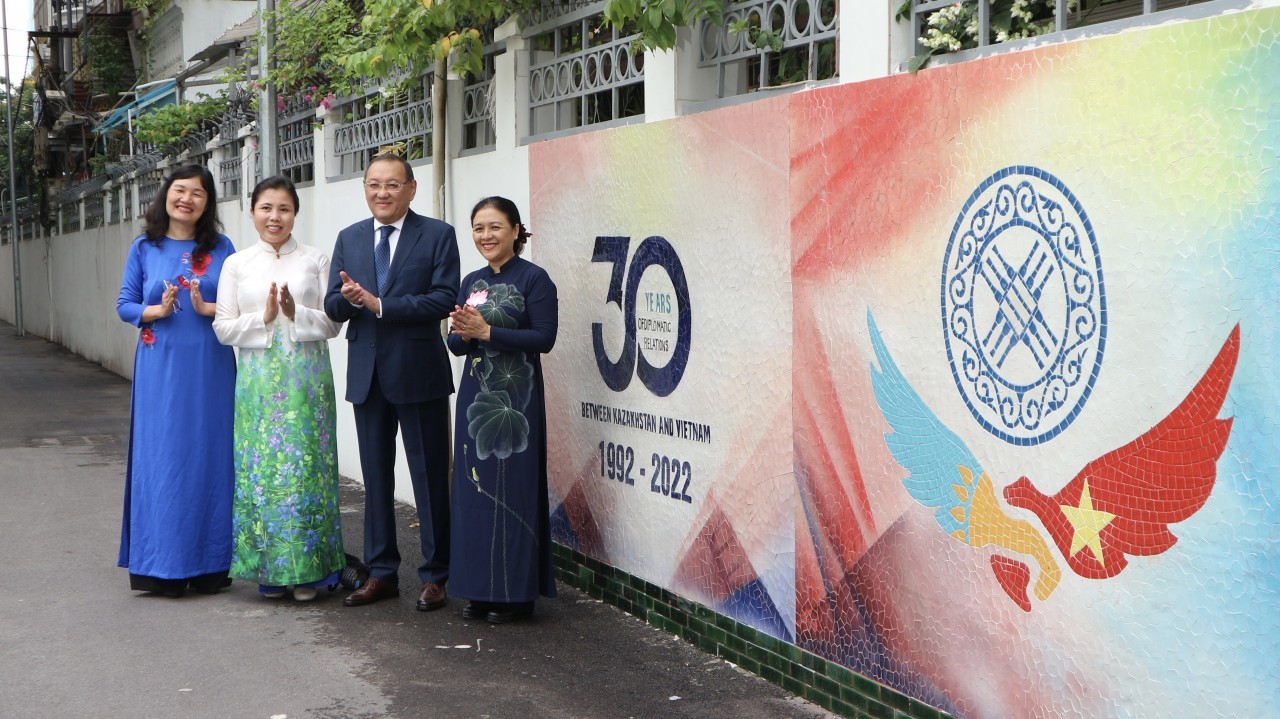 Delegates pose for a photo beside the logo marking 30th anniversary of the relations. (Photo: Vu Khanh)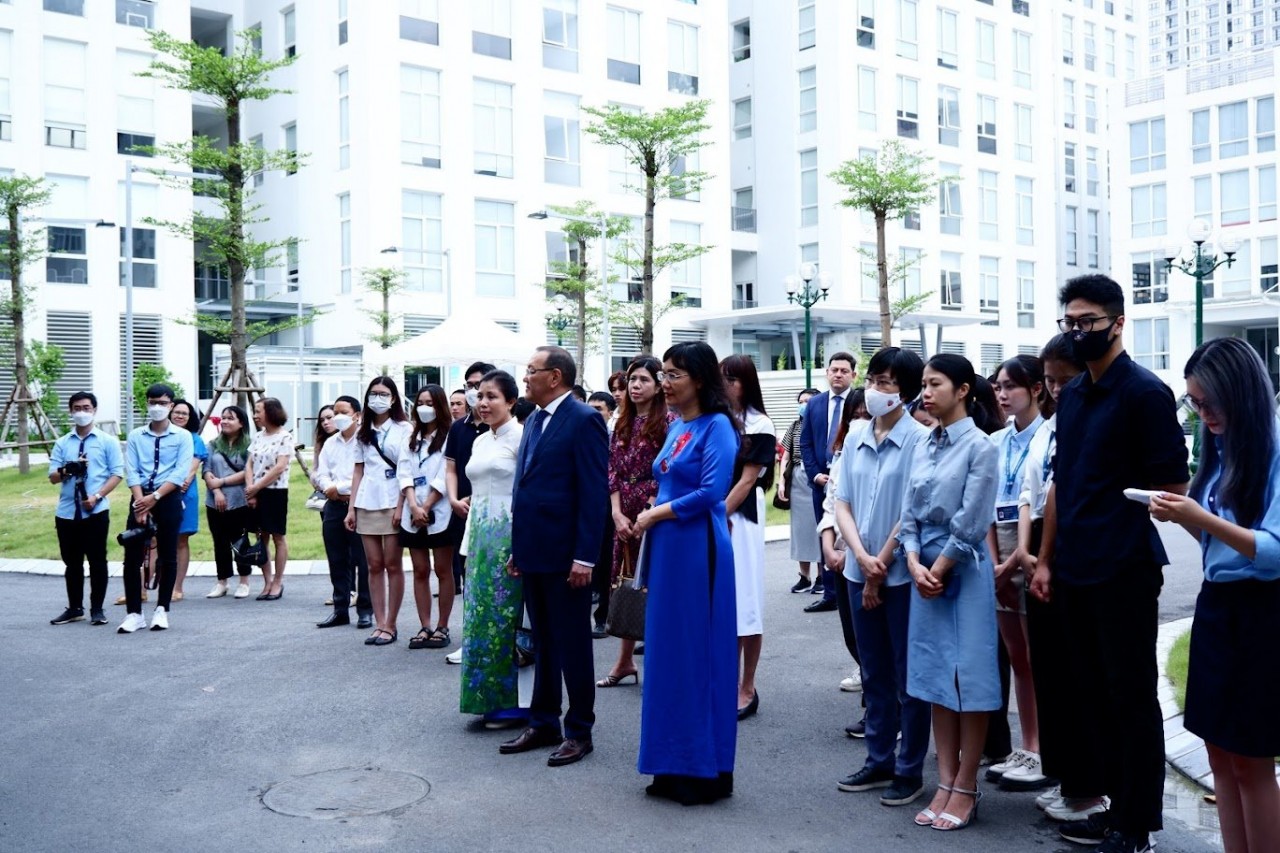 The ceramic mosaic mural is to acquaint young Vietnamese diplomats with the image of Kazakhstan, which is geographically distant, but spiritually close to the country. (Photo: Vu Khanh)