3 Vietnamese Translators Honored by Kazakhstan
Kazakhstan honors Vietnamese translators for boosting cultural ties with Kazakhstan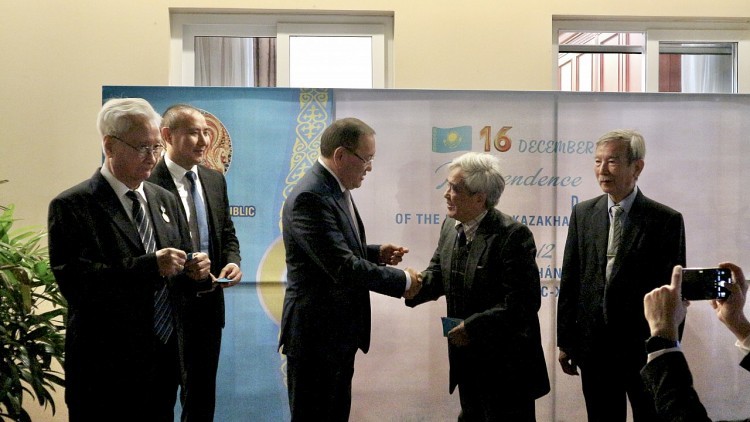 Kazakhstan highlights Vietnamese translators for boosting cultural ties with Kazakhstan. Photo: Vu Khanh
Kazakhstani Ambassador to Vietnam Yerlan Baizhanov presented several state awards of Kazakhstan to three Vietnamese writers and translators in honor of their contributions to cultural co-operation between the two nations.
The honored recipients included writer-translator Hoang Thuy Toan, translator Doan Danh Nghiep, and teachers-translators Le Duc Man.
The awards ceremony took place on the premises of the Embassy of Kazakhstan in Hanoi on Dec.10.
At the ceremony, Photo: Source: Embassy of Kazakhstan in Vietnam
According to information released by the Kazakh Embassy, translators Toan, Nghiep, and Man have contributed to increasing and developing cultural links between both sides through their involvement in a project aimed at translating the literary work "The Book of Words" features 45 short prose philosophies by Kunanbaev, addressing the issues of education, morality, rule of law and the history of the Kazakh people.
Furthermore, Toan is a famous translator who has translated many literary works from Russian into Vietnamese. At present he is the director of the Fund for the Promotion of Vietnamese Literature and Russian Literature under the Vietnam Writers Association.
In last December, The Book of Words (Những Lời Răn Của Abai in Vietnamese) has been published in Vietnam.
The Book of Words is the second Kazakh literary work published in Vietnam. The first by another Kazakh author was released in the 1970s and also featured Kunanbaev's life and career.
Currently, the translation into Vietnamese of the Kazakh historical novel "The Nomads" by Ilyas Yesenberlin has been completed, and a collection of Kazakh folk tales is scheduled to be released during Tet (Lunar New Year) holiday. In addition, in the near future, the people of Da Nang are about to see three Kazakh films.
The event featured the participation of President of the Vietnam Union of Friendship Organizations (VUFO) Nguyen Phuong Nga, Belarus Ambassador to Vietnam Goshin Vladimir Anatolyevich, researchers and scholars.
Earlier, three Vietnamese also have been awarded Certificates of Merit from the Ministry of Culture and Sports of Kazakhstan in March, in addition to teachers-translators Vu The Khoi.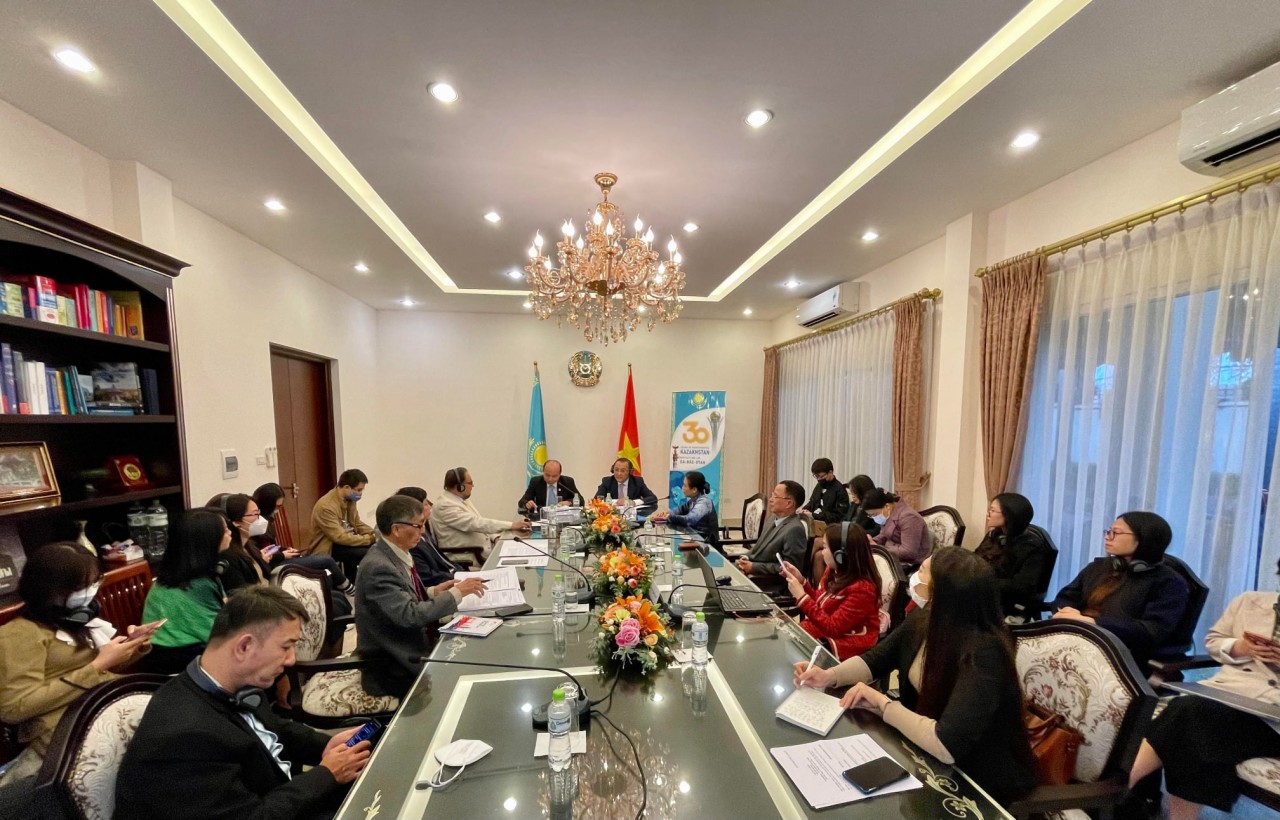 At a roundtable held on Dec. 10 in Hanoi. Source: Embassy of Kazakhstan in Vietnam
On the same day, a roundtable themed "Kazakhstan - 30 years of sustainable development" was held by the embassy of Kazakhstan in Vietnam and the Ho Chi Minh National Academy of Politics to mark Kazakhstan's Independence Day (Dec. 16), towards the 30th anniversary of diplomatic ties between the two countries (June 29, 1992-2022).
The event gathered Vietnamese diplomats, researchers and scholars propose solutions to enhance the traditional cooperative relations and friendship in the time ahead.
Kazakhstan and Vietnam moved to officially establish diplomatic relations in 1992, with the Vietnamese side opening an embassy in the capital Astana, now renamed Nur-Sultan, in 2008. Following this, Kazakhstan opened an embassy in Hanoi in 2013.