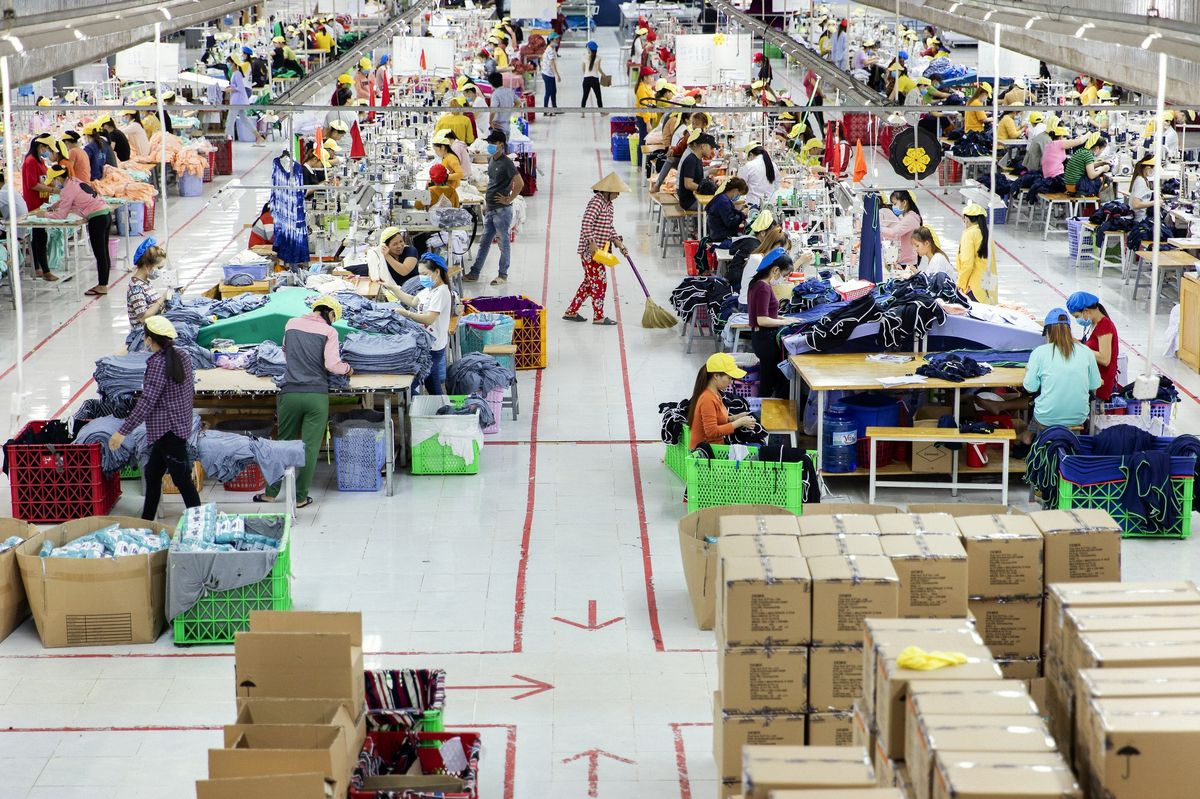 Thai Son S.P. Co. built this plant, which it calls the "Obama Factory," after President Obama signed the Trans-Pacific Partnership. Photo by Maika Elan for Bloomberg Markets
According to the General Statistics Office (GSO), Covid-19 pandemic which is still the complexity in some part of the world including Vietnam's top trade partners has hit the export and import turnover of many commodities, with overall import and export turnover reaching only US$ 238.4 billion, an annual fall of 2.1%.
VOV cited GSO statistics in the reviewed period as showing that the country recorded 22 items with an export value of over US$1 billion, representing 86.2% of total export turnover. Moreover, there are four products worth more than US$10 billion, making up 52.7% of overall export turnover.
Generally, it can be seen that the export proportion of some key products were still part of the foreign direct investment sector, in which phones and components held 91.7%; machinery, equipment, and spare parts at 70.4%, footwear at 77.8%, and garments and textiles with 58%.
With regard to the export commodity market, the United States makes up the nation's largest export market with a turnover of US$30.3 billion, an increase of 10.3% over the corresponding period from last year, followed by China, the EU, and ASEAN.
During the past six months, import turnover was estimated to stand at US$117.17 billion, marking a drop of 3% on-year, with the domestic economic sector raking in US$51.55 billion, a slight increase of 0.1 %, whilst the FDI sector stood at US$ 65.62 billion, a fall of 5.4%.
The first half of the year also saw the country register 22 import items that enjoy a value of over US$1 billion, accounting for 81.2% of total import turnover.
Most notably, the GSO outlined that the average commodity exchange rate between January and June fell by 0.78% compared to the same period in 2019, reflecting unfavorably on the Vietnamese export price to foreign countries when compared to the price of goods imported into the nation from abroad.
According to VNA, the total import-export turnover between Vietnam and China in 2019 reached $116.87 billion, of which, the former's exports were $41.41 billion and imports were $75.452 billion.
The import-export turnover between Vietnam and China increased by more than $10 billion from $106.71 billion in 2018.
The Chinese market alone accounted for 22.6 percent of the country's total import-export turnover last year.
However, the increase in turnover was mainly due to a sharp increase in imports from China, while Vietnam's exports to this market increased insignificantly.
The country's import turnover from China increased by $10 billion last year over a year ago, while export turnover increased by nearly $150 million.
Therefore, the country's trade balance with China has a very large deficit of over $34 billion.
VNT