China Nuclear Threat: Beijing Puts 'All of US in Range' with Newly Revealed Missile Bases
China has constructed hundreds of new nuclear weapon silos containing missiles able to "target the entire United States," new satellite images have revealed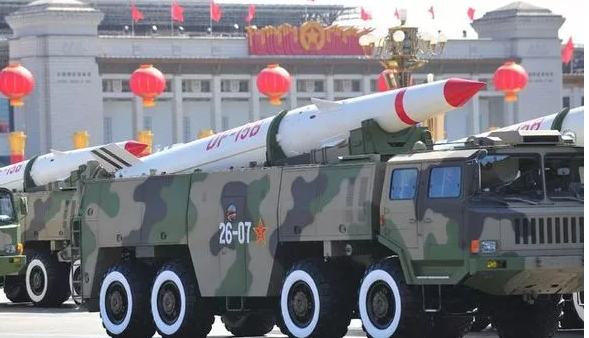 China missile threat: Beijing has rapidly expanded the military's nuclear arsenal. Photo: Express
China has constructed a vast network of bases to house the superpower's growing nuclear arsenal. Satellite images have captured what appears to be a new silo field under construction in the west of China. A nuclear nonproliferation expert has warned the US outlet Fox News that these new facilities are equipped with nuclear weapons capable of targetting the entire United States, Express UK reported.
Fox News presenter Bret Baier reported: "A second missile field capable of housing nuclear missiles that could reach the US has just been discovered in China."
"For the second time in two months, new satellite photos show China building over a hundred silos to house nuclear missiles," continued Fox News correspondent Lucas Tomlinson
"When complete it will have more than 200.
"That is half the number of land-based silos the US military has in the western United States."
Military Power: China. Photo: Global Fire Power
Nuclear nonproliferation expert Jeffrey Lewis warned the newly discovered missile launch sites were capable of "soaking up" US nuclear strikes.
He told Fox News: "What silos are great for is soaking up enemy warheads.
"If you look at China's silos, which are now in the order of 230/40, it takes at least two nuclear warheads to destroy each silo."
According to Mr Lewis, the new Chinese bases will be able to launch multiple nuclear warheads at targets over 9,000 miles away.
"Putting all of the United States in range," added Tomlinson.
It comes as Tory MP Tobias Ellwood warned Beijing will hold "all the cards" if the West fails to take action to curb the country's rise.
Mr Ellwood told Express.co.uk: "We are still coming to terms with what we need to do about China.
"In my view, this is very serious indeed, the world is splintering into two competing spheres of influence.
As reported by CBN News, researchers with the Federation of American Scientists uncovered 250 suspected nuclear missile silos under construction in a desert in China's western Xinjiang province.
China's growing nuclear stockpile was just one of many threats highlighted by a Senate Select Intelligence Committee hearing Wednesday.
"Xi Jinping has one goal: to be the geopolitical, military and economic leader in the world. Period," William Evanina, Fmr. Dir. National Counterintelligence & Security Center, told US lawmakers during the hearing.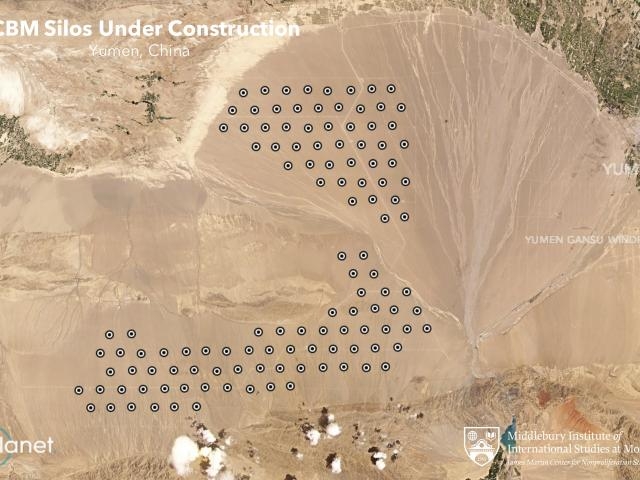 This June 4, 2021, satellite image provided by Planet Labs Inc. has been annotated by experts showing what analysts believe is a field of intercontinental ballistic missile silos near Yumen. Photo: AP
The Xinjiang Province is the same region where human rights groups believe Beijing is holding more than one million Muslim Uighurs in massive concentration camps as a part of the communist government's genocide against the ethnic minority group.
Images of a vast site in northern China also reveal multiple silos under construction. These would likely house intercontinental ballistic missiles, with each capable of carrying multiple warheads.
U.S. Strategic Command, the overseer of America's nuclear arsenal, responded to these alarming revelations tweeting: "The public has discovered what we have been saying all along about the growing threat the world faces and the veil of secrecy that surrounds it."
China already has 350 nuclear warheads – an arsenal the Pentagon believes will double over the next decade.
It's more evidence of China's increasingly assertive military ambitions under President Xi Jinping.
In an address to the US intelligence community last week, President Joe Biden said China is "deadly earnest about becoming the most powerful military force in the world, as well as the largest and most prominent economy in the world by the mid-forties, 2040s."
Committee members also heard witnesses tell how China is burrowing into almost every facet of American life – from academia to Hollywood and private enterprises, to state and local governments, experts say Beijing's influence runs deep and wide.