China Pledges $3.1 Million to Vietnam for Covid Fight
Foreign Minister Bui Thanh Son (L) meets his Chinese counterpart, Wang Yi, in Huzhou, China, on December 2, 2021. Photo by Vietnam Ministry of Foreign Affairs
/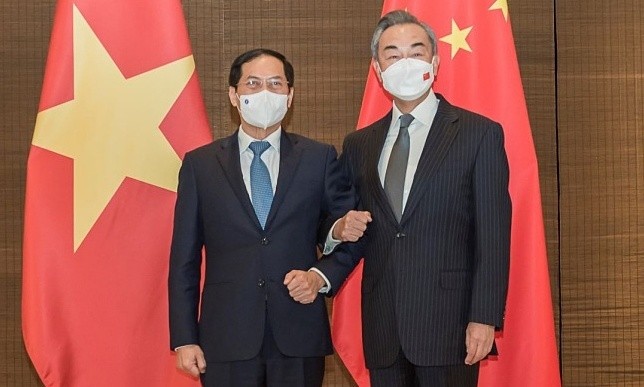 Foreign Minister Bui Thanh Son (L) meets his Chinese counterpart, Wang Yi, in Huzhou, China, on December 2, 2021. Photo by Vietnam Ministry of Foreign Affairs/ via VNE
China has promised to provide Vietnam with financial support and vaccines to help combat the Covid-19 pandemic.
Foreign Minister Wang Yi on Thursday told his Vietnamese counterpart, Bui Thanh Son, that China would give 20 million yuan, equivalent to $3.1 million, to Vietnam to buy medical equipment and other supplies and 500,000 doses of vaccines, according to VNE.
The two leaders were meeting at Huzhou city during the course of Son's official visit from December 2 to 4, a press release of Vietnam's Ministry of Foreign Affairs said.
The two sides also discussed economic issues, hailing the fact that despite Covid their trade in the first 10 months of the year was up 30 percent year-and-year and higher than the figure for the whole of 2020 at $133.65 billion.
Son called on the Chinese side to ease customs procedures for Vietnamese goods, especially agricultural products, at border gates to avoid congestion at the end of the year and increase the number of fruits Vietnam could export to China to help balance their trade and sustain their supply chains.
Speaking about border and territorial issues, the two ministers agreed to strictly abide by legal documents, coordinate to manage land borders, discuss and handle problems that could arise in a timely manner, and jointly build a border of peace, cooperation and development.
They also promised to continue to strictly adhere to their common perception of maritime issues and the "Agreement on basic principles guiding the settlement of maritime issues" signed in 2011, and cooperate to settle disputes at sea and maintain peace and stability in the South China Sea, known in Vietnam as the East Sea.
They agreed to fully and effectively implement the Declaration on the Conduct of Parties and negotiate to develop an effective and substantive Code of Conduct in accordance with international laws like the United Nations Convention on the Law of the Sea.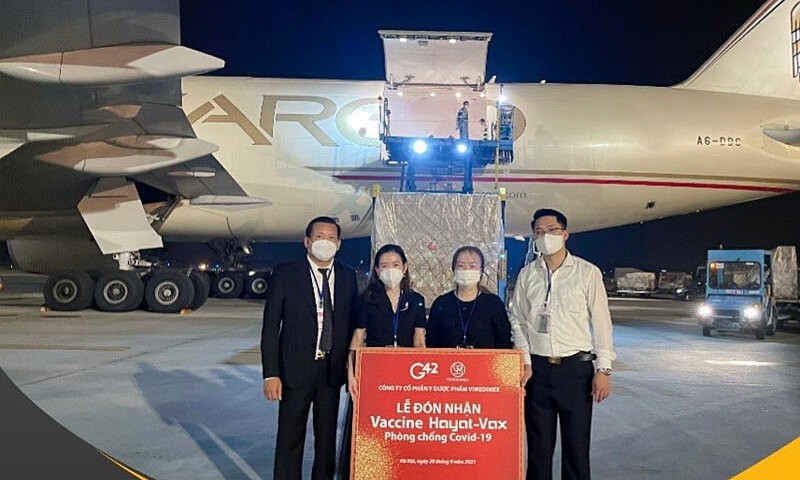 Representatives of Vietnamese pharmaceutical firm Vimedimex receive a batch of one million doses of the Hayat-Vax Covid-19 vaccine at Hanoi's Noi Bai airport, September 29, 2021. Photo by Vimedimex/ via VNE
In August, Vietnam thanked China Tuesday for assisting the nation's Covid-19 fight with two million doses of vaccine against the disease.
Accordingly, in a meeting with Chinese Ambassador Xiong Bo in Hanoi, Prime Minister Pham Minh Chinh said he wished Vietnam and China will strengthen exchanges and bilateral cooperation, including cooperation in the Covid-19 fight.
A press release by the Ministry of Foreign Affairs also said that the PM thanked China for its valuable and timely support with a donation of two million Covid-19 vaccine doses, saying it showcased the cooperative spirit between the two countries.
He also wished that China continues its support for Vietnam by providing more vaccine doses, transferring production technology for vaccines as well as drugs for Covid-19 treatment; and sharing experiences in fighting the pandemic.
Xiong Bo said China values its relationship with Vietnam and was willing to consider supporting Vietnam with more Covid-19 vaccine doses in the future.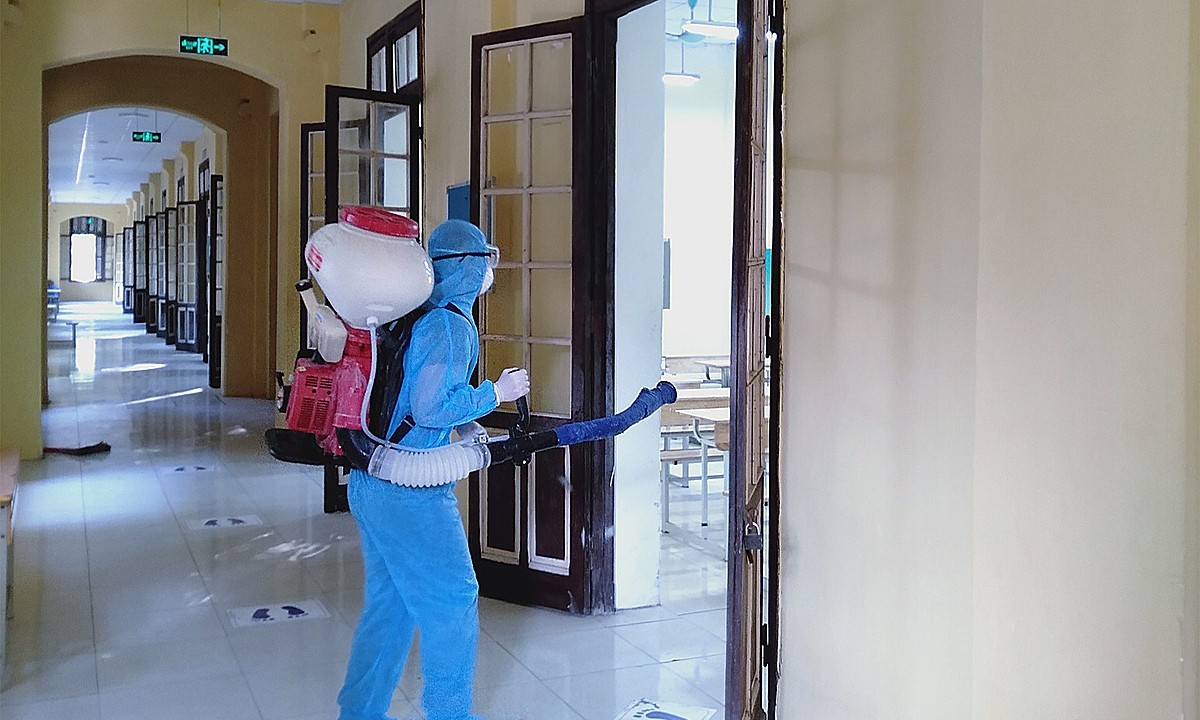 A staff member disinfects a classroom at Hanoi's Phan Dinh Phung High School, preparing for the return of students, Dec. 3, 2021. Photo: VNE
The Health Ministry reported 14,321 new Covid-19 cases in 61 provinces and cities Sunday, pushing the ongoing wave's tally to nearly 1.3 million cases.
The three localities with the highest number of new cases were Ho Chi Minh City with 1,491 cases, Can Tho with 1,132, and Tay Ninh with 792 cases.
Hanoi recorded 400 new cases on Sunday
The Covid-19 death toll in Vietnam rose to 26,220 with the confirmation of 199 deaths on Sunday.
Health authorities also confirmed 1,711 recoveries the same day, bringing the total tally of recovered cases so far to 1,009,277.
Almost 54.1 million people of the nation's 96-million population have been fully vaccinated.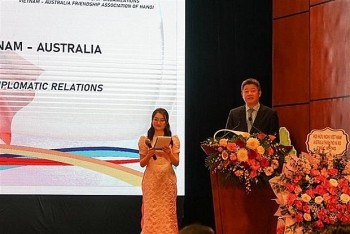 Friendship
A friendship exchange programme has been held recently in Hanoi to celebrate the 50th founding anniversary of the Vietnam-Australia diplomatic relations (February 26).