China urges US to immediately withdraw or faces proper response
Analysts expect the Chinese government to respond by ordering one of them closed.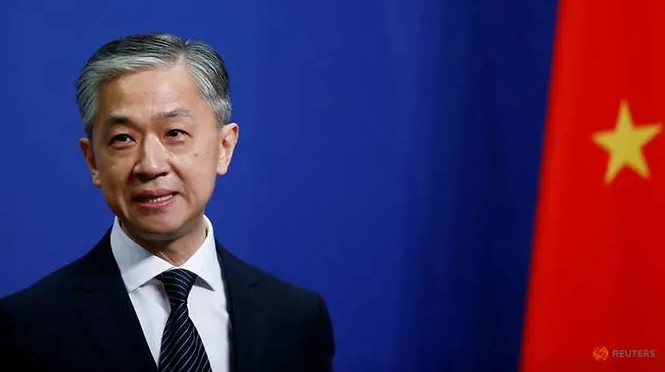 New spokesman for Chinese Foreign Ministry Wang Wenbin speaks during a news conference in Beijing, China July 17, 2020. REUTERS/Tingshu Wang
China on July 22 condemned what it said was an unprovoked order by the US to close its consulate in Houston city of Texas state, vowing to retaliate, reports USA Today.
"China urges the US to immediately withdraw its wrong decision, or China will definitely take a proper and necessary response," said foreign ministry spokesman Wang Wenbin, adding that they were told that the consulate must be closedwithin 72 hours.
"It is a political provocation unilaterally launched by the US side, which seriously violates international law ... and the bilateral consular agreement between China and the US."
Analysts expect the Chinese government to respond by ordering one of them closed.
The state-backed tabloid Global Times already started polls on Twitter and its Chinese equivalent, Weibo, asking: "Which US consulate general in China is most likely to be closed?" It gave four options: "Hong Kong and Macao, Guangzhou, Chengdu or other."
On Twitter, its editor Hu Xijin said that Beijing had been given 72 hours to close the consulate. "This is a crazy move," he added.
Spokeswoman Morgan Ortagus said the US would not tolerate Chinese violations of their "sovereignty and intimidation of our people, just as we have not tolerated the PRC (People Republic of China)'s unfair trade practices, theft of American jobs, and other egregious behavior."
"We have directed the closure of PRC Consulate General Houston, in order to protect American intellectual property and Americans' private information," she said, without giving any more details.
The Chinese Consulate in Houston was opened in 1979 - the first in the year the US and the People's Republic of China established diplomatic relations, according to its website.
The website says the office covers eight southern US states - including Texas and Florida - and has nearly one million people in the area registered at the consulate.
There are five Chinese consulates in the US, as well as an embassy in Washington.
Meawhile, in addition to its embassy in Beijing, the United States has consulates in Shenyang, Shanghai, Wuhan, Chengdu and Guangzhou.
Wang said the consulate was operating normally but did not reply to questions about US media reports in Houston that documents were being burned in a courtyard at the consulate.
"The US has far more diplomatic missions and staff working in China. So if the US is bent on going down this wrong path, we will resolutely respond," Wang said.
The Chinese Foreign Ministry urged the United States to withdraw it.
The statement goes on to say the US has been "shifting the blame to China with stigmatization and unwarranted attacks against China's social system, harassing Chinese diplomatic and consular staff in the US, intimidating and interrogating Chinese students and confiscating their personal electrical devices, even detaining them without cause."
It added "China is committed to the principle of non-interference. Infiltration and interference is never in the genes and tradition of China's foreign policy."
Wang accused the US of opening Chinese diplomatic pouches without permission multiple times, confiscating Chinese items for official use and imposing restrictions on Chinese diplomats in the US last October and again in June. He also said that US diplomats in China engage in infiltration activities.
"If we compare the two, it is only too evident which is engaged in interference, infiltration and confrontation," Wang said.
He also said that the Chinese Embassy in Washington has received bomb and death threats, and accused the US government of fanning hatred against China.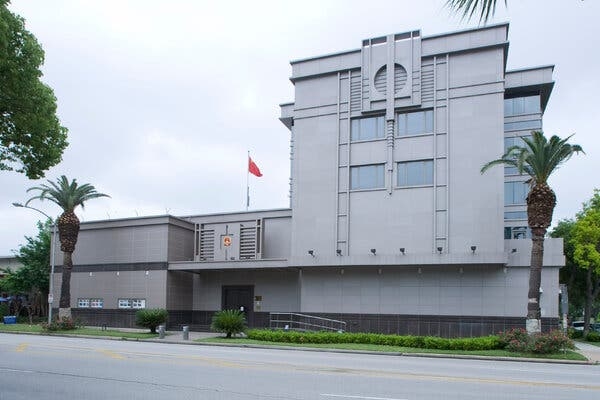 The Chinese Consulate in Houston. Source: The New York Times
Burning paper?
Houston NBC affiliate KPRC2 aired video showing people in the courtyard of the consulate apparently burning documents after 8 pm local time on July 21.
Police and fire officials went to the scene in response to calls from neighbors but, in accordance with diplomatic rules, did not enter the building, the television station reported.
"You could just smell the paper burning," a witness at the scene told KPRC 2. "But, all the firefighters were just surrounding the building. They couldn't go inside."
Witnesses in nearby apartment buildings told police that people were burning paper in what appeared to be trash cans, a police official told the Houston Chronicle.
"It appears to be open burning in a container within the courtyard of the Chinese consulate facility. It does not appear to be an unconfined fire but we have not been allowed access," Houston fire department chief Samuel Pena was quoted as saying by KTRK, an ABC television affiliate.
Secretary of State Mike Pompeo declined to explain what triggered the decision when pressed on the matter during a news briefing in Copenhagen, where he was meeting with Danish officials. But he raised long-standing US accusations that China's government is stealing American intellectual property.
Republican Sen. Marco Rubio of Florida, the acting chair of the Senate Intelligence Committee, wrote on Twitter on July 22 that closing China's consulate in Houston "needed to happen," and claimed it is a "central node of the Communist Party's vast network of spies", reports CNN.
In an interview with Fox News, Rubio said its normal procedure to start destroying documents when an embassy or consulate is closed.
"For us, the Marines are in charge of doing that if someone closes our embassy. So they'll burn documents and shred documents and destroy computers and so forth," he said. He said he expects China to close a US diplomatic facility in China in retaliation.
The development is another fissure in the increasingly fraught relations between the two countries.
Last week, US President Donald Trump signed legislation and an executive order to hold China accountable for the "oppressive" national security law it imposed on Hong Kong.
In addition, last week Pompeo annouced that the US formally declared Beijing's pursuit of territory and resources in South China Sea (known as Bien Dong Sea in Vietnam) as illegal, marking the turning point as Washington officially directs to Beijing's ambition to assert control in the strategic waters.
Pompeo then urged the "entire world" to stand up to China on July 21 during a visit to Britain.
Washington has also banned telecom giant Huawei and seeking the extradition from Canada of top company executive Meng Wanzhou.
Decade-long cyber espionage campaign
According to Reuters, the US Justice Department on July 21 indicted two Chinese nationals over their role in what the agency called a decade-long cyber espionage campaign that targeted defence contractors, COVID-19 researchers and hundreds of other victims worldwide.
US authorities said Li Xiaoyu and Dong Jiazhi stole terabytes of weapons designs, drug information, software source code, and personal data from targets that included dissidents and Chinese opposition figures. They were contractors for the Chinese government, rather than full-fledged spies, US officials said.
US Assistant Attorney General for National Security John Demers said at a virtual press conference the hackings showed China "is willing to turn a blind eye to prolific criminal hackers operating within its borders".
Officials said the probe was triggered when the hackers broke into a network belonging to the Hanford Site, a decommissioned US nuclear complex in eastern Washington state, in 2015.
Li and Dong were "one of the most prolific group of hackers we've investigated," said FBI Special Agent Raymond Duda, who heads the agency's Seattle field office.
A July 7 indictment made public on Tuesday alleges that Li and Dong were contractors for China's Ministry of State Security (MSS)./.