US Ambassadors in ASEAN countries debunk China's ambition in Bien Dong Sea
Several US Ambassadors in ASEAN countries have raised its voice to respond to the US' rejection of Beijing's mostly unlawful sovereignty claims in the South China Sea (called Bien Dong Sea in Vietnam).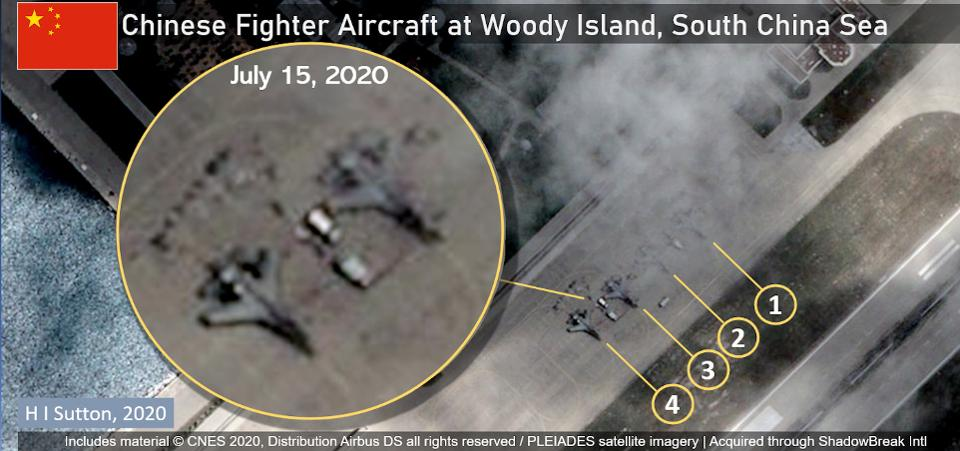 Chinese fighter aircraft deployed to the disputed Phu Lam (Woody) Island in Bien Dong Sea on July 15, 2020. Photo: Forbes
Erosion of Sovereignty
In an article published in The Irrawaddy on July 18, George Sibley, Chargé d'Affaires at the US Embassy in Myanmar, stressed, "at this time of shared struggle across the world, the People's Republic of China (PRC) has continued its crackdown on democracy and disrespect for other nations' sovereignty."
According to the US diplomat, the PRC continued its unprecedented campaign to undermine the sovereignty of ASEAN countries in the South China Sea. For Myanmar, he wrote, these disputes may seem far away, but there are part of a larger pattern in Beijing's actions to undermine the sovereignty of its neighbors. China's actions in the South China Sea alarm the United States and others because "these kinds of actions—breaking promises, ignoring the well-being of smaller nations, rewriting history—can happen anywhere."
He recalled the strong statement to resolve territorial disputes in the South China Sea in line with international law of Southeast Asian leaders at the June 26 ASEAN Summit and the fact that South China Sea Arbitral Tribunal rejected Beijing's maritime claim as a violation of international law. Despite this—and with limited or no consultation with ASEAN claimants—China has deployed arbitrary fishing bans and harassed ships in the South China Sea.
It has continued to block ASEAN countries from accessing resources off their coasts, including vast reserves of oil and gas and some of the world's richest fisheries—the very livelihood of millions who call Southeast Asian coastal communities home, Sibley pointed out.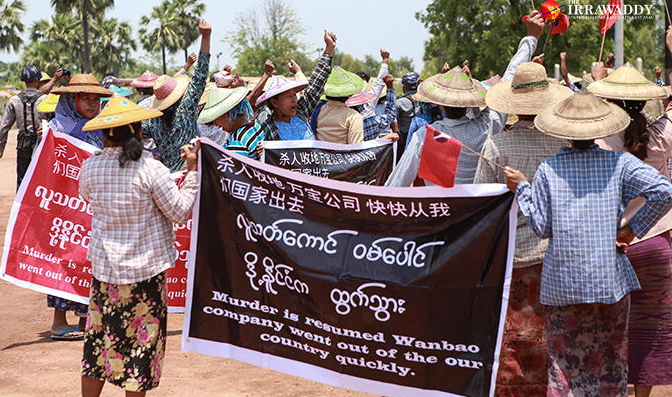 Myanmar's local farmers protest against a Chinese-backed copper mining project at Letpadaung in Sagaing Division's Salingyi Township in May 2016. Photo: Myo Min Soe / The Irrawaddy
He highlighted the reality that China has used similar behavior to intimidate, threaten, and undermine Myanmar sovereignty. "Instead of demarcating fisheries, it takes the shape of unregulated banana plantations in Kachin State that thrive on forced labor and damage the environment. Instead of spurious maritime claims, it takes the shape of unregulated investment and corruption in the mining and forestry sectors. Instead of island-building, it takes the shape of infrastructure projects and special economic zones that pile on debt and cede regulatory control, and benefit China far more than they do the people of Myanmar.
This is how modern sovereignty is often lost—not through dramatic, overt action, but through a cascade of smaller ones that lead to its slow erosion over time," Sibley underlined in his lengthy article.
Disregard For Int'l Laws
Meanwhile, US Ambassador to Thailand Michael George DeSombre focused attention on the tactics of coercion, subversion and disinformation used in the South China Sea and how the PRC may use these tools elsewhere in the Indo-Pacific region.
China is exploiting others' distraction to extend its bullying campaign in the South China Sea as the world focuses on the fight against COVID-19, he wrote in an article releasing on July 14 in Bangkok-based news site Khaosod English.
He casted our mind back to a series of questionable and wrongful actions of China in recent months, such as bolstering its military bases in the Truong Sa (Spratly) archipelagos with new aircraft deployments and "research stations," dispatching an energy survey vessel and arming flotilla to intimidate Malaysian offshore oil and gas work, and provoking Indonesia by sending hundreds of fishing boats and escorts into waters off Indonesia's Natuna Island. After that, Beijing event warned that anyone bucking its ridiculous claims to sovereignty over the South China Sea is "doomed to fail."
DeSombre emphasized those actions "fit a pattern. Where the PRC goes, it can increasingly be expected to flout the rules, make up its own facts, and break its promises," using the Mekong River and the PRC's spree of upstream dam building to control downstream flows for greater profits as examples.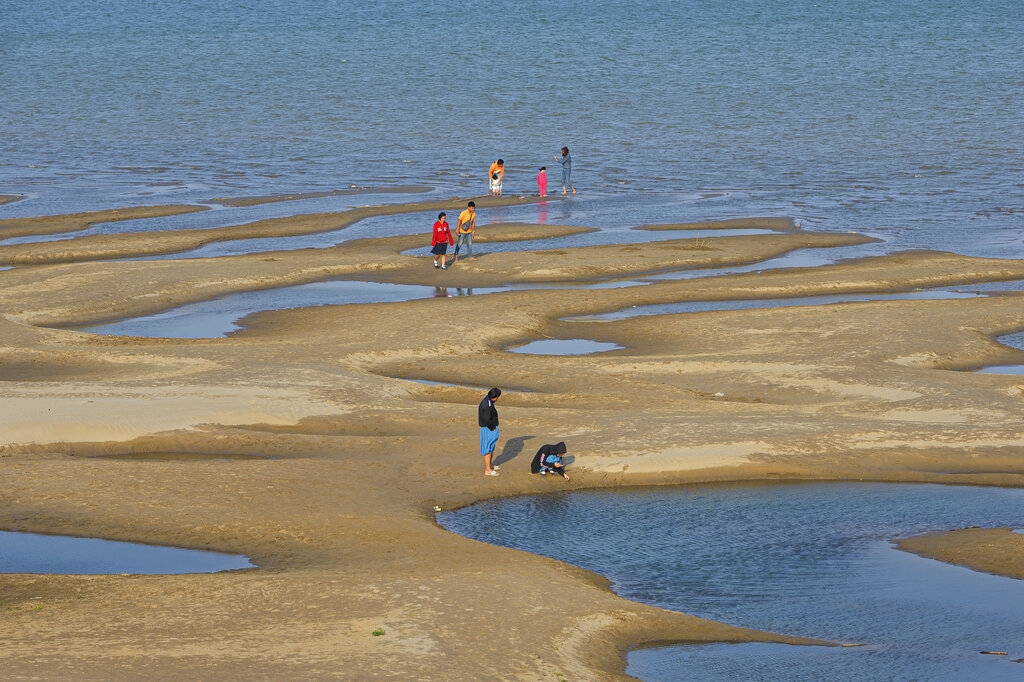 In this Dec. 4, 2019, photo, sightseers plays on a sandbar in the Mekong River in Nakhon Phanom province, northeastern Thailand. Photo: Chessadaporn Buasai / AP
China's actions in the South China Sea also have a direct impact on Thailand, he stressed, the value of Thailand's trade in goods regularly exceeds 80 percent of GDP (nearly half a trillion US dollars' worth of goods), and Thailand's farmers, manufacturers, and consumers rely on free navigation of these waters.
"The reckless actions to assert control over the South China Sea threaten to undermine regional stability and limit the freedom of navigation that has been a key driver of growth for Thailand and the region," DeSombre stated.
He did not forget to lay stress on China's unlawful claims in the South China Sea, saying these "have no basis in international law. Some even lack any basis in reality"; and the fact that China, as party to the United Nations Convention on the Law of the Sea (UNCLOS), was obligated to comply, but instead dismissed the ruling of the South China Sea Arbitral Tribunal (rejecting Beijing's maritime claim as a violation of international law) as a "scrap of paper."
Beijing's conduct in the South China Sea reflects its complete disregard for the sovereign rights of other nations, the US diplomat said.
"At the root of all these actions is a belief within the PRC that 'might makes right,' and that rules don't apply to them," he continued.
Marine Conservation Begins With Securing Territorial Integrity
The third diplomat of the US raised his voice is US Ambassador to the Philippines Sung Kim. In his article published on July 15 in Manila Bulletin, the nations' leading newspaper, Kim repeated Secretary of State Mike Pompeo's Declaration on the US Position on Maritime Claims in the South China Sea, saying "Beijing's harassment of Philippine fisheries and offshore energy development within those areas is unlawful, as are any unilateral PRC actions to exploit those resources.
Under the 2016 Arbitral Tribunal Award, which is final and legally binding, the Philippines enjoys sovereign rights and jurisdiction with respect to the natural resources in its Exclusive Economic Zone (EEZ). As the country's Secretary of Foreign Affairs Teodoro L. Locsin, Jr remarked this weekend on the anniversary of the ruling, "The arbitral tribunal's award of 12 July 2016 represents a victory, not just for the Philippines, but for the entire community of consistently law-abiding nations."
Kim placed the emphasis on marine conservation which have to begin with securing territorial integrity. "When any nation uses coercion, subversion, disinformation, and other underhanded tactics to further its position in the South China Sea, it denies our friends and partners the right to build a sustainable future," he said while affirming "the US remains committed to fly, sail, and operate wherever international law allows, and will continue to defend the right of freedom of navigation in international waters and airways."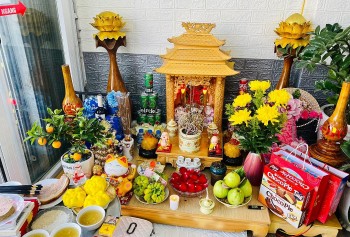 Handbook
Learn more about an ancient Vietnamese tradition that may bring you good fortune!