China's amphibious assault ship sails into the South China Sea (Bien Dong Sea)
The first of China's new Type 075 landing helicopter dock (LHD) appears to have recently embarked on a second round of sea trials—this time in the
South China Sea
(called Bien Dong Sea in Vietnam).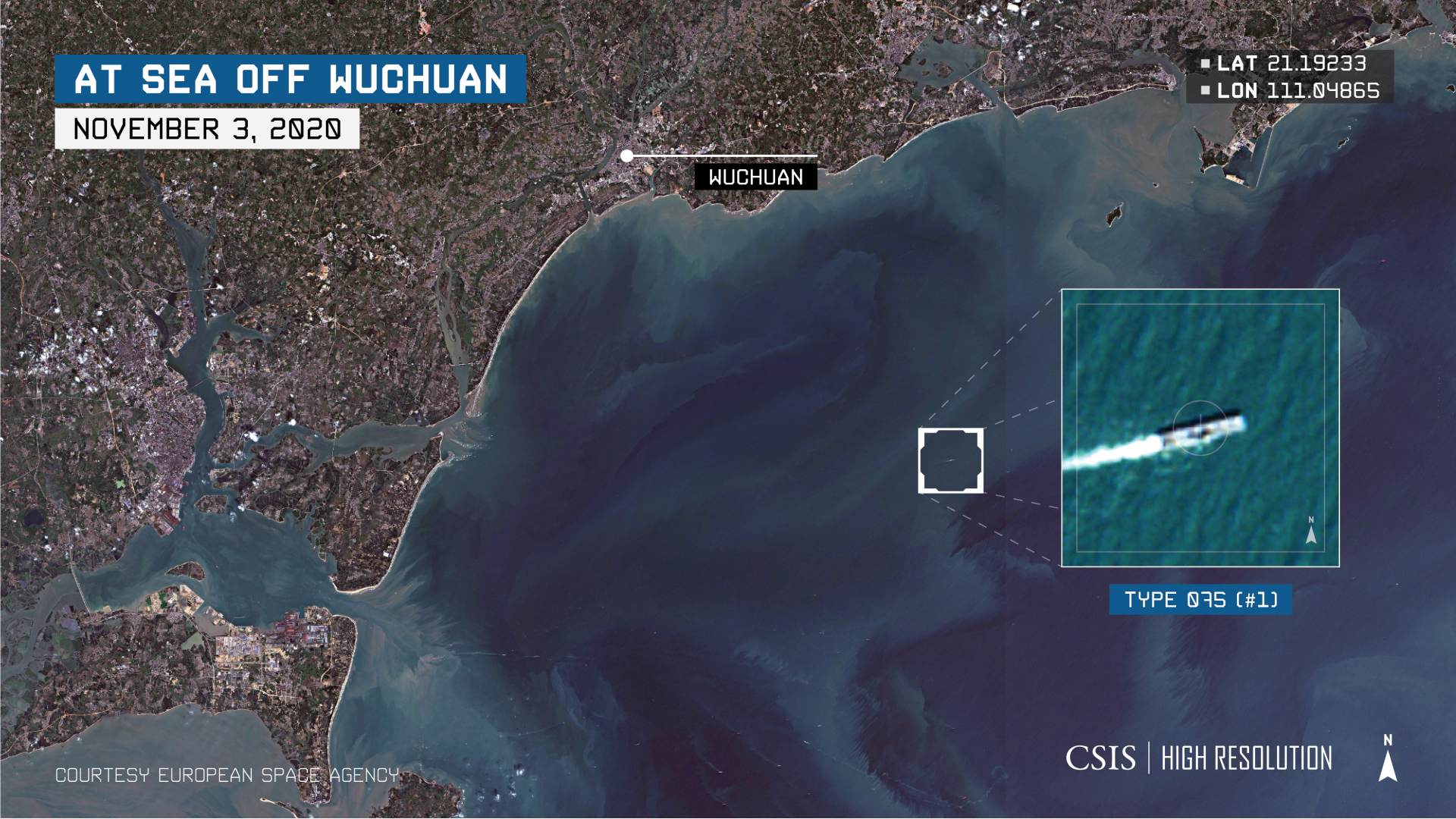 Satellite imagery captured the Type 075 in the waters near Wuchuan on November 3. Photo: CSIS
The first of China's new Type 075 landing helicopter dock (LHD) appears to have recently embarked on a second round of sea trials—this time in the South China Sea (called Bien Dong Sea in Vietnam).
The amphibious assault vessel left Hudong–Zhonghua Shipyard in early October and remained in the Shanghai area for nearly three weeks before sailing south, according to a commentary published on the website of the US's the Centre for Strategic and International Studies (CSIS) on November 24.
Toward the end of October, the Type 075 arrived some 1,250 nautical miles away, near China's southern coast. Satellite imagery captured the Type 075 in the waters near Wuchuan on November 3 and moored at Yulin Naval Base on November 12. Subsequent imagery from November 17 showed the Type 075 had been joined by a support group of at least five vessels.
The vessel measures an estimated 237 meters in length and displaces between 35,000 and 40,000 tons, making it smaller than the Wasp- and America-class ships of the U.S. Navy—but still one of the largest amphibious assault ships in the world.
The Type 075 features a full-length flight deck for helicopter operations, which in time could also serve as a platform for short takeoff and vertical landing aircraft, should China develop a reliable airframe for that environment. A floodable well deck situated in the stern of the vessel allows hovercraft and other vehicles to disembark. It is reported that the Type 075 will carry approximately 900 troops.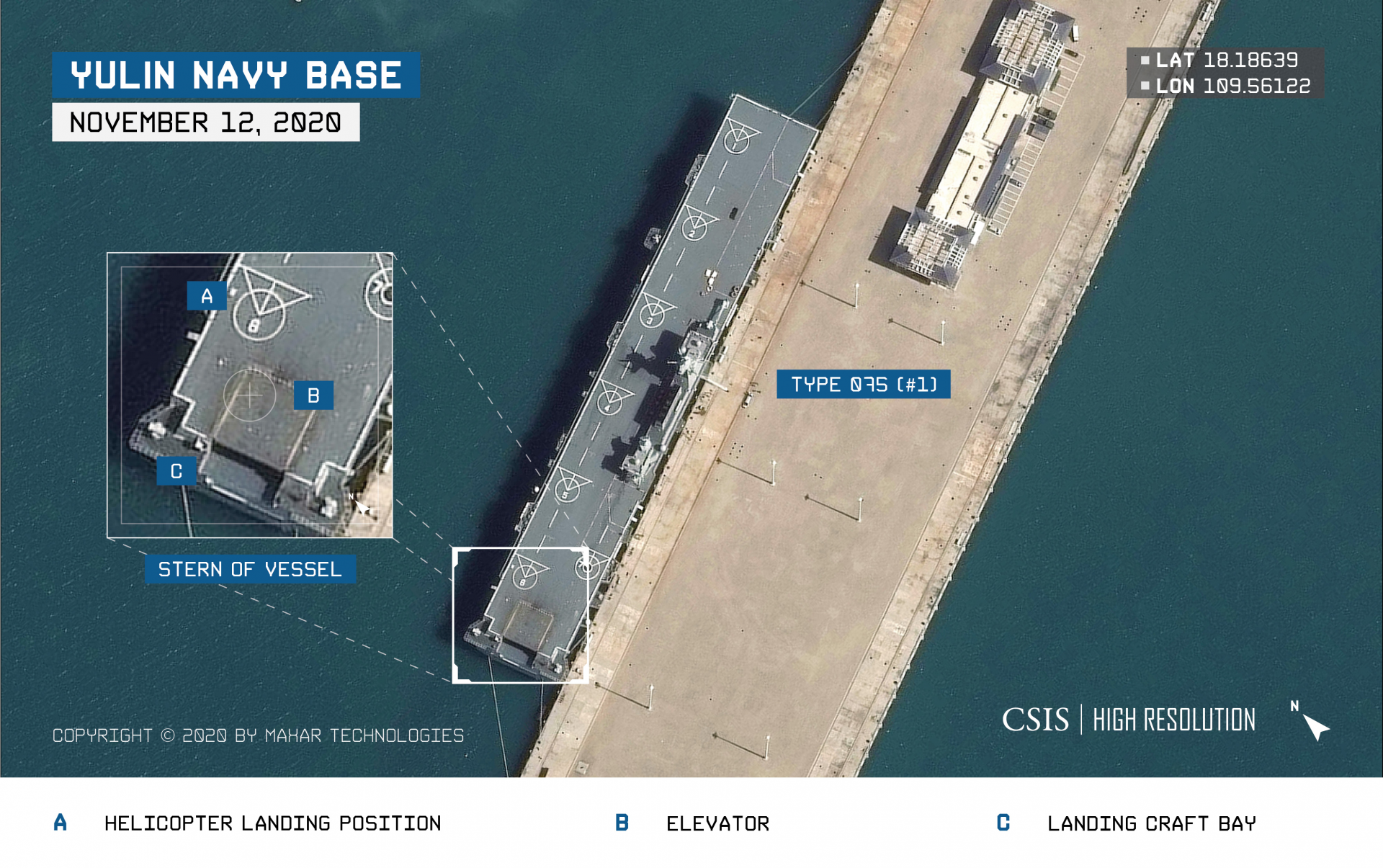 Satellite imagery captured the Type 075 moored at Yulin Naval Base on November 12. Photo: CSIS
It remains unclear how exactly the People's Liberation Army Navy (PLAN) will employ the Type 075, but it is a flexible platform suited for a variety of roles. In addition to bolstering China's ability to carry out amphibious operations, the Type 075 (in particular, the helicopters it carries) could be charged with conducting anti-submarine warfare and supporting anti-piracy missions. The Type 075 may also provide critical support to humanitarian assistance and disaster relief efforts.
Several additional sea trials will likely be conducted before the ship is commissioned into the PLAN, which could occur sometime next year. There are two other Type 075 are currently under construction, and it is likely that all three will be commissioned into the PLAN by 2025, the commentary said.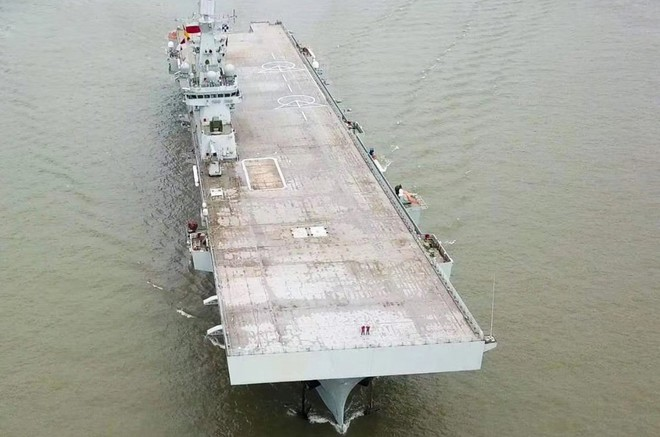 Type 075 in a trial in August. Photo: South China Morning Post
Global Times on November 25 also said the PLAN recently sent three Type 071 amphibious dock landing ships, and multiple Type 022 stealth missile boats to two exercises in the South China Sea.
The three ships, the Wuzhishan, Kunlunshan and Changbaishan, conducted a four-day maritime training exercise, which focused on 10 subjects including comprehensive defense and the transfer of landing craft air cushions, live-fire operations and visit, board, search and seizure operations, eng.chinamil.com.cn, an English-language news website sponsored by the Chinese People's Liberation Army (PLA), reported.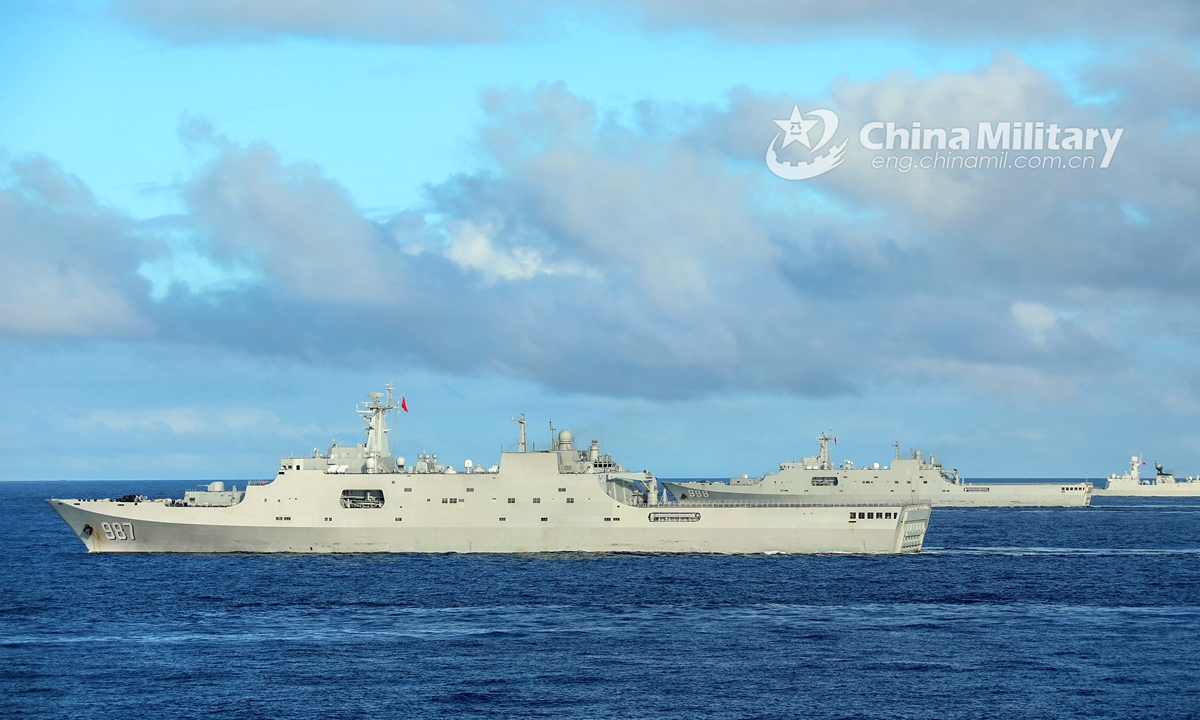 The amphibious dock landing ships Wuzhishan (Hull 987), Kunlunshan (Hull 998) and Changbaishan (Hull 989) attached to a landing ship flotilla with the navy under the PLA Southern Theater Command steam alongside in waters of the South China Sea during a maritime training exercise on November 18, 2020. (eng.chinamil.com.cn/Photo by Liu Jian)
As many as three Type 071 amphibious dock landing ships operating together should be considered a very powerful landing force, and the exercise could be simulating a mission to land on a large island or a large group of islands and reefs, a Beijing-based military analyst told the Global Times on the condition of anonymity.
In a separate event also in the South China Sea, a flotilla of Type 022 stealth missile boats conducted a real combat scenario drill, with the catamarans training in comprehensive attack and defense, air defense and anti-terrorism, China Central Television (CCTV) reported.
The Type 022 is fast, flexible, stealthy and powerful, which are characteristics making it suitable for coastal defense missions against hostile middle-sized and large ships and combat groups from outside of the defense zone, but it can also confront hostile aircraft and cover larger ships in high sea operations, CCTV said./.