Chinese aircraft landing at Fiery Cross Reef, Vietnam urges parties not to further complicate situation
Given the current regional and international context, Vietnam urges parties not to take actions to further complicate the situation in the East Sea, stressed Foreign Ministry Spokesperson Le Thi Thu Hang.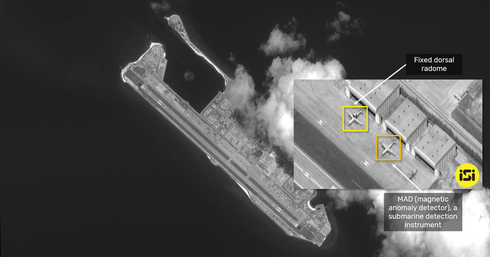 A satellite image published by ISI
Hang made the statement at a press briefing on May 14 while answering reporters' query regarding Vietnam's reaction to the satellite images published by ImageSat International (ISI) of Israel that held that KJ-500 and KQ-200 spy planes alongside Z-8 helicopter appeared at Fiery Cross Reef which belongs to Vietnam's Truong Sa (Spratly) archipelagoe.
Vietnam's Foreign Ministry says China's dispatch of military aircraft to the Fiery Cross Reef on Vietnam's Spratly Islands is an illegal act.
It has also asked Beijing to refrain from further complicating the situation.
"I would like to reaffirm that Vietnam has sufficient historical evidence and legal ground to assert its sovereignty over Hoang Sa (Paracel) and Truong Sa (Spratly) islands in accordance with international law. All activities of parties in the two islands without the country's permission arenull and void," the official said.
China seized the Paracel Islands from South Vietnam by force in 1974, and has since been occupying them illegally. China also formed what's called the "Sansha City" on the Woody Island since 2012, with the intention of taking control of islands in the East Sea.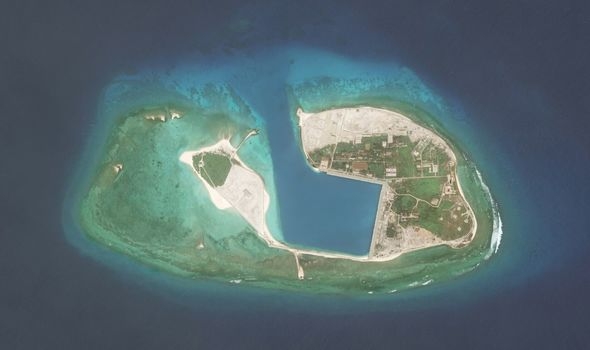 Satellite images show a PLANAF at the Fiery Cross Reef (Image: GETTY )
Israeli ImageSat International (ISI) on April 23 posted on its Twitter account a satellite image taken on April 10 of China's KQ-200 maritime patrol aircraft on the Fiery Cross Reef, which is the seat of China's so-called "Nansha" administrative district spanning the entire Spratly chain.
It said the use of this type of aircraft in training meant "practicing finding enemy submarines and increasing situational awareness in the maritime arena."
The ISI said it also captured "rare documentation" of an active aircraft shelter on the same reef.
"Such a concentration of aircraft can be indicative of widespread exercise in the area," ISI said.
Satellite images show a PLANAF at the Fiery Cross Reef on the strategically located Islands situated north of the South China Sea (Vietnam calls the South China Sea is the East Sea - BienDong). Jane's Information Group, a defence intelligence group, warned the sighting could be further signs the People's Liberation Army Navy Air Force is starting to use it as a base of operations, said the UK-based Daily Express.
Sean O'Connor, principal analyst at Jane's, said: "Two sightings of surveillance aircraft within a month could indicate that the PLANAF is beginning to periodically base aircraft on Fiery Cross Reef.
"Aircraft could be regularly rotated through the base from other PLANAF units in the South Sea Fleet."
The Fiery Cross Reef is one of the seven marine features in Vietnam's Spratly archipelago where China has illegally built artificial islands and constructed various civilian and military structures.
Previously, China promised not to use its string of artificial islands in the Spratlys as a base for military action. Speaking at the White House in September 2015 after a meeting with then-US President Barack Obama, Chinese President Xi Jinping pushed back on US concern over this issue, telling a news conference: "there is no intention to militarize."
Since then, their action runs counter to what it has already pledged.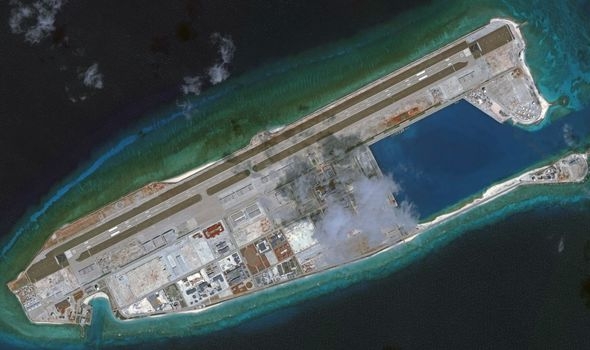 The Fiery Cross is now home to a military garrison (Image: GETTY )
According to the Asia Maritime Transparency Initiative, China now has seven outposts in the Spratlys but is focussing its efforts fortifying a trio of bases dubbed the 'Big Three'.
The largest and most advanced at Fiery Cross Reef has been completely transformed from three reefs in 2009 to a major military installation today.
Fiery Cross is now home to a military garrison, an airfield and a naval base after years of dredging piled up tons of sand to create an artificial island.
Critics believe the work is being conducted with the aim of strengthening China's claim to the vast majority of the South China Sea, increasing fears the movement of ships and aircraft in the region could soon be restricted by Beijing.
While Vietnam and other countries around the world are focusing on controlling the COVID-19 pandemic, China has been ramping up its aggressive behavior in the East Sea.
On April 18, China announced the establishment of what it calls the "Xisha District" and "Nansha District" in so-called "Sansha City" on April 18 to manage Vietnam's Hoang Sa (Paracel) and Truong Sa (Spratly) Islands, the Macclesfield Bank and surrounding waters. The announcement was immediately condemned by Vietnam.
Then on May 8, the Vietnam's Foreign Ministry had opposed China's unilateral East Sea "fishing ban", reiterating its request that Beijing not complicate the situation further./.