Chinese man gains over 100kg after long COVID-19 isolation
A 26-year-old named Chou from Wuhan, China has gained 128kg after a long off-work time during COVID-19 lockdown.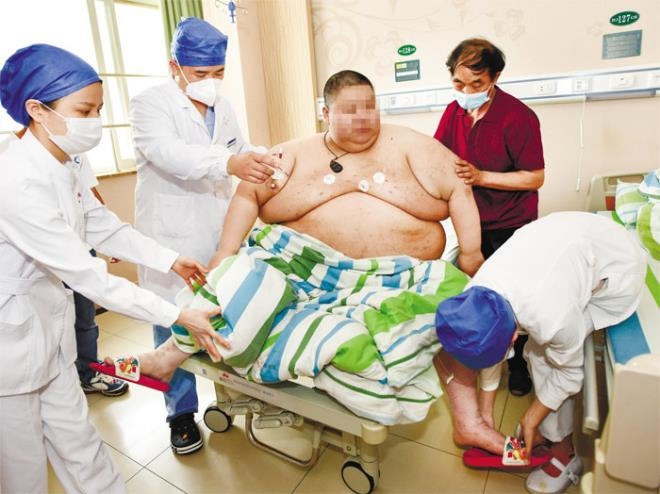 Chou was rushed to hospital as he could not lie down and enjoy a proper sleep in two days straight
(Photo: VTC News)
Chou is reported to have trouble breathing and lying down normally as he's way too fat, and as a result, couldn't sleep properly for two days straight. Chou had to call for emergency on June 1 night as he could no longer stand the sleeplessness.
When the ambulance arrived, the medical staff were unable to transfer the "giant" young man to the hospital and had to call a fire brigade for a helping hand. Another four medical staff also struggled to transfer Chou from the emergency room to the intensive care unit the night after.
At the hospital, Chou is measured 278kg, up from 150kg last year before the advent of coronavirus.
"Chou suffers from a range of serious diseases due to the heavy weight, including heart failure and respiratory dysfunction, systemic edema," a doctor at Wuhan Central University Hospital told News Week, adding that genetic factors and an unhealthy lifestyle have taken a heavy toll on his condition.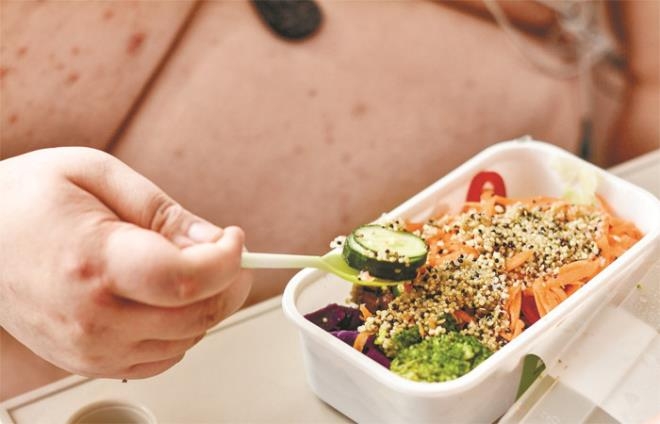 Chou is now given healthy diets by doctors and is expected to lose 25kg in the next two months (Photo: VTC News)
The 128kg that Chou gain during the outbreak is not merely fat, according to the doctor, his edema is also to blame. Chou is expected to lose some 25kg in the next two months by adjusting his diet and work schedule.
Chou and his friends opened an Internet café and usually stay up late and eat snacks and fast food in the middle of the night to take care of it.