Chinese primary students return schools with self-made 'distancing hats'
1 to 3 graders in China's Hangzhou returned schools today wearing a hat with one-meter long horizontal plumes on both sides to ensure a safe distance with classmates.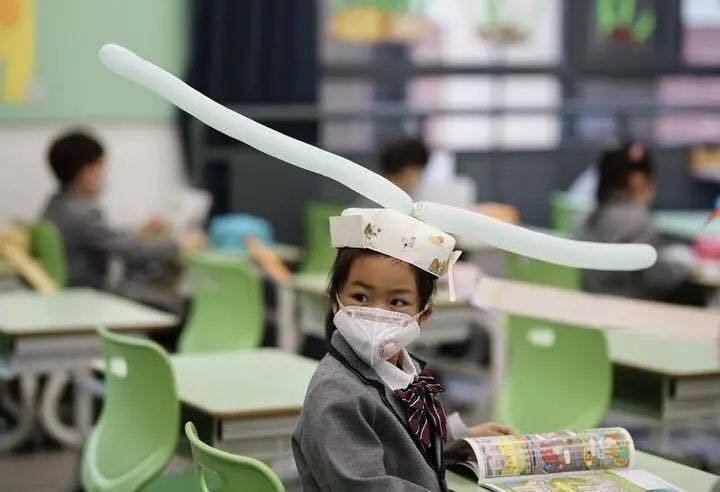 A girl wearing the hat (Photo: QQ)
The idea was inspired by the 10th century's Song Dynasty hats.
"The long horizontal plumes on Song Dynasty toppers were supposed to prevent officials from conspiring sotto voce with one another while at court," tweeted Eileen Chengyin Chow, a professor at Duke University. "So social distancing was in fact their original function!"
The headgear meant two people could not come close enough to conspire against the ruler, SAMAA reported.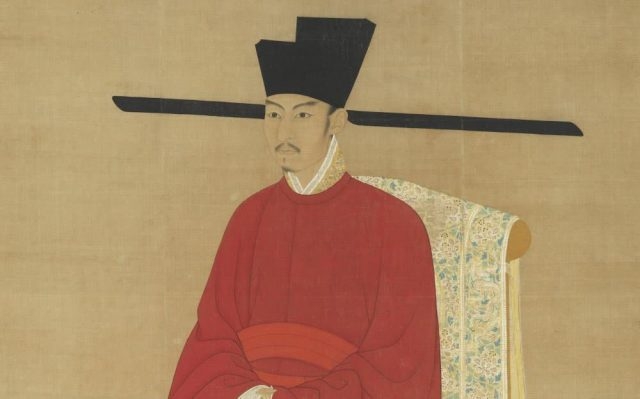 The 'distancing hat' is a copy of Song Dynasty toppers (Photo: SAMAA)
"We initiated this as a means to remind students to maintain the one-meter-distance with their classmates", the school principal said.
According to the principal, teachers had contacted parents beforehand to make a copy of the Song Dynasty hats in the 10th century themselves and have their kids wore it on the first day back to schools.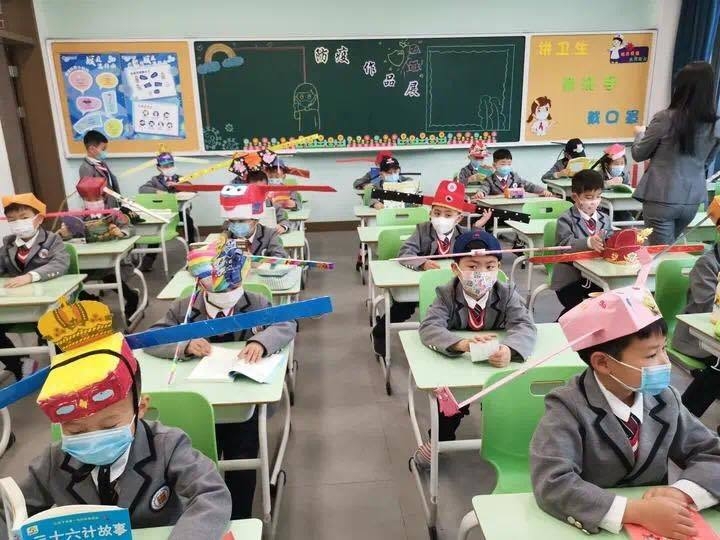 The hats keep students at a proper distance in class (Photo: QQ)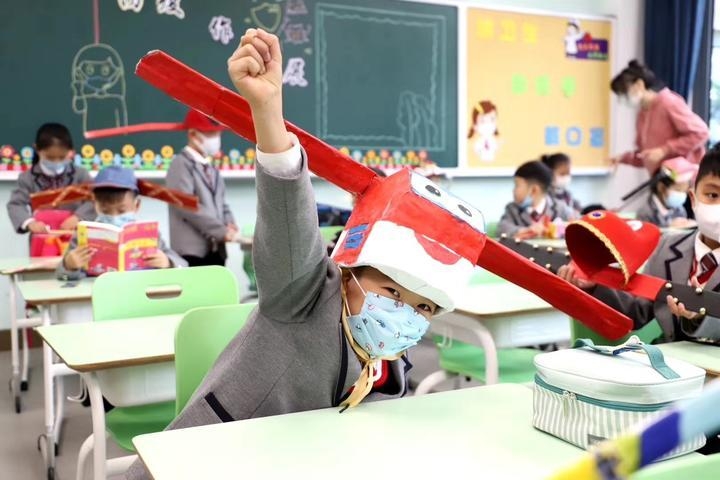 The students are excited with the new hat (Photo: QQ)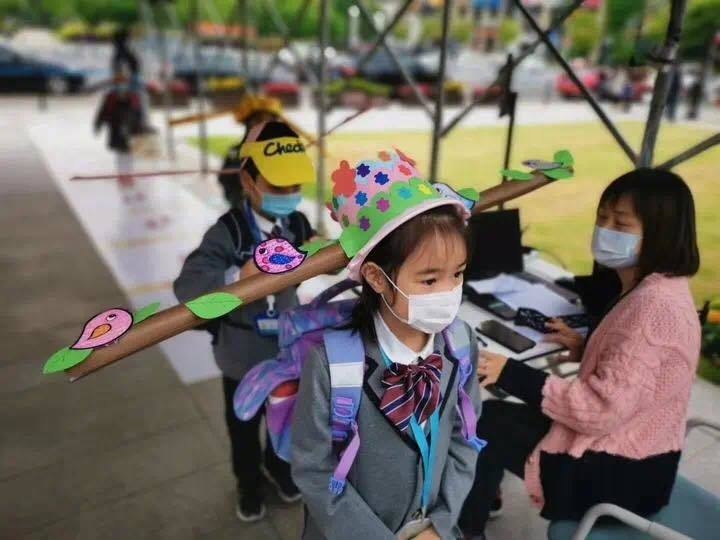 A creative hat (Photo: QQ)
The schools in Hangzhou province also take this idea as an opportunity to teach children about social distancing. The hats are made from safe, environmental-friendly materials under the creativity of students. The kids are also required to comply with certain rules such as not touching their peers or damage their classmates' hats.
The students are also asked to introduce their "distancing hats", share their knowledge about anti-COVID-19 in front of the class, or sing COVID-19 related songs on their first day returned to school.
Many people show excitement over the idea, praising "this could be a model other schools can follow".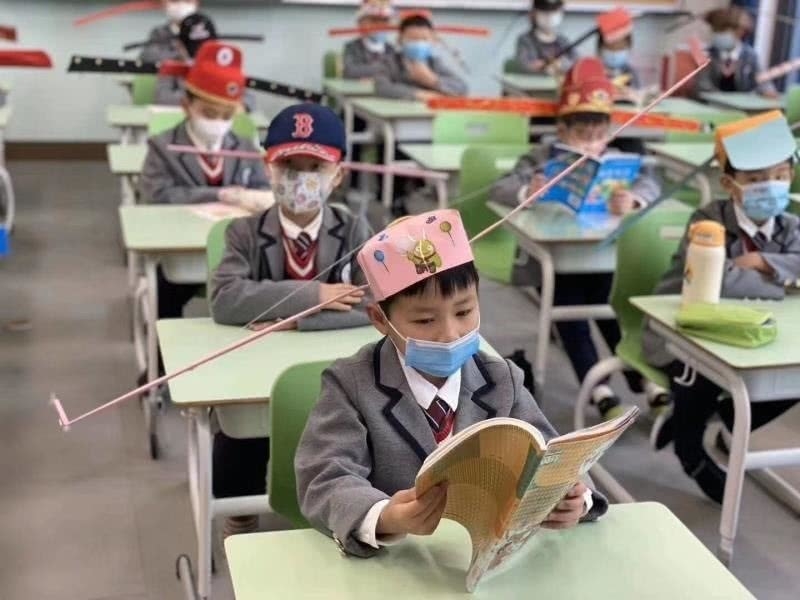 (Photo: QQ)
Seniors students in highschools also resume schools on April 27 to prepare for the coming university entrance exam. All students get their body temperature checked at the school gate and have to show a "green" medical code on a phone app to prove they are not a potential nCoV spreader.
In Xiamen City, Fujian Province, students are asked to patiently line up in a distanced proximity when using the toilet. Some schools allow only 4 male and 2 female students to leave the classroom at the same time.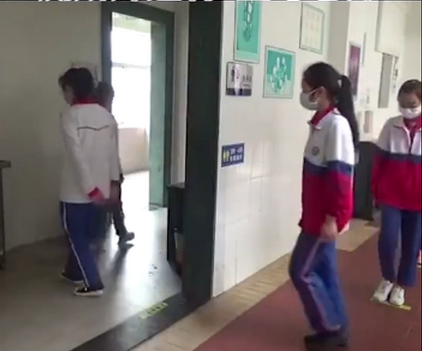 Students line up at a safe distance in front of the toilet waiting for their turn (Photo: tiatiatoutiao)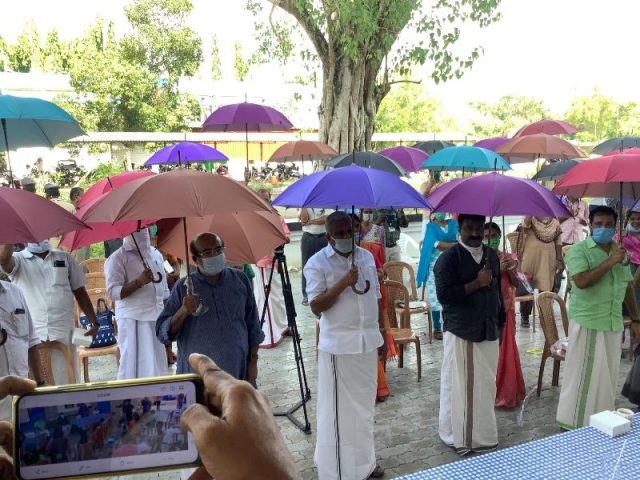 Each is holding an umbrella on their hands to keep social distancing (Photo: SAMAA)
Meanwhile, the Finance Minister of Kerala Dr Thomas Isaac also tweeted an innovative way they were doing it in one of their villages: umbrellas, SAMAA reported.
"To enforce physical distancing, Thaneermukkom GP in Alappuzha, mandates that everyone hold umbrella when they go out of houses," he tweeted. "Two opened umbrellas, not touching each other, will ensure a minimum distance of one meter from one another. Umbrellas distributed at subsidized rate."