Citizens' responsibility plays key role in Covid-19 fight as infection cases rise in Vietnam
Deputy Prime Minister Vu Duc Dam called on each of every people in Vietnam to enhance their responsibility to protect themselves and the community  as the current COVID-19 fight demands "high-level of focus."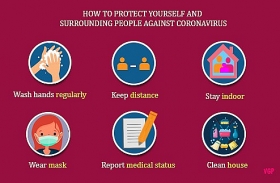 Infographic showing how to protect yourself and people around. Photo: VGP.
Dam, who is head of the Steering Committee for COVID-19 Prevention and Control made the call at the committee's meeting Wednesday amid rising infections since March 6.
The virus is somewhere near everyone, thus anyone may contract it and transmit to others if we do not seriously abide by official instructions, he said.
The Deputy PM called on people to stay indoor as much as possible, keep distance from others and wear facemasks, wash hands regularly, clean house, and report medical status.
As of 8 pm on Wednesday, the Ministry of Health confirmed 141 infection cases in Viet Nam, of whom 17 have recovered and exited hospitals.
Vietnam has recently recorded seven more new Covid-19 cases including four people in HCMC, two in Hanoi and one in Nghe An, raising the nation's Covid-19 infections to 148 Thursday morning.
Many of active cases are Vietnamese nationals retuning from Europe and the U.S. and foreigners visiting from the same regions. Starting March 22, Vietnam has suspended entry for all foreign nationals, including those of Vietnamese origin and family members with visa waivers.
The earlier 17 cases were discharged after treatment. Of the current cases in hospitals, 15 have tested negative at least once.
The Covid-19 pandemic has killed more than 19,700 people globally as it spread to 198 countries and territories.