Co-joined twin survived miracle seperation: Dieu Nhi is able to smile and lift up hand
Dieu Nhi, one girl in the co-joined twin successfully overcoming a miracle separation surgery, was able to smile and slightly lift up her hand when she was visited by Vietnam's Vice President Dang Thi Ngoc Thinh, Vnexpress reported. 
Dieu Nhi was conscious and started some basic movements like smiling, raising a hand toward the Vietnamese leader in a move to respond to the latter giving her toys, and talked to her. On the other hand, her sister Truc Nhi was weaker, and lies still. The duo was being treated in intensive care in the same room, lying in different beds, after the successful separation surgery on July 15 at the City Children's Hospital.
After the 5-day surgery, the sisters were still breathing with the support of machines, taking sedatives and relieving pain medications, consuming foods completely through the vein. Their survival indicators remained stable, fever after surgery ended, no infection recorded during and after the surgery. Nurses were trying their best to help them limit ulcers and surgical infections.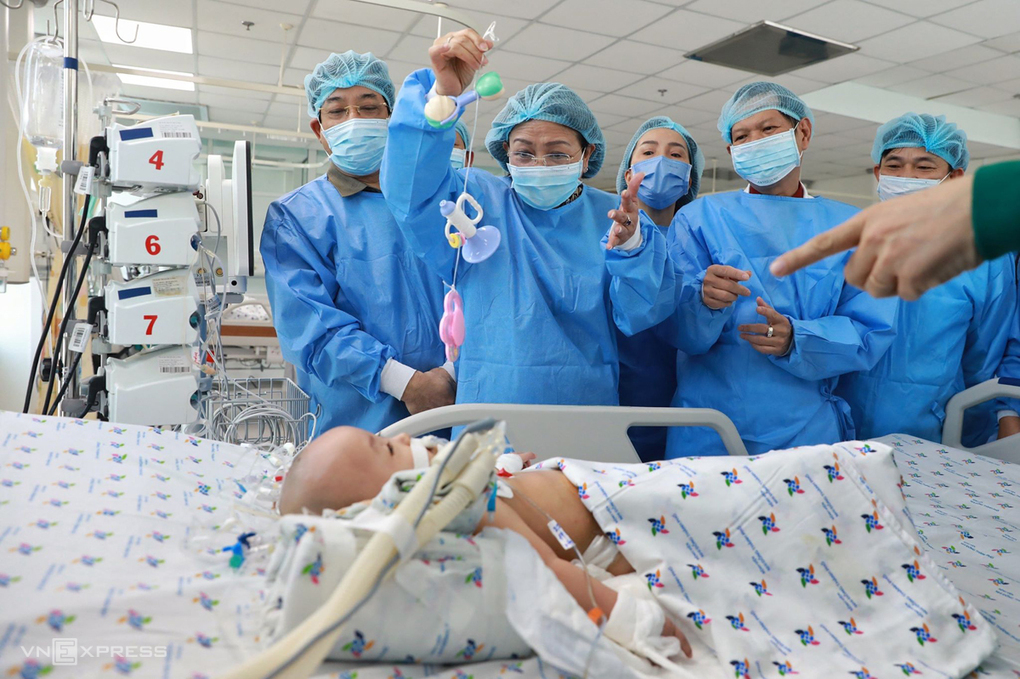 Vice President Dang Thi Ngoc Thinh (holding a toy) joking with Dieu Nhi, on the morning of July 20. Photo: Huu Khoa.
Dr. Truong Quang Dinh, Director of the City Children's Hospital, said that as the children were born conjoined, their blood vessels were connected, supporting the surviving relationship with each other. When being separated now, they would witness major physiological changes.
Doctors used a part of Dieu Nhi's intestine to transplant for Truc Nhi, which more or less would appear inflammatory reactions, therefore, the postoperative period must be strictly monitored. The surgical success rate of this type is around 70-75%. As there were similar cases abroad, after one week of surgery, the intestine leaked, the baby died, the doctor would make no claims.
"The recovery period is still turbulent. The hospital will devote all its energy, determined to take care of the baby for complete success," Dr. Dinh shared.
Visiting the children this morning, Vice President Dang Thi Ngoc Thinh gave toys for two children. Dieu Nhi had better reflexes and Ms. Thinh directly played the toy with her. She expressed, "It is very touching to witness the recovery of the babies."
"I feel really happy and proud when the historic surgery separating the two children Dieu Nhi and Truc Nhi was successful. The City Children's Hospital has proved the world the development of the Vietnam's medical industry and the dedication of Vietnamese doctors to human life, "said Vice President Dang Thi Ngoc Thinh.
The postoperative process would be still long and difficult, but she believed that doctors and nurses would successfully complete this difficult task. She hoped that Dieu Nhi and Truc Nhi would recover and become healthy and mature citizens who might contribute to the country. The Vice President presented VND 20 million to their parents, and VND 50 million (US$2,200) to the entire surgical team.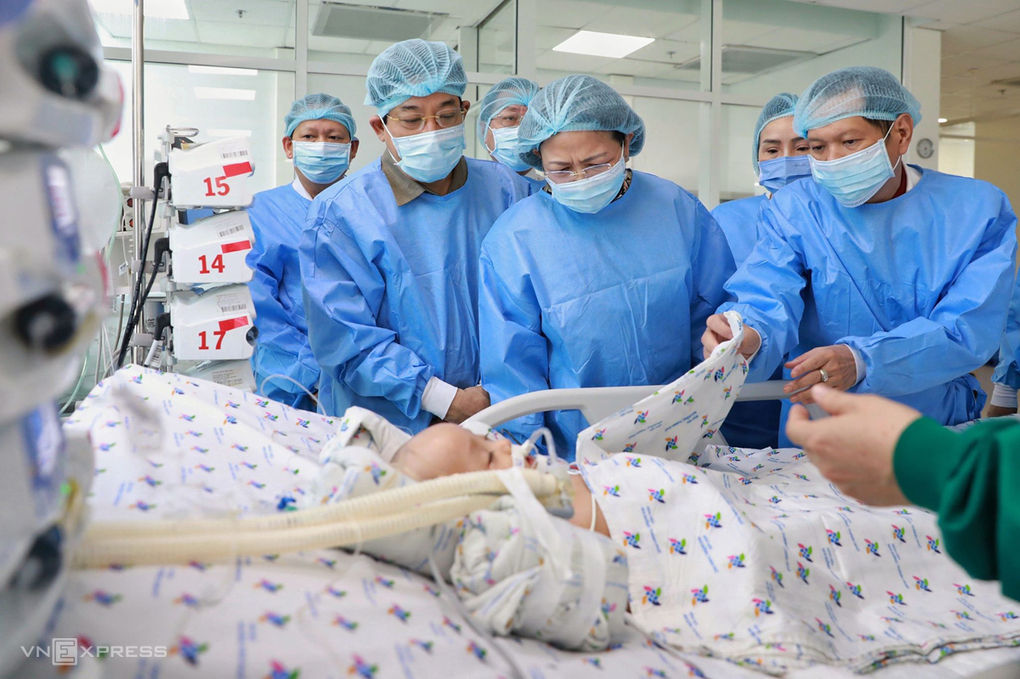 Vice President Dang Thi Ngoc Thinh (center) visited Truc Nhi, July 20 morning. Photo: Huu Khoa.
The Children's Hospital of Ho Chi Minh City took over Truc Nhi and Dieu Nhi case from Hung Vuong Hospital when they were born by cesarean section at 33 weeks gestation. Their healths at that time were both so weak with a total of 3.2kg, respiratory failure, underdeveloped lungs that must be intubated, nourished in incubators, and only resuscitated after a month.
The pelvic area of ​​the two sisters was relatively complicated, sharing many internal organs. This was a very rare situation in the world, the same as the first case of conjoined surgery in Vietnam, Nguyen Viet and Nguyen Duc. After numerous thorough consultations, doctors came to the decision to operate separately and reshape the defective parts for the children. At this time, they are 13 months old.
On July 15, for 13 hours, each child underwent four major surgeries, separation, gastrointestinal formation, urinary organs, pelvis and perineum. 93 doctors, nurses and medical experts from several HCMC hospitals, including Dr. Tran Dong A, were on hand.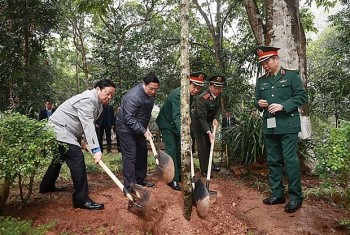 National
The Prime Minister launches a tree planting festival in Ba Vi on New Year of Cat.