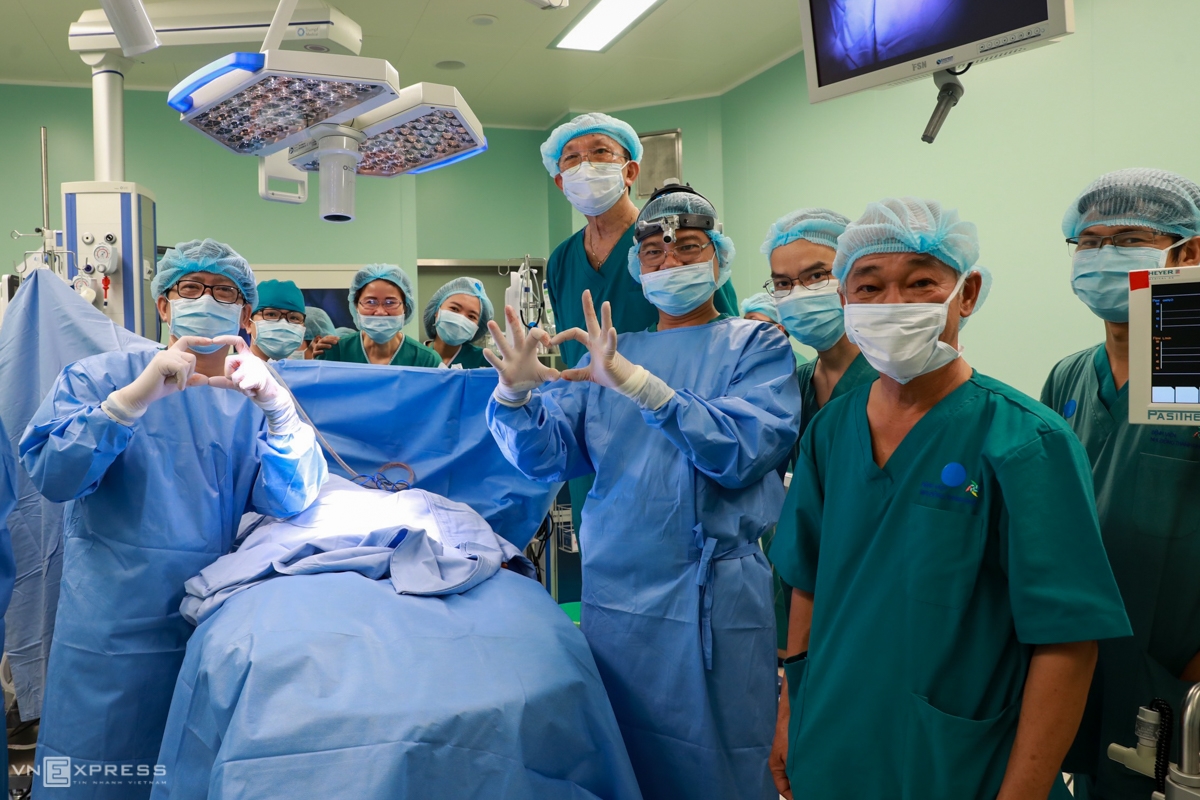 The surgical team put on a bright smile after the surgery (Photo: VNE)
Accordingly, the medical personnel from several hospitals in Ho Chi Minh City, including Tran Dong A, a doctor renowned for successfully separating a pair of conjoined twins back in 1988, VNE reported.
The twins, namely Hoang Truc Nhi and Hoang Dieu Nhi were born prematurely on June 7 with a joined pelvis last year and were later transferred to Ho Chi Minh City Children's Hospital to be raised and monitored.
Truc Nhi and Dieu Nhi shared parts of their ileums and colons, and a single anus. They also had two separate bladders on two sides of their belly.
Their condition was classified as a pair of Ischiopagus Tetrapus conjoined twins. While conjoined twins happen to only one out of every 200,000 births, only 6 percent of such cases are Ischiopagus Tetrapus.
Over the past year, they had learned to sit up and coordinate with each other to move around despite their condition. They are taken good care under the tend of their parents, doctors.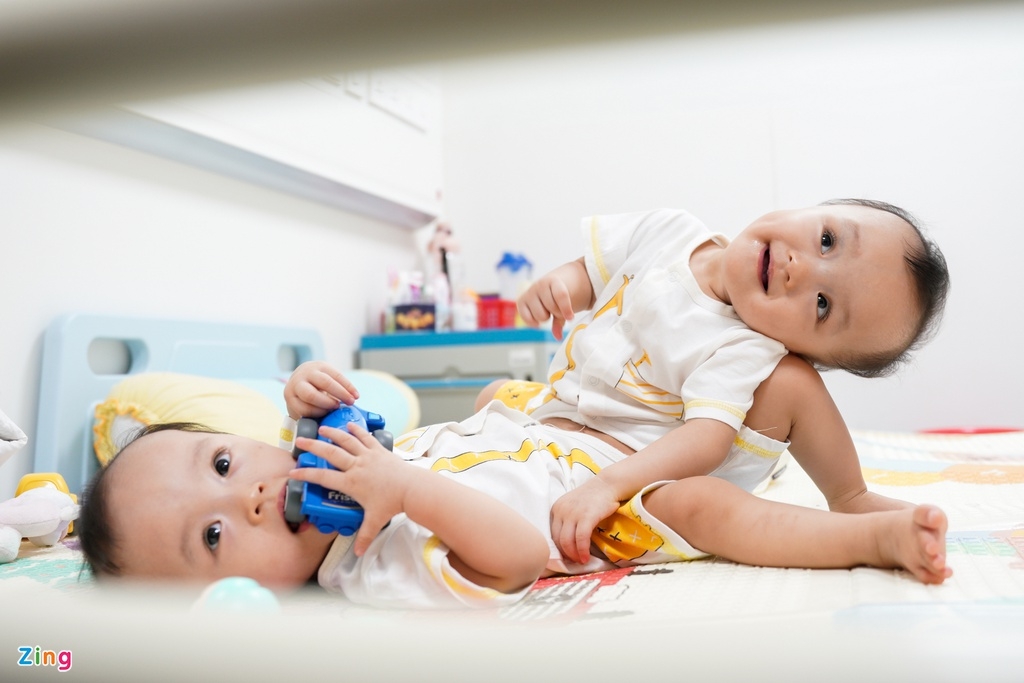 Truc Nhi and Dieu Nhi before the surgery (Photo: Zing)
With health statistics close enough for that of a normal child, and having been administered antibiotics to avoid possible infections two weeks in advance, the cojoined twins are eligible to undergo the surgery.
At 6 am, July 15, the surgery went as planned. The surgeons managed to separate the two girls at around 2:10 pm. Both will undergo more surgical procedures to give them functional organs and body parts.
"The surgery is only the first success, as the post-surgery treatment is also of great importance", Truong Quang Dinh, director of Ho Chi Minh City Children's Hospital told Kenh14.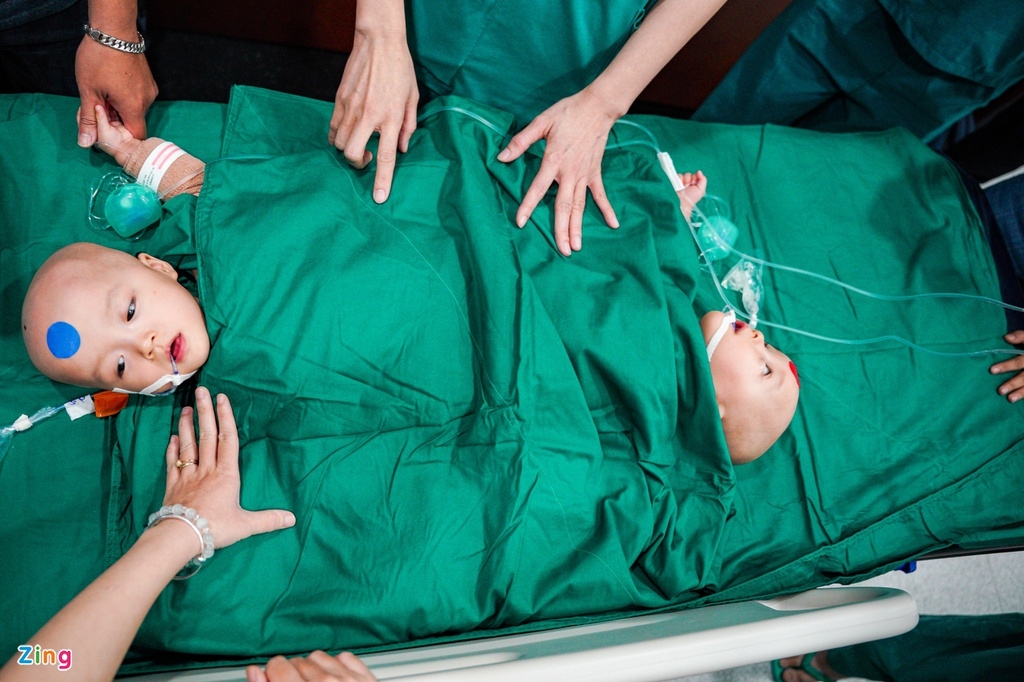 The babies have a colored sticker on their forehead to be distinguishable during the surgery (Photo: Zing)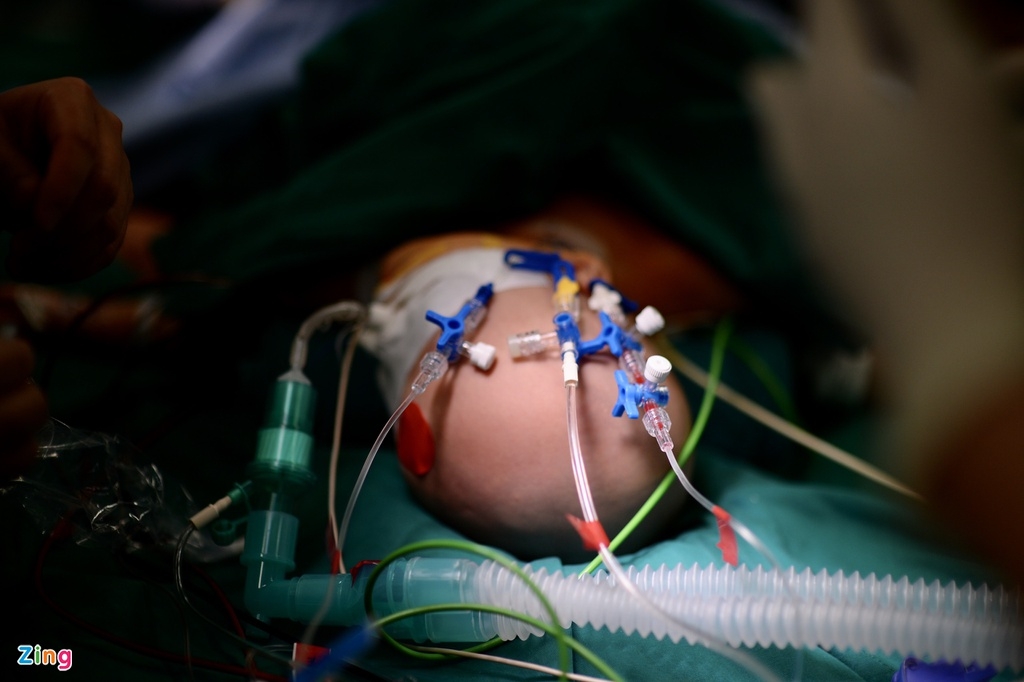 (Photo: Zing)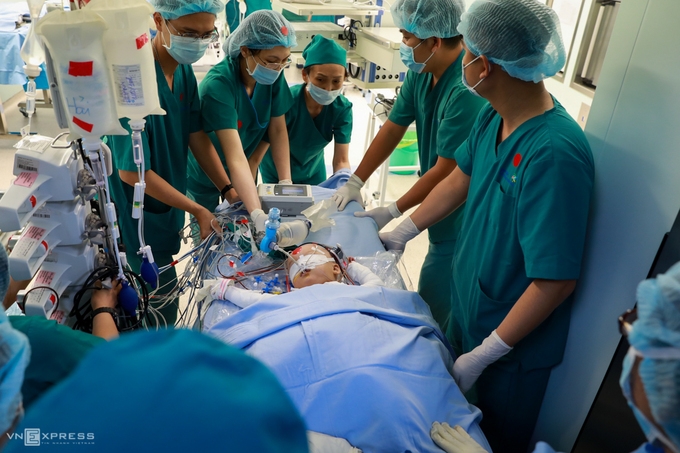 (Photo: VNE)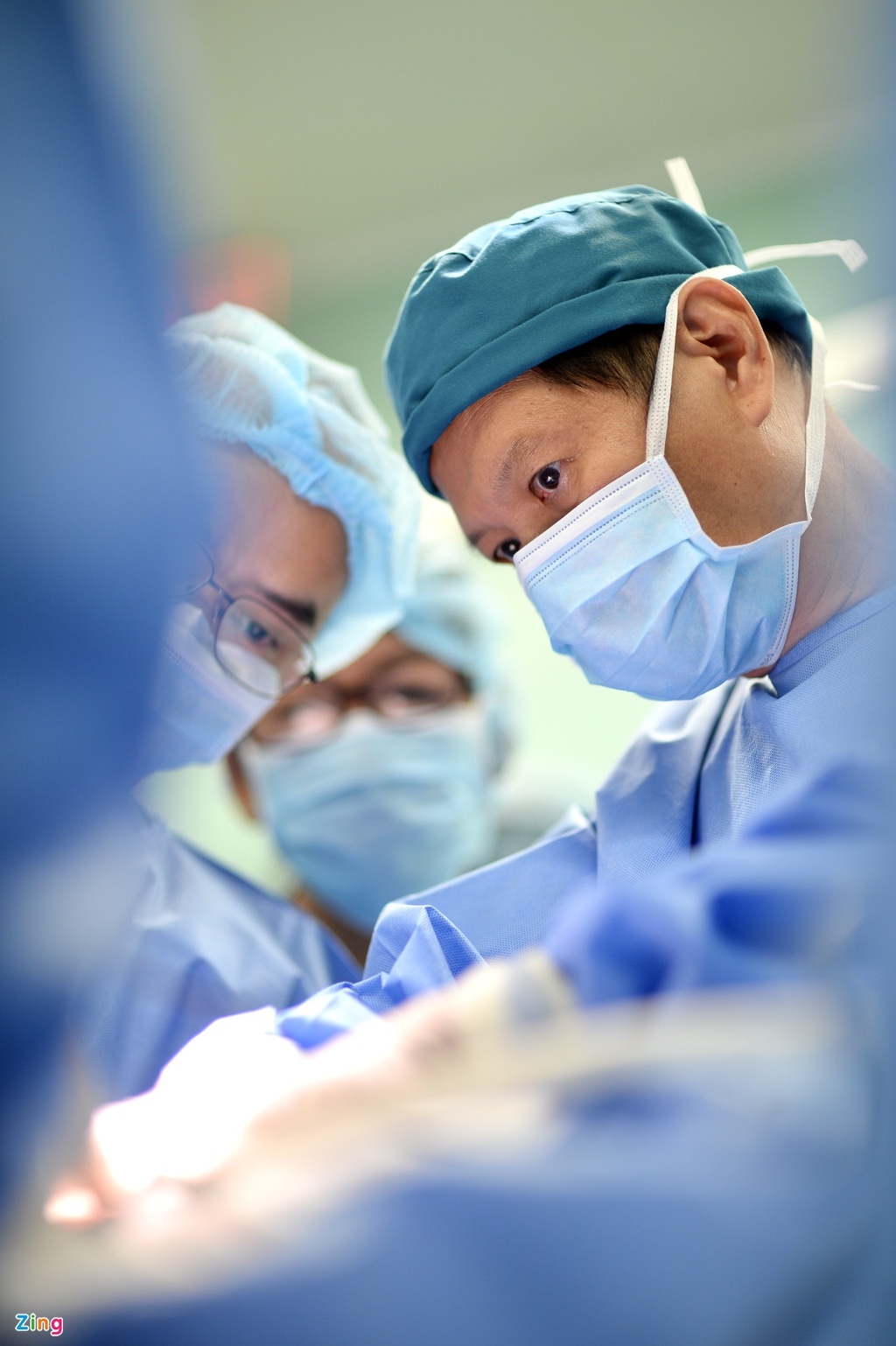 (Photo: Zing)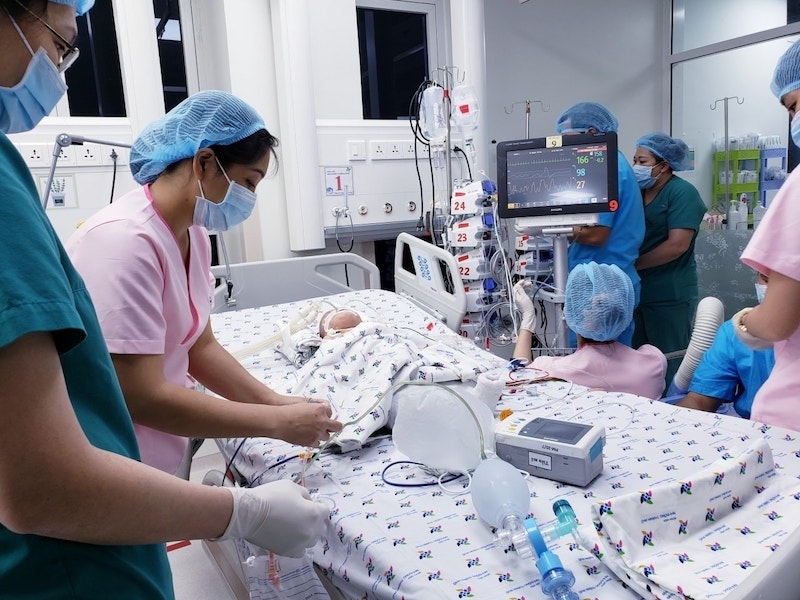 After the surgery, the twins are put onto two different beds (Photo: Zing)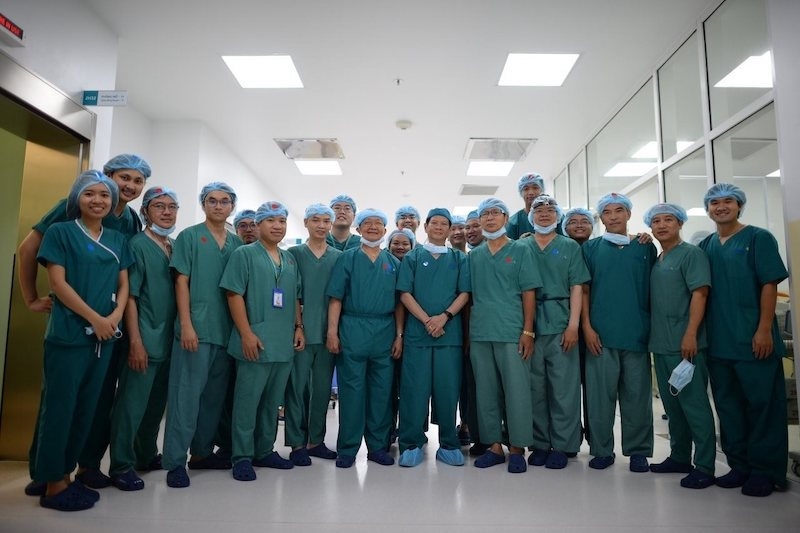 (Photo: Nhan Dan)
"Upon knowing the surgery was successful, I was very nervous and wanted to see how my babies gonna look like after the separation. I'm on cloud nine seeing both of them lie normally", Thuy, the twins' mother told VTV News.
"They're having a new future ahead from now on. It's hard to put into words how we are feeling right now. Very moving!", Truc Nhi and Dieu Nhi's father said.
Their parents shed tears of worry while waiting outside (Photo: Zing)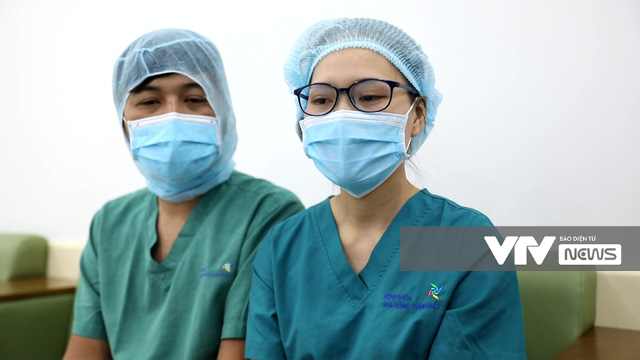 "They're having a new future ahead", the father said. (Photo: VTV)
As of July 17 morning, roughly 12 hours after the surgery, Truc Nhi and Dieu Nhi has regained consciousness, and in stable health condition. Both are given pain relief, respiratory support, and under special supervision.
The doctors' team and the twins' family as well are showering with congratulations, compliments from people across Vietnam. Prime Minister Nguyen Xuan Phuc and acting Health Minister Nguyen Thanh Long on Wednesday had called to congratulate the surgical team on the success.
The news makes national headlines and garnered great attention.
Jasmine Le