Contest Raises Awareness About Information Security for Vietnam's Students
The contest is organized to provide knowledge as well as skills to use the Internet safely for students and their parents across the country.
The press conference is held via both in-person and online formats.
The Vietnam Information Security Association (VNISA) on Jan. 13 has organized a press conference to officially distribute information about the nationwide contest for junior high school students on information security which would be held for the first time to equip students and their parents with knowledge and skills to use the Internet safely, enabling them to identify and prevent online risks.
The activity receives the endorsement and support of Ministry of Information and Communications; Ministry of Education and Training; Ministry of Labour, Invalids and Social Affairs and the collaboration from various corporates and organizations, namely BKAV, Tiktok Vietnam, UNICEF Vietnam, among others.
With the purpose of communicating and providing students and parents with knowledge and skills to use the Internet safely, the competition is expected to create a healthy and rewarding environment, helping students excel in their thinking ability to identify and prevent all online risks.
The contest is an activity in response to the national programme on child protection online approved by the Prime Minister on June 1, 2021.
This is the first year that the contest is hosted by the Vietnam Information Security Association (VNISA), in collaboration with relevant agencies, organizations, NGOs such as ChildFund, World Vision, MSD Vietnam and businesses.

Register and practise: Feb 15 - Mar 2. Official exam: Mar 3 - Mar 24, 2022
According to Nguyen Thi Nga, deputy head of the Department of Child Affairs under the Ministry of Labour, Invalids and Social Affairs, children face many risks in the online environment. In 2020, 229 calls related to counseling and child abuse in the online environment were made. 2021 witnessed a double increase, 448 calls. Therefore, the role of the media in child protection online is extremely important, helping to convey the meaning of the competition to children and society as a whole, with the aim of helping them to add more knowledge to limit their risks in the online environment."
Vu Quoc Khanh, VNISA vice president informed the contest rules, saying that they have made statistics about children's safety issues in the online environment, categorize problems according to specific topics, and divide children's age groups to suit each contestants' age. "We create an unlimited mock test to help students gain experience, familiarize themselves with the exam system as well as consolidate a lot of useful knowledge," added Khanh.
Candidates access the contest website (https://thihsattt.vn) and fill in the information on the registration form on the website. Each contestant can only register one contest account.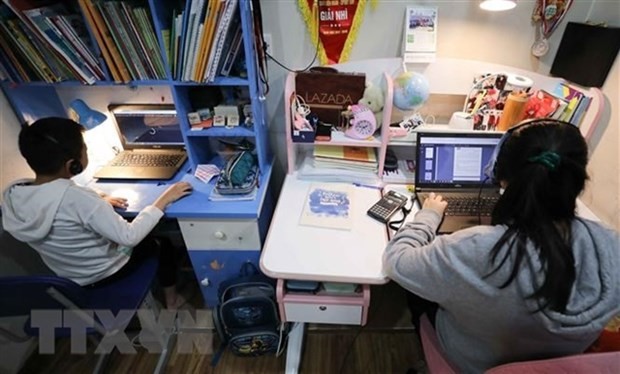 Children access the internet to study online after the COVID-19 fourth wave broke out in Hanoi. The internet has become the only way for many children to access education during the pandemic. Photo: VNA
According to a recent UNICEF survey, many young people in Vietnam are victims of cyberbullying but three-quarters of them don't know where they can seek support. More and more cases of sex crimes and child trafficking are being reported. However, few measures have been taken to protect them from the dangers of abuse by the digital world or access to health content on the Internet in a safe way.
Under Decision No. 830 signed by PM Pham Minh Chinh, the national programme on child protection online aims to protect the privacy of children and prevent and handle acts of abuse. Specifically, the programme focuses on supplying children with age-appropriate knowledge and skills so that children can self-identify and be able to protect themselves when online.
The programme includes initiatives in deploying new technologies such as artificial intelligence and big data to automatically collect and analyse early warnings on the content not suitable for children.
Websites with the national ".vn" domain and those with IP addresses in Vietnam will be required to self-categorise content suitable for children's ages. Those who provide online services and applications for children have to self-deploy solutions to protect children and assist parents or caregivers in managing children's use of applications and services.
Network operators and digital platform providers such as Google, Facebook, and Zalo will apply artificial intelligence technology and big data analysis to filter videos and clips with malicious content.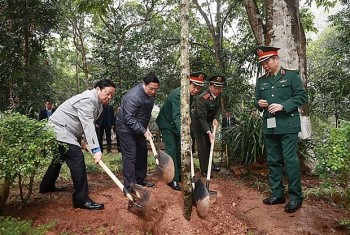 National
The Prime Minister launches a tree planting festival in Ba Vi on New Year of Cat.