Cool Off As Work Heats Up
Under unforgiving sun in summer poses great challenges for outdoor workers. How to always maintain energy and alertness is a common problem that many people are interested in looking for a solution.
In Ho Chi Minh City and southern regions from the beginning of April until now, the outdoor temperature has fluctuated from 36-38 degrees Celsius. In the summer, this temperature is forecast to increase and affect all over the world. central and northern regions. In places where there are no trees, the peak heat can reach 40 degrees Celsius, making many people extremely tired, especially workers when they have to work outdoors.
Just from 10am, it was already sunny like fire, making Minh Tuan (a builder in Go Vap district) sweaty, always in a state of fatigue. "The weather is so sunny, the construction site is as hot as fire, the workers sweat like a bath, sometimes they are exhausted and have no strength left. Every 1 or 2 hours you have to take a break to drink water. Drink 3-4 bottles of water every day to cool off and recharge," he said.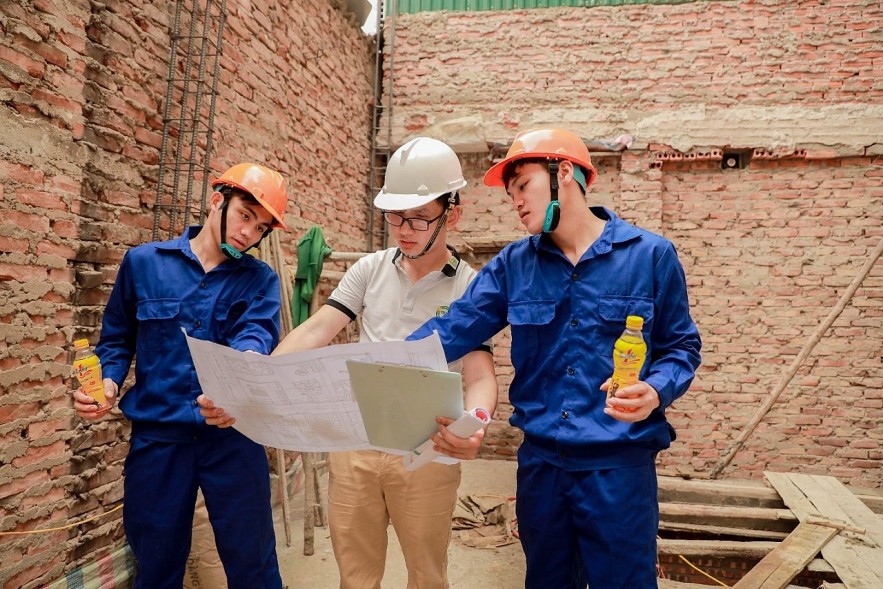 Hot weather makes workers easily fall into a state of energy exhaustion.
Not only a builder like Mr. Tuan, but also many other professions that have to work, moving outdoors are also facing challenges caused by hot weather such as shipper, security guard, street cleaning... The heat of the weather like to knock down their focus and drain their energy. In fact, working and operating under hot weather conditions, the body expends more energy than usual, it is easy to lose strength, making the body tired and uncomfortable. More dangerously, many people also fall into a state of heatstroke, heatstroke with manifestations such as dizziness, dizziness, unable to continue working.
In order to limit the direct influence of outdoor temperatures, workers need to use sun protection materials that are breathable and sweat-absorbent to shield the body, especially parts such as the head and neck. , nape ... Besides, it is to add water to the body to quench thirst and quickly recharge energy immediately.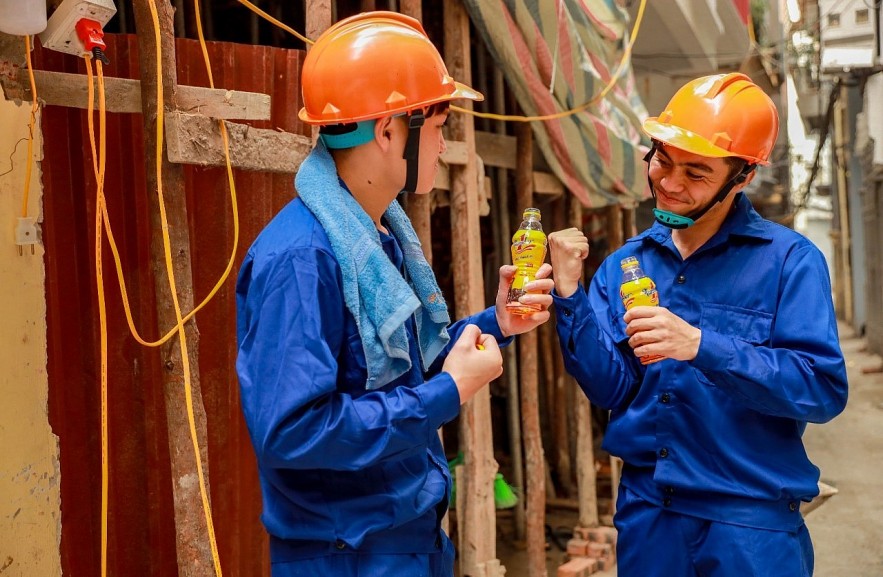 Workers need a solution to help them recharge quickly.
"In the past, when I was at the construction site when I was tired, I only drank filtered water to quench my thirst, but after a while, my body felt tired, lost strength, and could not concentrate on work. Especially in the hot midday time, it feels like the body has no strength left to continue. I was shared by my brothers that Number 1 energy drink not only helps to quench thirst but also quickly recharges energy and instant alertness, so I tried it and recognized its effectiveness. Only then did I understand why this drink was chosen by so many construction workers, "said Tuan.
Outdoor conditions such as hot weather or working time at night are factors that directly affect the morale and work performance of employees. Maintaining energy and alertness is key to overcoming these factors. To do that, many workers have chosen Number 1 energy drink as a work support solution. The delicious taste and the list of ingredients that help replenish energy and regain alertness have helped many workers confidently continue to work, overcoming all barriers at work.
Number 1 energy drink is chosen by many workers to supplement energy to overcome challenges at work.
Every profession has its own set of challenges and difficulties. Only by facing and finding solutions to overcome can each of us become the best version of our own work.
"The profession of a builder is inherently hard work. The heavy workload plus the intensely hot weather sometimes makes me feel like I want to collapse, thinking about quitting my job. However, the construction profession to me is like a career that I have followed, it is difficult to give up. Since knowing Number 1 energy drink, energy and alertness have been continuously supported to help me easily overcome the pressure of work every day," said Anh Tuan.