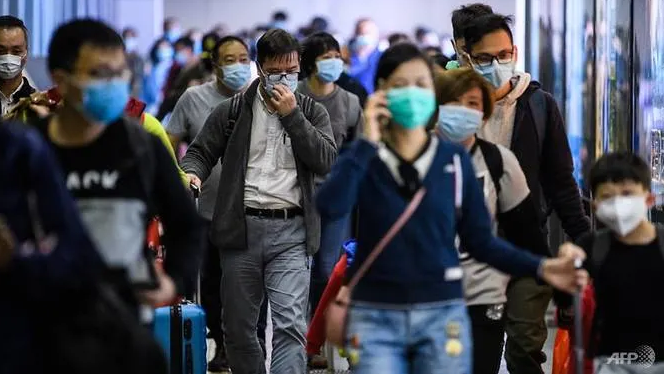 Passengers wear protective face masks as they arrive from Shenzhen to Hong Kong at Lo Wu MTR station on Feb 3, 2020. (Photo: AFP/Anthony Wallace)
The Hubei health authority said 64 more people died of the coronavirus in China's Hubei province on Monday, raising the death toll in the epicenter of the outbreak to 414 people.
In mainland China, 425 people have died from the virus.
A man has died in Hong Kong (China) from the novel coronavirus, the city's first fatality from the deadly virus and the second outside of mainland China, local media reported.
The 39-year-old patient, who was being treated at a hospital after being infected, died of sudden heart failure, reports said on Tuesday (Feb 4).
The patient was the 13th confirmed case of coronavirus in Hong Kong and was diagnosed on Jan 31, news website HK01 said.
The official global death toll is now 427.
The World Health Organization (WHO) has declared the flu-like virus a global emergency, although experts say much is still unknown about the pathogen including its lethality.
"We expect to see more cases of person-to-person spread," said Dr Nancy Messonnier, director of the National Center for Immunization and Respiratory Diseases at the US Centers for Disease Control and Prevention (CDC).
The epidemic is believed to have emerged in December from a market that sold wild game in the Hubei provincial capital Wuhan.
At least 151 cases have been reported in 23 other countries and regions, including Japan, Thailand, Singapore, the United States and Britain.
Hong Kong (China) has 15 confirmed cases of the coronavirus, including one that was transmitted locally.
The city is the second place outside of mainland China to report a death related to the virus.
The Philippines earlier confirmed the death of a Chinese man from the city of Wuhan, where the virus was first detected.
With Wuhan and some other cities in virtual lockdown, travel severely restricted and China facing increasing international isolation, fears of wider economic disruption are growing; sources at the OPEC oil cartel said producers were considering cutting output by almost a third to support prices.
Airlines around the world have stopped flights to parts of China. A suspension by the United Arab Emirates on Monday will affect the Gulf airlines Etihad and Emirates.
The outbreak is reminiscent of Severe Acute Respiratory Syndrome (SARS), a virus from the same family that emerged in China in 2002 and killed almost 800 people around the world out of the 8,000 or so who were infected.
Chinese data suggest that the new virus, while much more contagious than SARS, is significantly less lethal, although such numbers can evolve rapidly.
Some economists predict world economic output will be cut by 0.2 to 0.3 percentage points due to China's lockdown./.
VNF/CNN/CNA