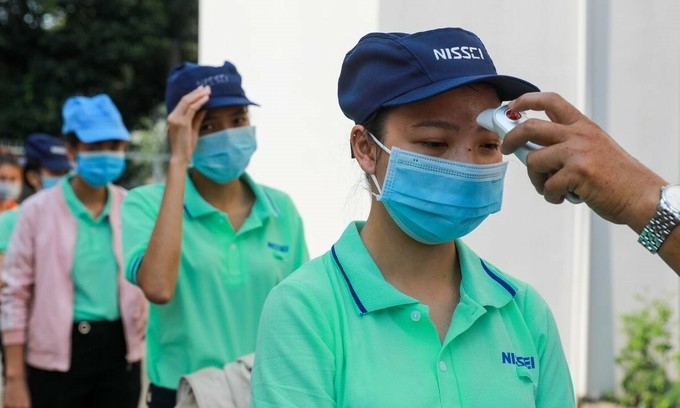 A worker at Linh Trung Processing Zone in Thu Duc District, HCMC gets a temperature check, April 20, 2020
(Photo: VNE)
Coronavirus today update: Around the world, total infections is approaching 3,000,000 cases, in which over 203,000 patients have succumbed to the diseases. The coronavirus COVID-19 is affecting 210 countries and territories around the world and 2 international conveyances.
Coronavirus today update: Vietnam has gone two days without a new COVID-19 case, keeping the national count of active infections at 45.
Of the country's 270 patients, 230 have been discharged from hospitals, but five among them have relapsed.
The 45 active patients, which include the relapse cases, are being treated in six different medical facilities. Most of them are in stable health conditions, with 13 having tested negative for the virus once and three others negative twice.
Made-in-Vietnam COVID-19 test kits have been cognized by the Emergency Use Listing procedure (EUL) of the World Health Organization, their producer Viet A Technologies Joint Stock Company stated Sunday.
The kits, which use reverse transcription-polymerase chain reaction (RT-PCR), can detect the new coronavirus in droplets obtained from the respiratory tract and blood. They provide results faster and are easier to use than those used by the U.S. Centers for Disease Control and WHO, according to Vietnam's Ministry of Science and Technology.
As of Friday morning, Vietnam had gone eight straight days clear of new infections, but the evening saw two new cases- both students returning from Japan. They were quarantined on arrival and are now under treatment in Hanoi.
Coronavirus live update: The US's cumulative cases is raised to 970,757, with 54,941 deaths.
States begin to reopen as coronavirus pandemic intensifies
Georgia residents took to shops and the shore, just a day after the state's coronavirus restrictions began to lift, while the toll of the pandemic there intensified.
The numbers show deaths there hit 904, a 34 percent jump over a week ago, and cases reached 22,695, up 28 percent in a week.
Georgia was one of several states easing back into "normal" life this weekend, even as the pandemic rages on.
In Louisiana, where more than 1,600 people have died of COVID-19, protestors waving large American flags gathered outside the governor's mansion Saturday, rallying against that state's stay-at-home order. Few of them wore masks.
Alaskans could once again dine in restaurants and visit stores. One couple donned masks to shop at a jewelry store and the clerks helping them wore face coverings as well.
Restrictions were also eased in Michigan and Oklahoma. Residents in Montana can return to church Sunday.
In California, where some Orange County shorelines reopened as temperatures soared past 80 degrees, beachgoers crowded the sand Saturday.
Coronavirus today update: Health Canada cautions on use of malaria drugs
Health Canada has cautioned against the use of malaria drugs hydroxychloroquine and chloroquine to prevent or treat COVID-19.
The Canadian health department said the two drugs may cause serious side effects, including serious heart rhythm problems. It advised use of the two drugs only if prescribed by a doctor.
The US Food and Drug Administration also cautioned against the use of malaria drugs in COVID-19 patients on Friday. US President Donald Trump has touted the drugs as a possible treatment, although his health experts have urged caution.
Coronavirus today update: The UK:
As of April 27, the UK has a total of 152,840 cases, and 20,732 deaths, an increase of 4,463 and 413 respectively.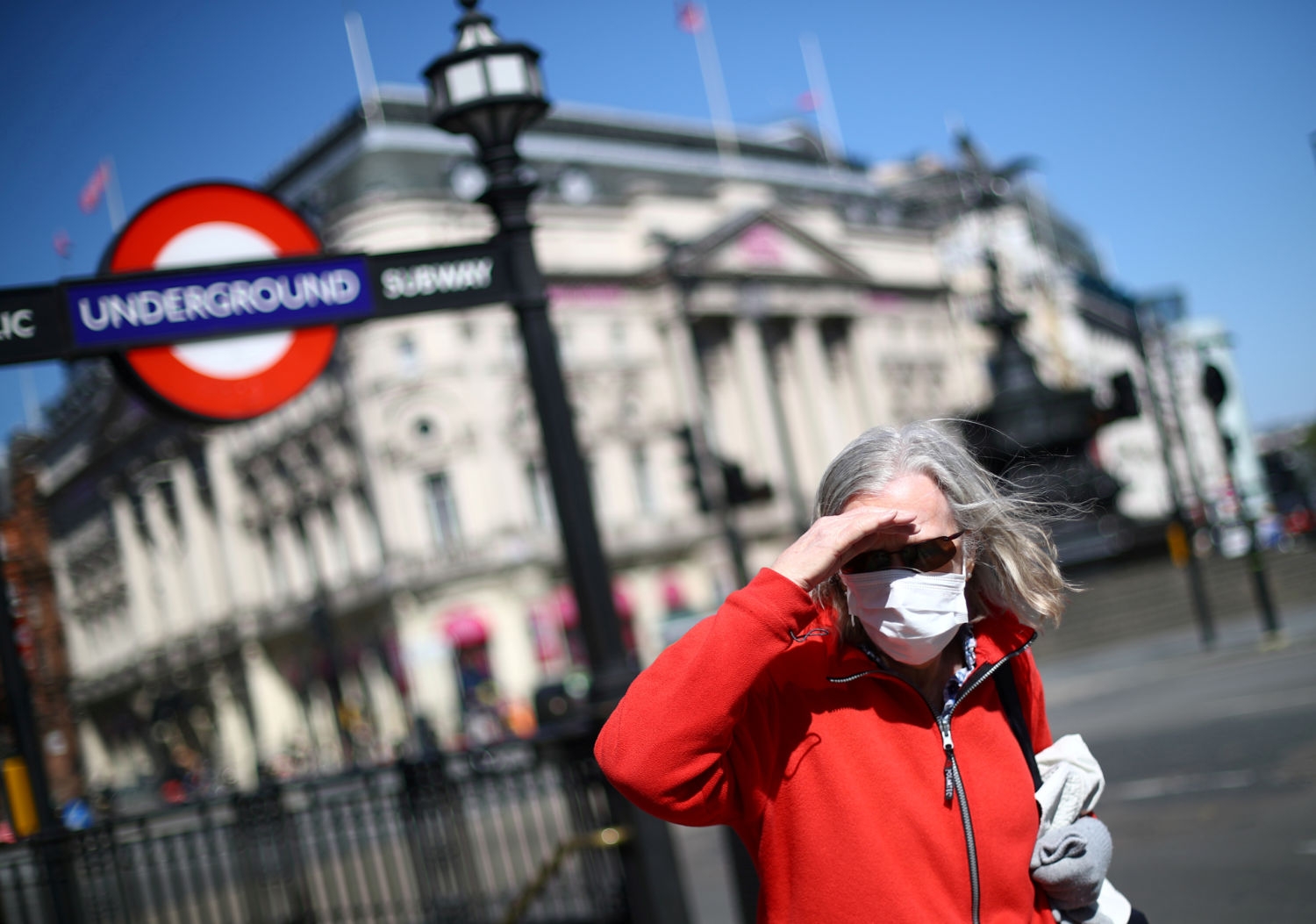 (Photo: Latest news in Cyprus)
Prime minister returns to work on Monday to cabinet at odds over easing social distancing
Britain's stand-in leader resisted pressure on Sunday to explain how the government plans to ease a coronavirus lockdown that has been in place for a month, warning that hasty action could result in a second peak of infections.
Foreign Secretary Dominic Raab, deputizing for Prime Minister Boris Johnson as he recovers from COVID-19, said the government was working privately on how to move out of the lockdown but it would be irresponsible to speculate in public.
The number of deaths related to COVID-19 in hospitals across the United Kingdom has risen above 20,000, the latest data showed on Saturday, with the overall figure likely to be significantly higher once deaths in care homes and hospices are tallied, according to Reuters.
The economic news has been equally dire. Data released last week showed demand had slumped to an all-time low, retail sales had plunged by the most on record and government debt was surging.
Coronavirus today update: UK's Johnson 'raring to go' but faces mountains of problems
British Prime Minister Boris Johnson will come under immediate pressure to set out a plan to ease the coronavirus lockdown when he returns to work on Monday after a three-week interruption due to a bad case of COVID-19.
Johnson, who spent a week in hospital in early April including three nights in intensive care, is "raring to go" as he prepares to return from his country residence to his Downing Street office in London, a source there told Reuters news agency on Sunday.
In his absence, the government has faced growing criticism over complaints from staff in hospitals and care homes that they have received insufficient supplies of protective kit, and over levels of coronavirus testing that are well below its target.
With signs of economic calamity and public frustration at strict social distancing measures piling up, the government is facing growing calls to start explaining how it intends to ease the lockdown, as reported by Al jazeera.
Coronavirus today update: German
Dozens of anti-lockdown protesters arrested in Berlin
About 1,000 people turned out for the rally, which has become a weekly event in the German capital.
Saturday's protest attracted mainly far-left activists but there were also right-wing supporters and members of other fringe groups.
Police put up barriers around Rosa Luxemburg square, where the protesters were headed, leaving the participants to gather in nearby roads.
Some of the demonstrators wore T-shirts accusing Chancellor Angela Merkel of "banning life" while others simply called for "freedom". Others brandished placards bearing slogans such as "Stop the pharmaceutical lobby". The protest organizers' website called for "an end to the state of emergency" and played down the threat posed by the virus.
The protest was unauthorized as a result of emergency rules in Berlin banning gatherings of more than 20 people.
Public discontent with the confinement rules has been growing gradually in Germany, as in other countries, though Merkel's popularity remains high, AFP reported.
Dozens of anti-lockdown protesters arrested in Berlin (Photo: France 24)
Coronavirus live update: Spain records lowest number of new deaths in over a month
Spain has said the number of daily coronavirus-related fatalities fell to its lowest level in more than a month, with 288 deaths in the previous 24 hours.
That took total fatalities to 23,190 from 22,902 the day before, the health ministry said.The overall number of coronavirus cases rose to 207,634 from 205,905 the day before.
Spain's children are allowed out of their homes for the first time Sunday since lockdown
Spain's children are finally allowed to leave their homes for the first time in over six weeks after the government announced a relaxation of the strictest confinement measures in Europe.
In the capital Madrid, parents were seen by CNN venturing out with their children in tow on Sunday morning.
Kids up to the age of 14-years-old will now be able to play outside for one hour a day while accompanied by an adult, according to a decree by Spain's Official State Gazette (BOE).
The guidelines also stressed that children should be in groups no larger than three alongside one adult, and should not venture further than one kilometer (0.62 miles) from their home. They are also allowed to bring their toys.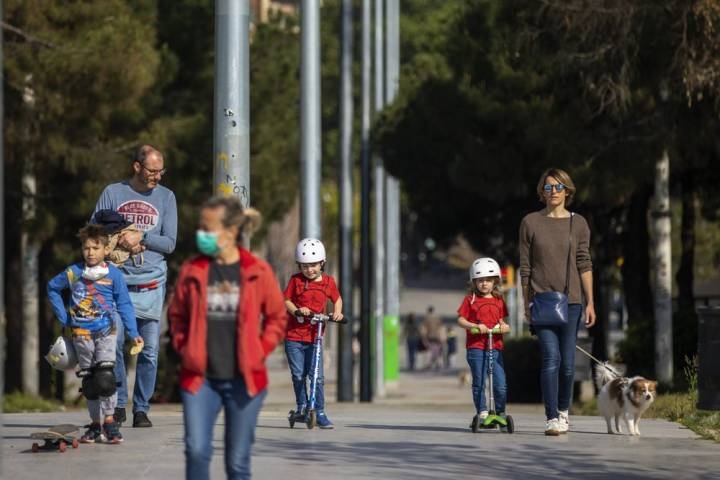 Kids in Spain are allowed to go out Sunday for the first time since lockdown (Photo: Global News)
Coronavirus live update: Italy to start reopening business on May 4, schools in September: PM to paper
Italy will start reopening its manufacturing industry on May 4 as part of plans to ease its coronavirus lockdown, and schools will reopen in September, Prime Minister Giuseppe Conte has said in a newspaper interview.
"We are working in these hours to allow the reopening of a good part of businesses from manufacturing to construction for May 4," Conte told Italian daily La Repubblica.
Conte said companies would have to introduce strict health safety measures before being allowed to open their gates. But he said some businesses considered "strategic", including activity that was mainly export-oriented, could reopen next week providing they got the go ahead from local prefects.
Conte said schools would reopen in September but added studies showed the risk of contagion was very high. Teaching remotely was working well, Al Jazeera reported.
Coronavirus live update: China says all patients in Wuhan have now been discharged, a health official has told Al Jazeera reporters.
The Chinese city of Wuhan, where the global coronavirus pandemic began, now has no remaining cases in its hospitals, a health official told reporters on Sunday.
The novel coronavirus is believed to have originated in a wet market in Wuhan and first emerged in December before spreading quickly worldwide.
"The latest news is that by April 26, the number of new coronavirus patients in Wuhan was at zero, thanks to the joint efforts of Wuhan and medical staff from around the country," National Health Commission spokesman Mi Feng said at a briefing.
The city had reported 46,452 cases, 56 percent of the national total. It saw 3,869 fatalities or 84 percent of China's total.
As of April 27, China has also gone 11 straight days without any new coronavirus deaths reported.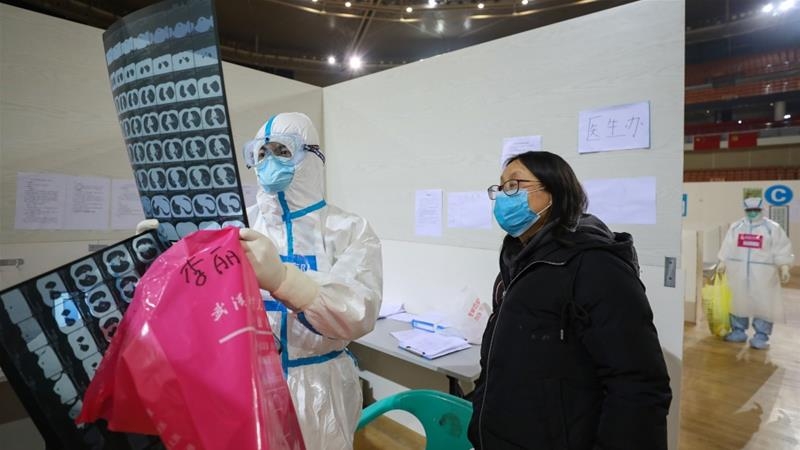 China says all patients in Wuhan have now been discharged (Photo: Al Jazeera)
Coronavirus today update: ASEAN has 39,506 infections in total, at least 1,411 have died. Singapore continues to be the largest regional epicenter.
With 931 new infections, Singapore returns to be the hardest-hit country in the region. 12 deaths reported.
Singapore is rapidly building bed space for coronavirus patients in cavernous exhibition halls and other temporary facilities as it faces a surge in cases, mainly among its large community of low-paid migrant workers.
The tiny city-state of 5.7 million people has 13,624 confirmed infections of the virus that causes COVID-19, one of the most in Asia, due to outbreaks in cramped dormitories housing over 300,000 mainly South Asian workers.
One such facility at Changi Exhibition Centre - home to the Singapore Airshow, Asia's biggest aerospace gathering - could eventually house over 4,000 patients recovering from the disease and those with mild symptoms.
Indonesia has 275 new cases, raising cumulative cases to 8,882. 743 deaths reported.
Indonesia's capital relocation on hold shifts budget to fight COVID-19 pandemic
Indonesia's investment on a mega project to relocate its capital city has been put on hold, as the country shifts focus to spend on containing the COVID-19 outbreak, but may resume next year, Finance Minister Sri Mulyani Indrawati said late Thursday.
The Philippines, the third-largest epidemic region in Southeast Asia, recorded an additional 285 cases and 7 deaths from nCoV, bringing the total number of cases and deaths to 7,579 and 501. 862 cases have recovered.
President Rodrigo Duterte yesterday announced an extension of the blockade in Manila until May 15 to prevent COVID-19 but would ease restrictions in areas with lower risk of infection.
Malaysia recorded 5,780 infections and 98 deaths after reporting 88 additional cases and no deaths in the last 24 hours. The Malaysian government has imposed a nationwide blockade, accompanied by a series of community isolation measures to contain the pandemic.
Thailand reported an additional 15 cases of nCoV, bringing the total number of cases nationwide to 2,922. The number of deaths due to nCoV in Thailand is at 51, with no new deaths recorded today.
Timor-Leste and Laos continue to be the two countries least affected by Covid-19, with 23 and 19 cases of nCoV respectively. Vietnam, Cambodia, Timor-Leste and Laos have not recorded any deaths.
Jasmine Le