Coronavirus (covid-19) breaking news: Global cases surpass 300,000
Coronavirus (covid-19) breaking news: More than 300,000 people have contracted the coronavirus (COVID-19) and at least 12,944 have died, according to a tally by Johns Hopkins University.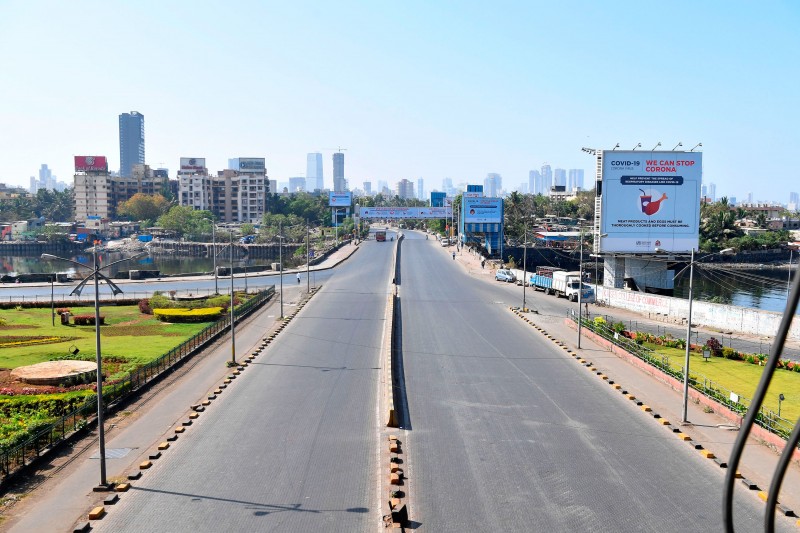 A nearly empty street is seen in Mumbai, India on March 22. Indranil Mukherjee/AFP/Getty Image
What's happening in Europe?
Europe is one of the worst-hit regions, with a number of countries struggling with large novel coronavirus outbreaks.
Here's what has been happening in Europe:
Italy reports its biggest one-day jump in deaths: In the past 24 hours, Italy recorded 793 deaths, meaning 4,825 people there have now died from coronavirus, according to the Italian authorities. That's an almost 20 percent increase on the day before, and is the biggest one-day spike since the outbreak began. A least 53,578 have contracted the virus in Italy.
UK numbers pass 5,000: There are now more than 5,000 confirmed cases in the United Kingdom, according to the Department of Health and Social Care on Saturday. That's a rise of more than 1,000 cases in 24 hours. In total, 233 people with coronavirus have died in the UK and 72,818 people have been tested.
Spanish Prime Minister warns the worst is yet to come: Prime Minister Pedro Sanchez asked Spaniards on Saturday to remain strong, adding that "there are hard days ahead." "We have to get ready from a physiological and emotional standpoint ... The risk is everywhere," he said.
Germany treats coronavirus patients from France: Germany has admitted patients from the French region of Alsace -- an area which borders Germany.
Berlin limits gatherings to no more than 10 people: On Saturday, Berlin limited gatherings to no more than 10 people. Restaurants in the city can only offer take-out or delivery. The city has at least 866 cases of Covid-19 with one death, according to the Robert Koch Institute.
France sees highest jump in deaths: France saw its highest jump in deaths from coronavirus since the beginning of the outbreak, according to the Health Ministry on Saturday. France had seen 562 deaths by Saturday -- a rise of 112 from Friday.
Russian military to send medical help to Italy
The Russian military will start sending medical help to Italy from today to help it to battle the new coronavirus after receiving an order from President Vladimir Putin, Russia's Defence Ministry said in a statement.
Putin spoke to Italian Prime Minister Giuseppe Conte on Saturday, the Kremlin said, adding that the Russian leader had offered his support and help in the form of mobile disinfection vehicles and specialists to aid the worst hit Italian regions.
Italy recorded a jump in deaths from the coronavirus of almost 800 on Saturday, taking the toll in the world's hardest-hit country to almost 5,000.
The Russian Defence Ministry said that military transport planes would deliver eight mobile brigades of military medics, special disinfection vehicles and other medical equipment to Italy from Sunday.
Russia will also send about 100 military specialists in virology and epidemics, the Interfax news agency cited the defence ministry as saying.
Coronavirus (Covid-19) outbreak latest news: March 22, 2020
*About 70 percent of Japanese parents are worried about the impact the nationwide school shutdown due to the coronavirus outbreak is having on their children, a survey by a Tokyo-based nonprofit organization showed recently.
*Hit hard by the coronavirus outbreak, Japan's economy faces its biggest challenge in more than a decade, with analysts warning of a technical recession and even worse if this summer's Tokyo Olympics is cancelled
*Despite Japan's efforts to carry out more testing for the new coronavirus, medical experts have cast doubt on whether the country can provide adequate testing for citizens and promote effective policies to contain the outbreak
*The number of infections of the new coronavirus has surpassed 300,000 worldwide, with deaths from the disease topping 13,000 as of Sunday, according to Johns Hopkins University and a Kyodo News tally based on government data and media reports.
*Japan plans to implement corporate tax refunds for companies that have been forced to incur losses due to the outbreak of the new coronavirus, a government source said Saturday
*Myanmar still claims to have avoided the coronavirus pandemic despite being surrounded by three countries battling the virus, including China where the outbreak started.
*Bangkok's metropolitan authority on Saturday ordered the closure of shopping malls and entertainment facilities in the capital to slow the spread of the novel coronavirus.
*Holding the Tokyo Olympics on schedule as the local organizing committee and the International Olympic Committee advocate is "irresponsible," The Washington Post's editorial board wrote in a column released Friday.
Coronavirus sparks prison riot
At least one person has been killed and four others injured during a riot at a prison in central Sri Lanka.
Police say the trouble started after the inmates staged a protest demanding their release due to the coronavirus outbreak.
They say some prisoners tried to use the opportunity to escape, prompting officers to open fire at the jail in the city of Anuradhapura.
Fifth US state issues stay-at-home orders
A quarter of Americans have now been ordered to stay in their houses, with New Jersey following four other states in imposing unprecedented public health restrictions.
California, New York, Illinois and Connecticut had already tightened rules on the movement of residents. The orders now apply to 84 million people.
Trips to grocery stores, pharmacies, gas stations and other "essential businesses" are exempt.
And officials are warning life won't return to normal soon.
Mr Cuomo said the state had identified 6,000 ventilators but needed 30,000. He said the state was sending 1 million N95 respirator masks to New York City, where more than 6,000 cases have been diagnosed.
Bangkok closes more shops
Authorities in the Thai capital Bangkok have introduced new measures to stem the spread of COVID-19.
Malls in the city will close from today, although supermarkets and pharmacies will remain open, and restaurants will also be allowed to fill takeaway orders.
Beauty salons, boxing stadiums and arcades will also close.
The measures come as Thailand reported 89 new confirmed cases of the virus, bringing its tally to 411.
Most cases are in Bangkok, and many are linked to earlier infections from a boxing match, an entertainment complex and a religious gathering in neighbouring Malaysia.
Schools are already closed, and will now remain shut for a further 22 days.
Orders issued earlier in the week included the closure of entertainment and sports venues, as well as massage parlours.
Thai Air Asia, Bangkok Airways and Thai Lion Air have suspended international flights.
India in the midst of a 14-hour lockdown
More than a billion people in India have been asked to observe a 14-hour long curfew to try and combat the coronavirus pandemic.
Prime Minister Narendra Modi announced the curfew last week, telling citizens that it would be a test in order to assess the county's ability to fight the virus.
Mr Modi urged citizens to stay indoors from 7:00am (12:30pm AEDT) until 9:00pm (2:30am AEDT) on Sunday.
India has so far recorded 315 cases.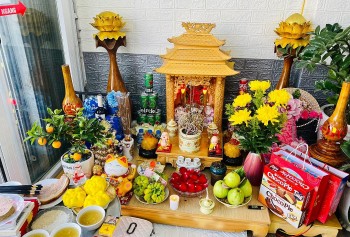 Handbook
Learn more about an ancient Vietnamese tradition that may bring you good fortune!