COVID-19: 5,000 tonnes of rice as Vietnam's gift delivered to Cuba
Up to 5,000 tonnes of rice that are the gift of the Vietnamese Party, State and people for the Cuban people to support their COVID-19 fight were symbolically presented at a ceremony in Hai Phong on July 1.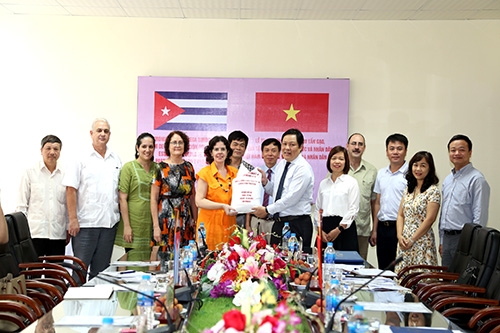 At the ceremony. Photo: Duc Minh/thoibaotaichinhvietnam.vn
The ceremony in the northern port city of Hai Phong marked the attendance of Head of the Ministry of Finance's General Department of State Reserves Do Viet Duc, Cuban Ambassador Lianys Torres Rivera, among others.
At the ceremony, Ambassador Lianys Torres Rivera appreciated the donation by pointing out that this noble and solitary gesture is an expression of the historic relations of special friendship and fraternity between the two countries, especially as Vietnam and Cuba are celebrating the 60th anniversary of their bilateral diplomatic relations this year (December 2, 1960 – 2020).
She expressed her belief that with international solidarity and ceaseless efforts by the two countries' political systems and authorities, Vietnam and Cuba will defeat the pandemic and move forward.
The donation was made official on April 17 in Hanoi, in a ceremony in which Minister of Construction Pham Hong Ha, acting under the empowerment of Vietnamese Party and State leaders, handed a letter from Party General Secretary and State President Nguyen Phu Trong, addressed to his Cuban counterpart, Raul Castro, and to Cuba's President Miguel Diaz-Canel, to the country's Ambassador, as well as the token of the 5,000 tonnes of rice.
According to Do Viet Duc, Head of the Ministry of Finance's General Department of State Reserves, up to now, the General Department of State Reserves of Vietnam in northeastern region has coordinated with the relevant agencies to organize the transportation of 5,000 tons of rice from Hai Phong which is packed in 200 containers, each container holds 25 tons of rice and is transported into 5 trips, 40 containers each.
The first batch of rice have left Hai Phong Port to Cuba on May 31 and will arrived at the Port of Mariel in the western province of Artemisa on July 29.
The fifth batch, also the last one, will leave Hai Phong on July 3 and will arrive at Mariel port is before September 10.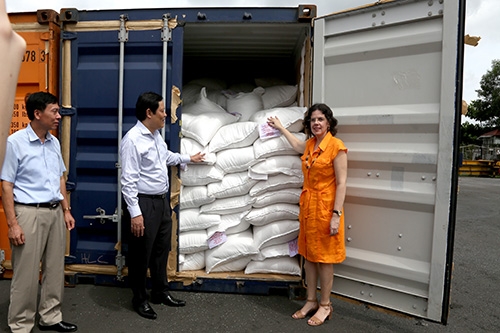 The delivery took place in the northern port city of Hai Phong. Photo: Duc Minh/thoibaotaichinhvietnam.vn
In May, the Cuban Ambassador has received 100 tonnes of rice from Deputy General Director of the Viglacera Corporation Tran Ngoc Anh.
The rice is a gift from Viglacera's Vimariel S.A company based at the Mariel special economic zone in Cuba for frontline medical staff fighting COVID-19 in the country.
The Vietnam-Cuba Friendship Association (VCFA) and the club of Vietnamese alumni once studied in Cuba in April also started a campaign and raised over VND1,57 billion (USD 66.000) to help Cuba in the fight against the ravaging COVID-19 pandemic.
The campaign has received an enthusiastic responses from many organizations, individuals, collectives, businesses, people once studied, and lived in Cuba.
Apart from cash donation, they also handed over 2,000 bottles of hand sanitizer to Cuban Ambassador to Vietnam Lianys Torres Rivera in a ceremony in Hanoi.
The solidarity and fraternal relationship between Vietnam and Cuba were fostered by Presidents Fidel Castro and Ho Chi Minh. The relationship has become a valuable asset and a source of great encouragement for the revolutionary cause of each country.
The two countries established diplomatic ties in December 1960.
Over the past years, the time-honoured solidarity, mutual support and comprehensive cooperation between the two countries have been strengthened in all spheres./.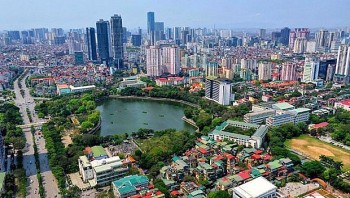 National
Vietnam News Today (Jan. 29): Quang Ninh: Cross-border trading with China resumed after Tet; Hanoi in the world's top three culinary destinations: Tripadvisor; Intertwined opportunities, challenges for Vietnam's economy in 2023; Supermarkets, traditonal markets gradually resume normal operations amid abundant supply.