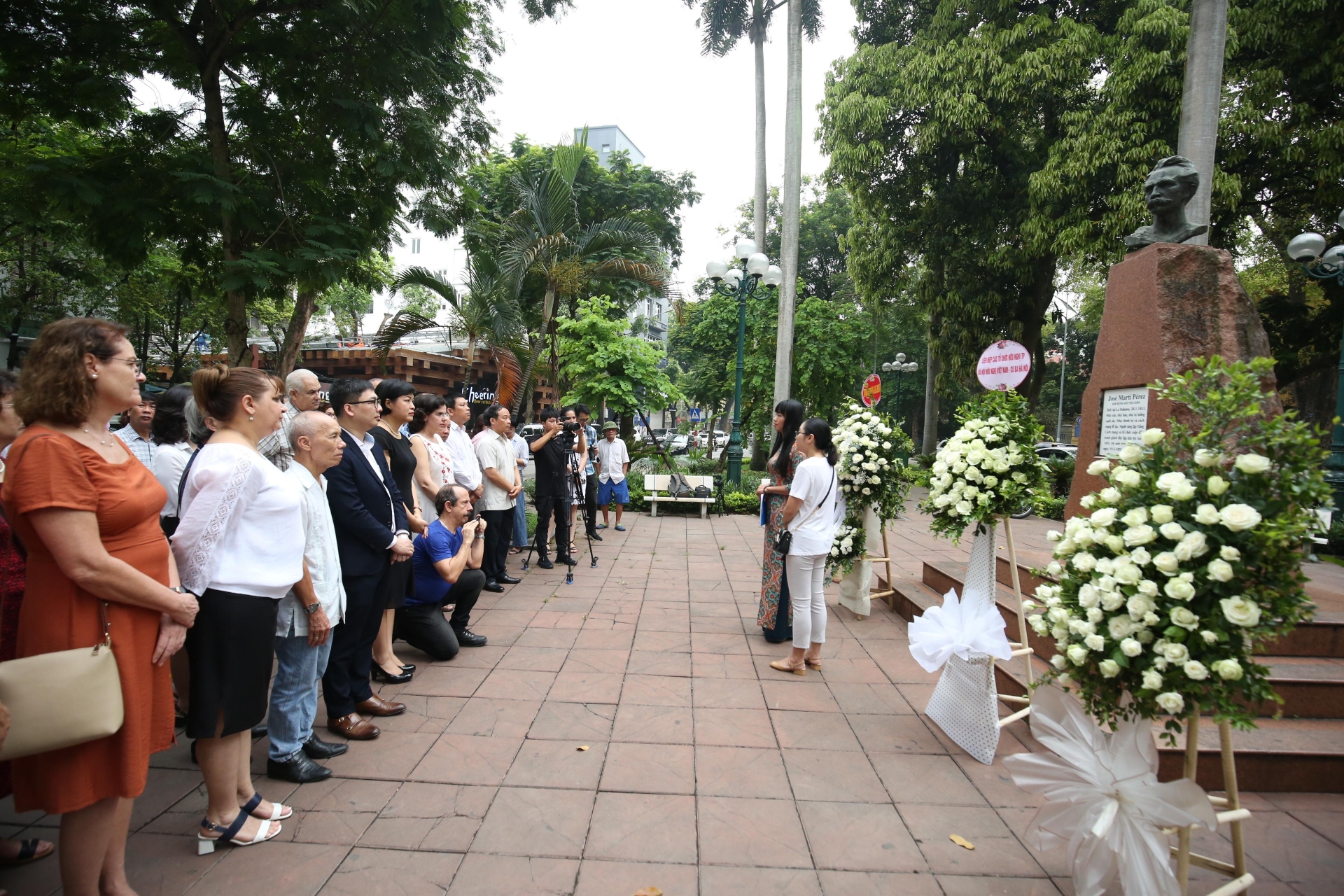 A floral tribute was paid to Cuban national hero Jose Marti at his statute in Hanoi's Tao Dan Park. Photo: VNT
The event was jointly held by the Central Vietnam-Cuba Friendship Association, Hanoi chapter Union of Friendship Organisations (HAUFO) and the Cuban Embassy in Vietnam, attracting the participation of a large number of Vietnamese alumni in Cuba, members of the Vietnam-Cuba Friendship Association, Cuban students in Vietnam and embassy staff.
Speaking at the event, Cuban Ambassador to Vietnam Lianys Torres Rivera gave an overview of the Cuban hero's life. She underlined the shared ideas on the national struggle for independence between President Ho Chi Minh and the Cuban hero while expressing her hope that young generations of the two nations will nurture the special relations.
Jose Marti, born on January 28th, 1853 in Havana, was a prominent thinker, cultural figure and a staunch revolutionary in Latin America in the late 19th century. He led the Cuban struggle for independence and died on the battlefield on May 19, 1895.
He was also credited with laying the foundation for the solidarity between two countries. He wrote the piece "A journey through the land of the Annamese" published in the US magazine Golden Years in 1889, hailing the Vietnamese people's tradition of patriotism and fighting against invaders.
Meanwhile, Vice President of the Vietnam-Cuba Friendship Association Nguyen Thi Thu Giang highlighted Jose Marti's life and revolutionary cause, as well as his great contributions to the struggle for independence and freedom of Cuba at the end of the 19th century, and the special relationship between Vietnam and Cuba.
This relationship, founded and nurtured by late President Ho Chi Minh of Vietnam and late leader Jose Marti of Cuba, and their successors, has developed well in all areas.
Giang affirmed that on the occasion of the 60th anniversary of the establishment of diplomatic relations between the two countries, the Vietnam-Cuba Friendship Association will continue to promote people-to-people's activities, enhancing the understanding of the younger generations and people from two countries, contributing to fostering the Vietnam- Cuba special relationship to be forever green, eternal and sustainable as the sacred prayer of President Ho Chi Minh.
Two sides' delegates spend one minute to commemorate the two leaders, the heroes of Cuba and Vietnam Jose Marti and President Ho Chi Minh.
Hannah Nguyen