Covid-19 in India and the world latest news: Reports new single-day record of COVID-19 infections
On Thursday, India set new record of Covid-19 infection cases as the country struggle with shortage of medical supplies and hospitals are crowded with patients, and warning of a third wave will sweep the country.
India Reports New Single-Day Record of COVID-19 Infections, Deaths
India set another record in the current surge of new COVID-19 infections Thursday as officials warn that a third wave will sweep the country.
The Health Ministry reported a single-day record 412,262 new confirmed coronavirus cases, including a record 3,980 deaths. The South Asian nation's total COVID-19 figures now stand at just over 21 million confirmed cases and 230,168 deaths, according to VOA News.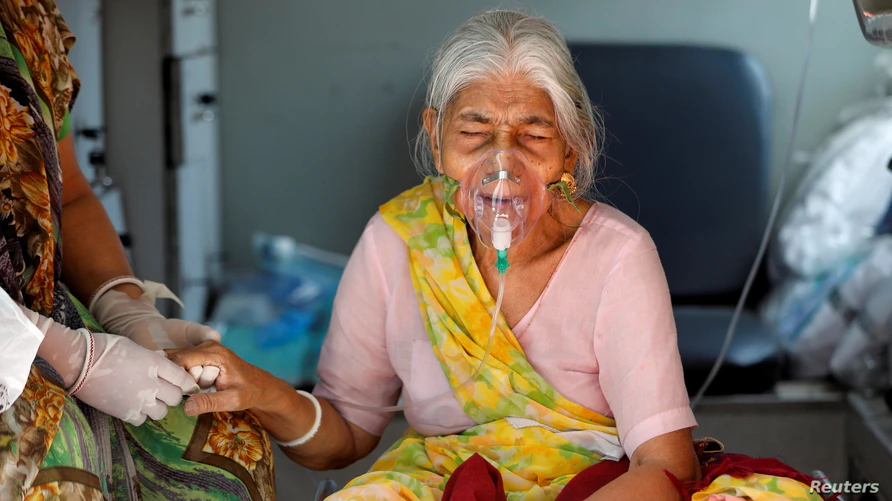 Photo: Reuters
K. Vijay Raghavan, a senior government scientific adviser, warned Wednesday that a third wave of coronavirus infections would sweep the country as it struggles with the devastating effects of the current wave.
"Phase 3 is inevitable, given the high levels of circulating virus," Raghavan said at a news briefing in New Delhi. "But it is not clear on what timescale this Phase 3 will occur. ... We should prepare for new waves."
India's crisis is aggravated by a critical lack of oxygen needed to treat critically ill patients, along with the raw materials needed to manufacture doses of the COVID-19 vaccine. While India is home to the Serum Institute of India, the world's largest vaccine manufacturer, only 2% of the country's 1.3 billion people have been vaccinated, according to local reports.
The government has been ordered by the Supreme Court to submit a plan to meet oxygen needs in New Delhi hospitals by Thursday.
COVID-19 spreads to rural India, villages ill-equipped to fight it
Hopes that India's rampaging second wave of COVID-19 is peaking were set back on Thursday as record daily infections and deaths were reported and as the virus spread from cities to villages that were poorly equipped to cope, Reuters reported.
Government modelling had forecast a peak by Wednesday in infections that have overwhelmed the healthcare system, with hospitals running out of beds and medical oxygen.
Although the country has administered at least 157 million vaccine doses, its rate of inoculation has fallen sharply in recent days.
Modi has been widely criticised for not acting sooner to suppress the second wave, after religious festivals and political rallies drew tens of thousands of people in recent weeks and became "super spreader" events.
Several Indian states have imposed various levels of social restrictions to try to stem infections, but the federal government has resisted imposing a national lockdown.
The southern state of Kerala announced on Thursday it will impose nine days of curbs on movement from Saturday.
In the office of a Hindu crematorium in Delhi, the floor and shelves were overflowing with earthen pots, plastic packets and steel containers filled with the ashes of people who have died from COVID-19.
Practising Hindus collect the ashes of the dead a few days after the funeral for immersion in a river or sea, one of the rituals that they believe lead to salvation of the soul.
"Our lockers are full. We cannot store any more ashes. We used to get around 40 COVID-19 bodies a day. We are now telling relatives to take the ashes with them on the same day," Pankaj Sharma, a manager at the crematorium, told Reuters.
With Delhi running short of ambulances, authorities have teamed up with a non-profit organisation to turn some of the city's ubiquitous three-wheeled auto-rickshaws into makeshift ambulances for COVID-19 patients.
Emergency Room Is So Crowded, 'It's Nearly Impossible To Walk'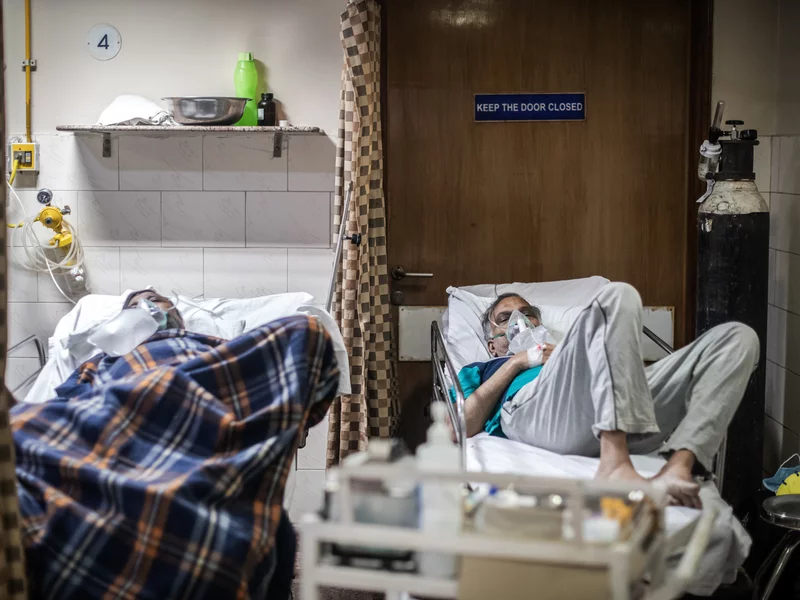 COVID-19 patients in the emergency ward of an unidentified hospital on Monday in New Delhi. Dr. Sumit Ray, a hospital critical care chief in the city, says India's health care system is collapsing. Rebecca Conway/Getty Images
India has been setting daily records for positive coronavirus tests — more than 400,000 people on Wednesday alone.
In New Delhi, the Holy Family Hospital is at 140% capacity, according to NPR.
"It's nearly impossible to walk sometimes in the [emergency room]," said Dr. Sumit Ray, the hospital's critical care chief. "Sometimes we have to keep the patient in the ER for hours, for a day or two, because we don't have a bed in the wards or in the [intensive care unit]."
"Many of the public areas, some corridors, etc., have been cordoned off right next to my office behind a wall," he said in an interview with NPR's Morning Edition. "There is about 30 patients in a common area, which used to be the outpatient department. We have used those rooms also and put beds there, monitors there, oxygen cylinders there."
"Individual hospitals are standing up and doing the best they could. But as a system in different parts of the country, we have collapsed," he said.
"Our staff is stretched. They're working more hours, working harder, longer. ... We need more ventilators because as the timeline of COVID is such that once the peak of number of cases happens about two to three weeks down the line, a certain percentage of those patients become sicker and end up in the ICU. And that's what exactly we are seeing now. And the number of deaths are increasing now. And what we are now having a problem with is that we have many patients who need ICU beds, but we do not have ICU beds for them. So we are managing them in high-dependency units, on wards, etc. Obviously, the quality of care is not the same because the level of monitoring, etc., cannot be managed as it is needed in the ICU.
So these are the problems which we face now. We kind of predicted this a few weeks back because we know the timeline, how COVID behaves. And we had tried to tell the government that there has to be a surge capacity building so that patients who will need this may have to be shifted. And that cannot be organized by an individual hospital. It has to be built by the government. It's starting to happen, but it's not come through yet."
U.S. administers nearly 252 million doses of COVID-19 vaccines - CDC
The United States has administered 251,973,752 doses of COVID-19 vaccines in the country as of Thursday morning and distributed 324,610,185 doses, the U.S. Centers for Disease Control and Prevention said on Thursday.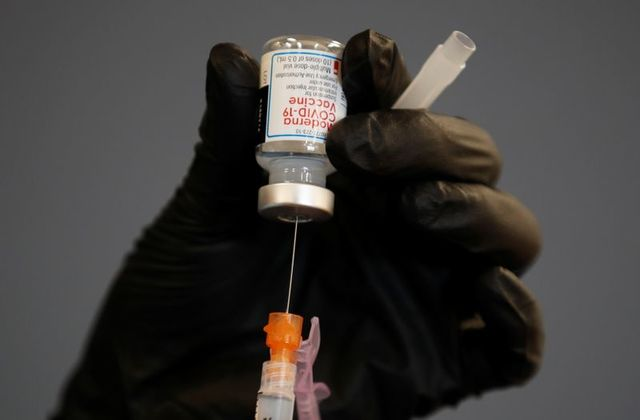 A health care worker fills a syringe with Moderna COVID-19 vaccine as California opens up vaccine eligibility to any residents 16 years and older during the outbreak of coronavirus disease (COVID-19) in Chula Vista, California, U.S., April 15, 2021. REUTERS/Mike Blake
Those figures are up from the 249,566,820 vaccine doses the CDC said had gone into arms by Wednesday out of 321,549,335 doses delivered, Reuters reported.
The agency said 149,462,265 people had received at least one dose while 108,926,627 people are fully vaccinated as of Thursday.
The CDC tally includes two-dose vaccines from Moderna and Pfizer/BioNTech, as well as Johnson & Johnson's one-shot vaccine as of 6:00 a.m. ET on Thursday.
A total of 7,805,656 vaccine doses have been administered in long-term care facilities, the agency said.
Germany to allow AstraZeneca COVID-19 vaccine for all adults
Germany will allow AstraZeneca's COVID-19 vaccine to be administered to adults of all ages and aims to offer 12-18 year olds a vaccine by the end of August as it seeks to speed up its rollout, Health Minister Jens Spahn said on Thursday.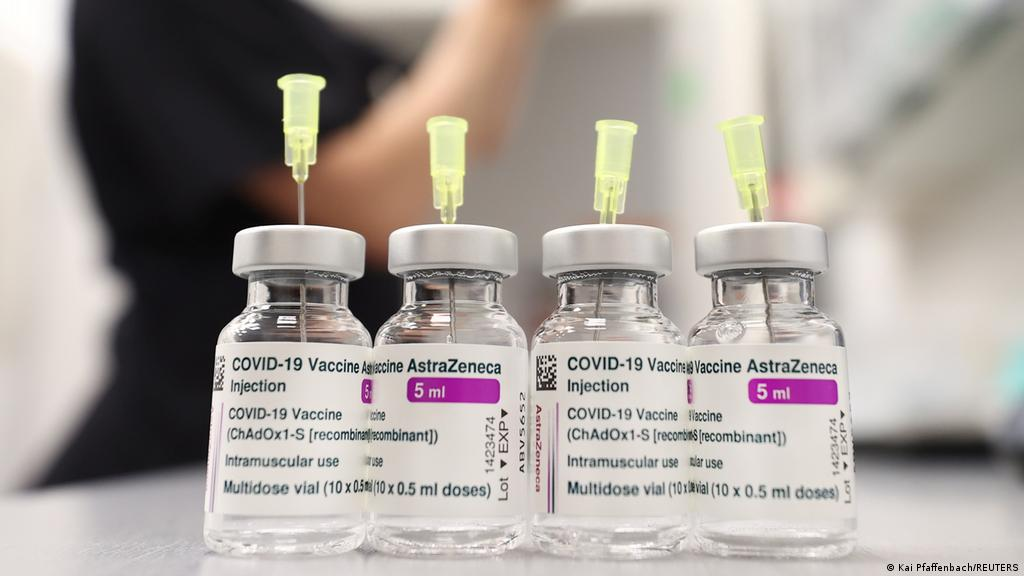 Photo: Reuters
The country's 16 regional health ministers have agreed with Spahn to reverse a previous decision to restrict the AstraZeneca shot to people over 60 years old. He also said that the current 12-week gap between first and second doses of AstraZeneca vaccinations could be shortened, according to Reuters.
"Both these measures serve to further to accelerate our vaccination campaign overall," said Spahn. Initial supply shortages and bureaucratic hurdles meant Germany, which has Europe's biggest economy, got off to a slow start with its inoculation strategy.
The move, already adopted in several German states, would be on a voluntary basis and family doctors would decide how best to administer the vaccine, Spahn said.
Dozens of countries paused the use of the AstraZeneca vaccine in March or restricted them to older adults after reports of very rare, but serious, blood clots. Several of them have now resumed use either fully or with restrictions after health regulators said the benefits of the shot outweigh any risks.
Spahn also said Germany aimed to offer 12-18 year olds a vaccine by the end of August, provided European regulators give approval for the BioNTech/Pfizer shot for that age group.
U.S. bound-migrants vaccinated for COVID-19 in Mexican border city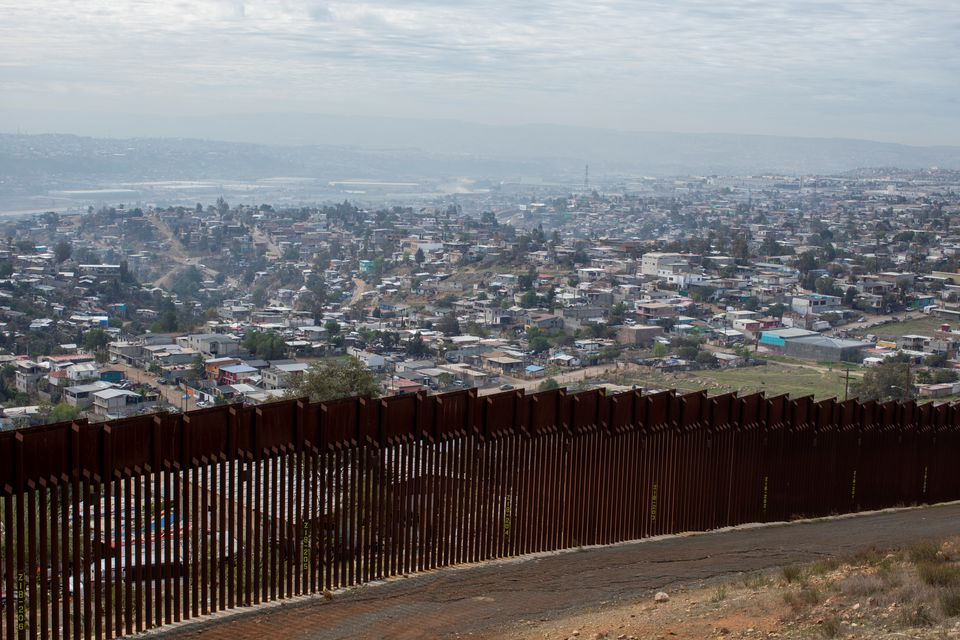 Tijuana, Mexico is pictured behind one of the primary border walls between Mexico and the U.S., east of San Diego, California, U.S., February 2, 2021. REUTERS/Mike Blake
More than a thousand migrants who hope to reach the United States were vaccinated against COVID-19 on Thursday through a first-time effort made possible by a private donation of shots from a U.S. company, a shelter director said.
About 1,200 migrants, mainly from Central America, received the Pfizer-BioNTech vaccine in the border city of Tijuana, said Gustavo Banda, director of the Ambassadors of Jesus shelter. He declined to give the name of the donor, according to Reuters.
"This is positive, it is the first time it has been done," Banda said. "It was extremely important to vaccinate migrants because we're a long-stay shelter where they can spend many months, even a year."
Reuters consulted several migrant shelters and did not find any other cases of migrants receiving vaccines.
The administration of U.S. President Joe Biden is dealing with a growing humanitarian crisis as more people reach the U.S. border. Authorities in Mexico, the United States and Central America have tightened border restrictions in recent months.
Mexico's government, which has already received doses of AstraZeneca's vaccine from the United States to supplement its vaccine campaign, has said it may ask for U.S. help in vaccinating people along their shared border.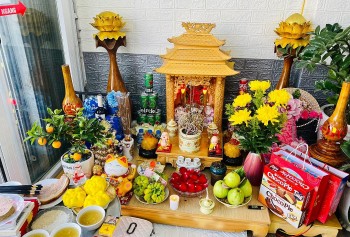 Handbook
Learn more about an ancient Vietnamese tradition that may bring you good fortune!