HCMC students stay home starting next week amidst Covid-19 threat
More than 1.7 million students up to high school level in Ho Chi Minh City will stay home from next week and switch to online study.
The city People's Committee announced the decision Thursday, saying schools can be flexible with their specific conditions and open offline classes for ninth and 12th-graders, who need to take graduation exams, Vnexpress reported.
Many schools across the city have already rushed to finish their final exams before May 9, about two weeks earlier than planned, following a direction from the municipal Department of Education and Training.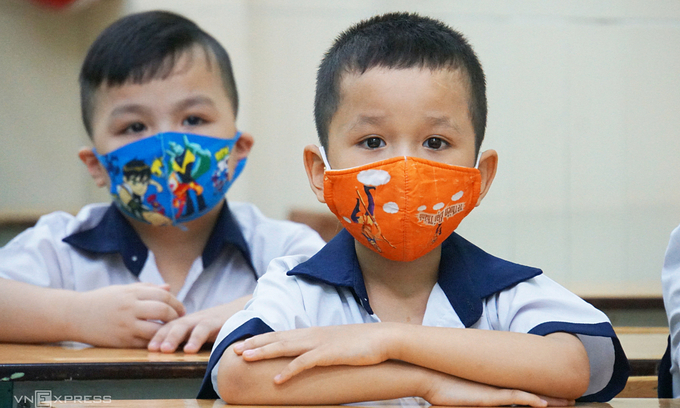 Students wear masks in class at a primary school in HCMC, 2021. Photo by VnExpress/Manh Tung.
HCMC's move would follow 18 other cities and provinces that have allowed students to stay home as new coronavirus outbreaks since last week sparked 64 community transmissions in 10 localities: Hanoi, Da Nang and HCMC and the provinces of Ha Nam, Vinh Phuc, Hung Yen, Quang Nam, Dong Nai, Hai Duong, and Yen Bai.
HCMC has recorded only one Covid-19 case during the new wave so far.
But more than 90,000 students and teachers reportedly left the city during the four-day holiday last week, and 15 students have been quarantined after it was found out they shared a flight with a person diagnosed with Covid-19 in the neighboring Dong Nai Province.
The Southern Metropolis earlier suspended all its bars, dance clubs, karaoke parlors, theaters, massage parlors, spas, and gaming cafes as a part of efforts to prevent the coronavirus spread.
Cities, provinces deploy varying Covid-19 containment measures
With an ongoing community outbreak in Vietnam, local authorities have come up with their own solutions to limit public gatherings.
Starting April 27, Vietnam has suffered a new Covid-19 community outbreak with different clusters from north to south. Previously, the nation had gone over a month without community infections.
By Thursday morning, 64 locally-transmitted cases have been recorded in 10 localities, including 27 in Hanoi and 14 each in northern Ha Nam and Vinh Phuc provinces.
Following those confirmed cases, different localities have now reported the first positive test results of people that had come into close contact with Covid-19 patients, prompting action.
Hanoi has called on its citizens to not go out unnecessarily or form large gatherings in public, even for exercising and other sporting activities.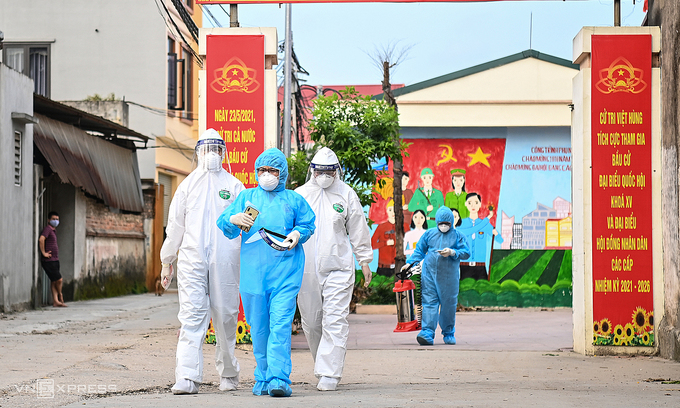 Medics arrive at a village in Hanoi on May 3 for mass testing of Covid-19. Photo by VnExpress/Giang Huy.
The capital city and Ho Chi Minh City, the country's largest metropolises, have since the end of last month closed karaoke and massage parlors, bars, and dance clubs, and suspended sporting events.
The same move to suspend such non-essential services has been applied by Da Nang City and Nghe An Province in the central region, as well as Lao Cai Province in the north.
Da Nang has recorded two Covid cases, HCMC one while Nghe An and Lao Cai have none.
Northern Thai Binh Province has applied social distancing across the region starting Thursday noon after five contracted the novel coronavirus. The social distancing model bans gatherings of over 20 people in a place and gatherings of 10 people or more outside workplaces, schools and hospitals. It also requires a minimum distance of two meters between people in public.
Northern province Bac Ninh, with six people testing positive Thursday, has also told its people not to go out if it is not necessary, and stopped all non-essential services while nearby Yen Bai Province has isolated a district of 6,100 residents after reporting five Covid patients.
All tourism services have been put on hold at top attractions in Quang Ninh, including Ha Long Bay, and in Quang Nam, home to Hoi An ancient town.
In a similar move, the northern port city of Hai Phong has decided to stop receiving visitors for now.
Vietnam recorded 60 cases of Covid-19 during the 12 hours to 6pm May 6, including 56 locally-infected cases and four imported, according to the Health Ministry.
Among the 56 local cases, 16 were at the second facility of the National Hospital for Tropical Diseases in Hanoi, 12 in the northern province of Bac Ninh, 11 in the northern province of Vinh Phuc, four in Hanoi, 3 in the central city of Da Nang.
The national tally has reached 3,090, with 1,690 local cases. In the latest wave of outbreaks from April 27, 120 cases have been detected.
A total of 2,560 patients have been given the all-clear, and the death toll remains at 35.
Among patients still under treatment, 24 have tested negative for the coronavirus once, 12 twice and 38 thrice.
Meanwhile, 40,736 people are being quarantined across the country.