Hanoians urged to stay at home to curb coronavirus spread
Hanoi authorities are calling on city dwellers not to go out unnecessarily in a bid to curb the spread of the deadly coronavirus.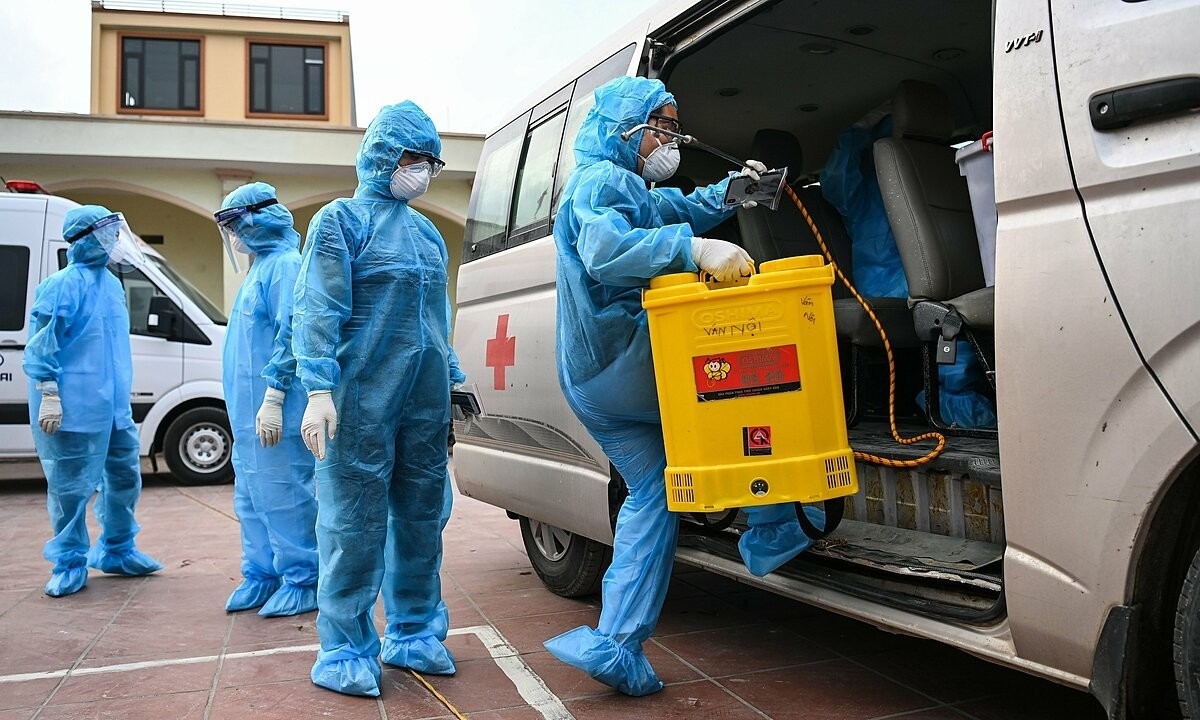 Medical workers are dispatched to a village in Hanoi for Covid-19 testing and disinfection, May 3, 2021. (Photo: VNE)
The directive was issued by Chu Ngoc Anh, chairman of Hanoi People's Committee on May 5 evening at the Covid-19 prevention and control meeting.
Anh exhorted the public to restrict commuting and strictly follow Covid-19 preventive protocols, including health declaration, face mask mandate, social distancing (at least one meter between two people).
The chairman once again requested the closure of all non-essential festive and religious activities, recreational facilities (karaoke, bars, internet café, cinemas), streetside eateries and café, massage and spa parlors, sports establishments and events attracting large gatherings. Funerals or celebrations such as weddings, birthday parties, must be held in smallest size as possible.
Municipal authorities on May 5 also banned entrance to all parks, urging residents to temporarily stop doing exercises at public places. Educational facilities up to universities switched to online classes starting May 3 until further notice.
Agencies and office places are encouraged to hold virtual meetings and cancel party or celebration schedules. Mass transits are allowed to carry half of each vehicle's capacity and must be equipped with hand sanitizers. Drivers and passengers must wear face masks.
The city leader also tasked relevant units to build possible pandemic scenarios and corresponding solutions to both ready for any unexpected events that might come.
This is the fourth time Hanoi urges residents to minimize traveling in an effort to contain the spread of the novel virus. It has earlier issue such directive in March and August 2020, and early February this year.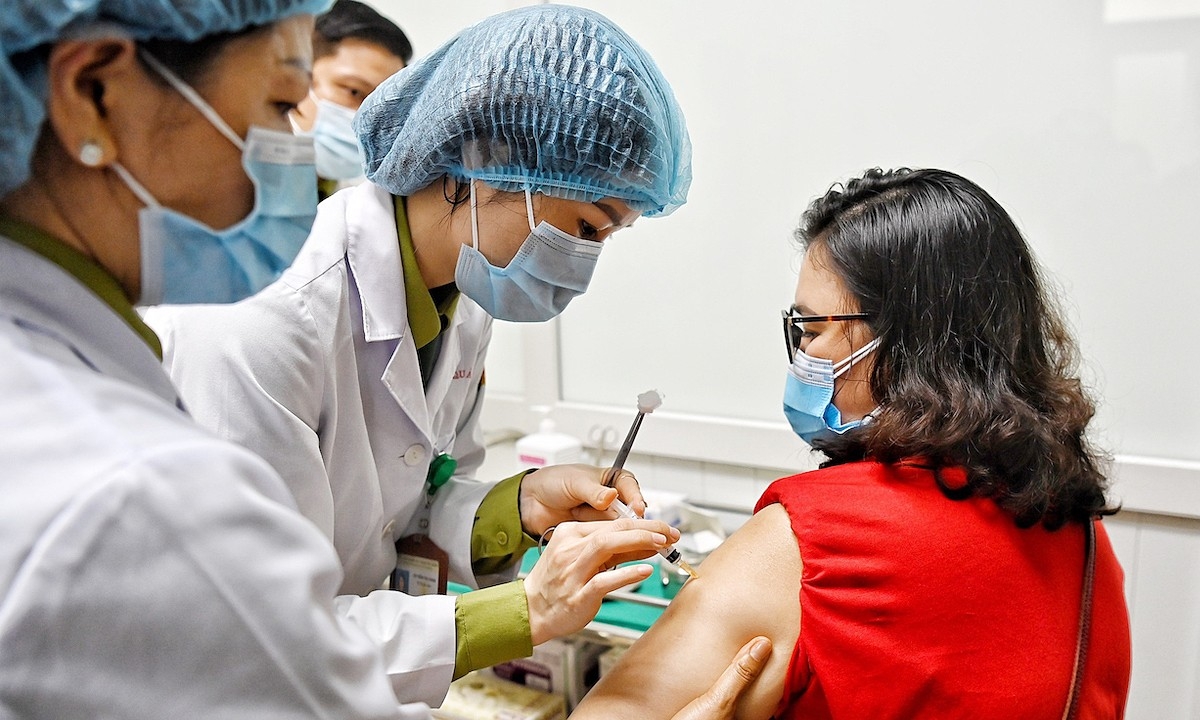 A volunteer receives a Nanocovax Covid-19 vaccine shot as part of its second phase of human trials in February 2021. Photo by VnExpress/Giang Huy.
Yesterday, Hoang Duc Hanh, deputy director of Hanoi Department of Health, warned that Hanoi is highly vulnerable to new Covid-19 outbreak. Tran Thi Nhi Ha, director of Hanoi Department of Health, claimed that the ongoing Covid-19 situation in Hanoi is very complicated. She called for comprehensive regulation at places where patients or suspected patients have been at.
Prime Minister Pham Minh Chinh yesterday stated that Vietnam should change its s anti-pandemic motto from defense to proactive fight. The change of approaching plans, perspectives and command is evaluated as necessary and would create basic guidelines for relevant agencies.
The PM also tasked Covid-19 Prevention and Control Steering Committee of all levels to both inherit and adapt anti-pandemic lessons Vietnam has gained in the past year. He cited that the virus is mutating to more contagious variants, on top of that, people are losing their guard in recent times.
"All localities must stay alert, respond to unexpected situations in flexible and creative ways," Chinh said at the regular Government meeting on May 5.
The Government leader went on by asking to speed up vaccine import and mass inoculation, with frontline workers prioritized for the shots. Technological advances should be utilized.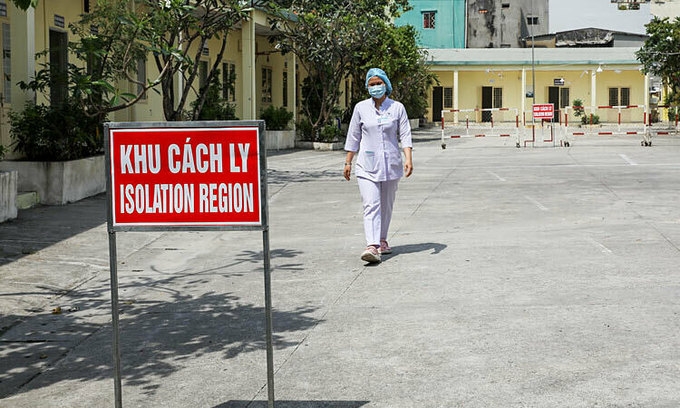 (Photo: VNE)
Since last week Thursday Hanoi has had 27 cases and locked down several locations associated with infections, including its frontline medical facility in the Covid-19 fight, the National Hospital for Tropical Diseases.
The hospital has recorded 22 cases so far.
Nationwide, there have been 64 cases in what has been a fourth wave in Hanoi, Da Nang and HCMC and the seven provinces of Hung Yen, Ha Nam, Vinh Phuc, Quang Nam, Dong Nai, Hai Duong, and Yen Bai.
Vietnam on May 5 imposed 21-day mandatory quarantine for both foreign arrivals and those who come into contact with Covid-19 patients.
The decision has been made after several individuals contracted the virus after they'd already completed the 14-day quarantine and tested negative twice or thrice, according to VNE. The decision, which took immediate effect Wednesday, was taken after the Health Ministry consulted experts on ways to keep the larger community safe, said Minister Nguyen Thanh Long.
In the past week, at least three such cases have been detected.