COVID-19: New York confirms its second case, US cases top 100
A man who lives in a New York suburb and works in Manhattan tested positive for the novel coronavirus (COVID-19), bringing the total confirmed cases in the US to 100.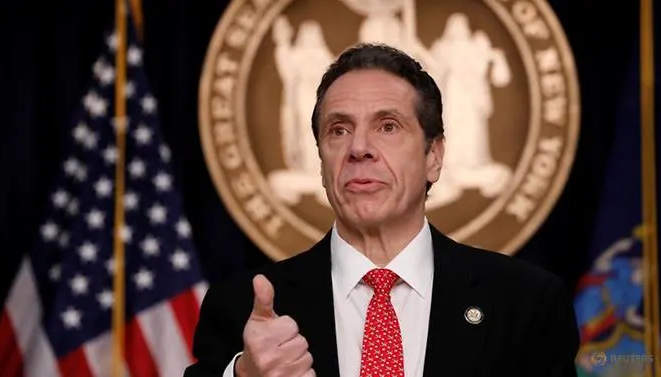 New York Governor Andrew Cuomo delivers remarks at a news conference regarding the first confirmed case of coronavirus in New York State in Manhattan borough of New York City, New York, US, Mar 2, 2020. (Photo: REUTERS/Andrew Kelly)
The 50-year-old man had an underlying respiratory illness and is hospitalised, Governor Andrew Cuomo said on Tuesday (Mar 3) at a news conference.
He added that the patient had not travelled to countries considered the epicentre of the outbreak but had visited Miami recently.
Cuomo disclosed the second case after an Orthodox Jewish school in New York City cancelled classes on Tuesday to allow for precautionary measures after a suspected case of coronavirus turned up within its community.
The SAR Academy and SAR High School in the Riverdale section of the Bronx borough said it was in touch with the city's Department of Health and following its guidelines.
The co-educational school, which describes itself as "modern Orthodox," urged people to follow steps to prevent and minimise the spread of the infection, which had led to the reported deaths of six people in the United States as of Monday evening, all of them in Washington state.
About 100 people nationwide have tested positive for the virus, including the two people in New York, according to health officials.
The man who tested positive remains hospitalised in serious condition, New York Mayor Bill de Blasio said in a statement, adding that the confirmation was made by the New York City Public Health Laboratory on its first day of testing.
"With the results confirmed within a number of hours, we were immediately able to take next steps to stop the spread of this virus," de Blasio said. "We have said from the beginning that it is likely we will see more positive cases of the coronavirus."
Previously all testing was conducted by the federal Centers for Disease Control and Prevention (CDC), a process that created in a delay of several days before the result was known.
The US Federal Reserve cut interest rates on Tuesday in an emergency move designed to shield the world's largest economy from the impact of the coronavirus. The Fed said it was cutting rates by a half percentage point to a target range of 1.00 per cent to 1.25 per cent.
As COVID-19 cases begin to spread across the United States, deaths of four residents at the LifeCare long-term care facility in Kirkland (Washington) have highlighted the vulnerability of older people in general. The elderly are considered the most at risk of dying from the virus, with deaths in China disproportionately affecting people over the age of 80.
"If the outbreak spreads, US officials might have to consider new steps to protect the more than 1.3 million Americans in nursing homes, such as curtailing visits to reduce the risk of introducing the virus to them," Tom Frieden, a former director of the Centers for Disease Control and Prevention, told a media briefing on Monday.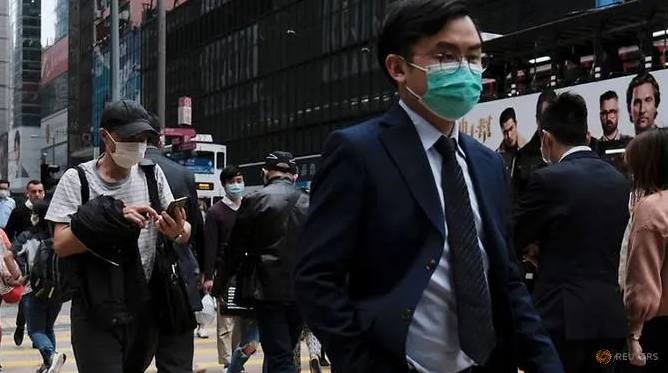 People wear protective face masks as they take their lunch breaks at the financial Central district, following the outbreak of the new coronavirus, in Hong Kong, China March 2, 2020. REUTERS/Tyrone Siu
The coronavirus appears to now be spreading faster outside China than within, and airports in hard-hit countries were ramping up screening of travellers.
There are more than 90,000 cases of the new coronavirus globally, with more than 80,000 of them in China. China's death toll is 2,943, with more than 75 deaths elsewhere as 77 other countries and territories have reported the respiratory disease.
Ukraine has its first confirmed coronavirus case, Ihor Kuzin, the acting head of the Health Ministry's public health centre, told Reuters on Tuesday.
The man was hospitalised on Saturday in the western city of Chernivtsi. He had travelled to Ukraine from Italy via Romania, Kuzin said.
The man was in a stable condition and his wife has put herself in self-isolation at home, Deputy Health Minister Viktor Lyashko told reporters at a subsequent briefing.
On the same day, seven new cases of COVID-19 were reported in Malaysia, bringing the national total to 36 cases.
All seven new cases are Malaysians who were close contacts of Case 26, including a paramedic who provided treatment, the Health Ministry said in a statement.
The seven cases were identified through contact tracing and are currently all in stable condition, the ministry added.
The Health Ministry said contact tracing for Case 26 is still ongoing.
The ministry previously said that Case 26, a 52-year-old man, visited Shanghai in mid-January.
French officials have closed about 120 schools in areas that have reported the largest numbers of coronavirus infections, and more could be shuttered in the coming days, Education Minister Jean-Michel Blanquer said on Tuesday.
Both primary and secondary schools have been shut in the Oise department north of Paris, where the main cluster of French cases has emerged, and where two people who have died of the virus lived.
Officials have reported 191 coronavirus cases in France so far, and three deaths.
Contagion fears have led to shortages of sanitising hand gels and facemasks, with suppliers racing to replenish stocks even though much of the production is in China, where authorities have closed thousands of factories after the coronavirus emerged there in December.
Demand for thermometers has also soared, with one French producer, STIL, relaunching production at its factory south of Paris for the first time in 15 years after having moved manufacturing to Chinese partners./.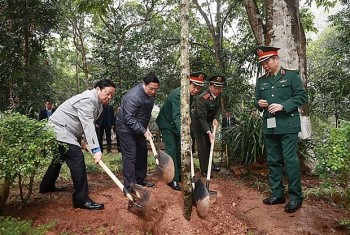 National
The Prime Minister launches a tree planting festival in Ba Vi on New Year of Cat.