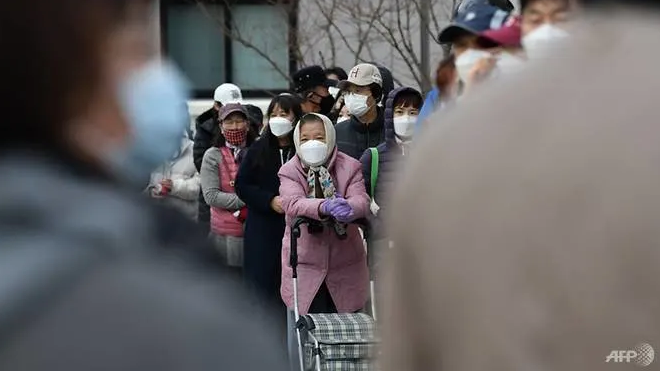 People wait in line to buy face masks from a post office near the Daegu branch of the Shincheonji Church of Jesus in Daegu on February 27, 2020. (Photo: AFP/Jung Yeon-je)
According to the Korea Centers for Disease Control and Prevention, more than 90 per cent of the new cases were in Daegu - the city at the epicentre of the outbreak in South Korea - and the neighbouring North Gyeongsang province, it added.
To date, 13 people in South Korea have died after contracting COVID-19.
South Korea's total is expected to increase further after checks began on more than 210,000 members of the Shincheonji Church of Jesus, a secretive entity often accused of being a cult that is linked to around half of the country's cases.
A 61-year-old female member developed a fever on Feb 10, but attended at least four church services in Daegu - South Korea's fourth-largest city with a population of 2.5 million - before being diagnosed.
Daegu mayor Kwon Young-jin said the city's total could reach as many as 3,000 in the coming days as more test results on Shincheonji members come through, South Korea's Yonhap news agency reported.
"The next one week will be the tipping point," he said.
The coronavirus, which originated in China, has rapidly spread to more than 50 other countries and territories.
China's central Hubei province had 318 new confirmed cases on Friday, down from 409 cases a day earlier and the lowest since Jan 24.
That brings the total accumulated number of confirmed cases in mainland China so far to 78,824.
Countries including the United States have issued travel advisories urging citizens to "reconsider travel" to South Korea.
Both US and South Korean forces postponed a joint drill on Thursday, after Seoul declared its highest "severe" alert level over the virus.
The outbreak has prompted South Korean boy band BTS to cancel its scheduled April concerts in Seoul, according to its music label, Big Hit Entertainment.
Hyundai Motor shut down a factory in South Korea on Friday after a worker tested positive for the new coronavirus, disrupting production of popular models such as Palisade sport utility vehicle.
South Korea's tech giant Samsung Electronics shut down a phone factory in the southeastern city of Gumi over the past weekend after one of its workers tested positive. It resumed production on Monday.
New Zealand's first confirmed case is a recent arrival from Iran who travelled to Auckland via Bali.
Health officials said the person, aged in their 60s, was being treated in Auckland City Hospital.
"They are in an improving condition in isolation, in a negative pressure room to prevent any spread of the disease," the health department said in a statement.
Officials said the person, reportedly a female New Zealand citizen, arrived in Auckland on Wednesday and family members went to the hospital after becoming concerned about the individual's condition.
The officials urged any passengers on Wednesday's final leg of the Emirates airline journey, which goes from Bali to Auckland, to contact authorities if they were concerned.
However, authorities downplayed the risk to the public saying the situation was being well managed.
"Although we have our first case of COVID-19, the chances of community outbreak remain low," the statement said.
Earlier, Health Minister David Clark said New Zealand was introducing strict travel bans on arrivals from Iran similar to those already imposed on arrivals from China.
He said the action was taken after a spike in infections in Iran, where the virus has killed 26 people, the highest death toll outside China - and because of the unreliable information coming out of the Islamic republic.
"Obviously this situation in Iran is concerning, there is ongoing spread of the disease there and a large degree of uncertainty about the scale of the outbreak and the ability to contain it," he told reporters.
"The information that's coming out of Iran appears to be out of step with what's coming out of other countries in terms of the death rate per incidence."
VNF/AFP/