The meeting of Hanoi Steering Committee for COVID-19 Prevention on the afternoon of August 17 (Photo: MOH)
7 fresh cases detected in the morning of August 18
At 6 o'clock on August 18, the National Steering Committee for COVID-19 Prevention and Control said that Vietnam had recorded 7 new cases, 1 of which was immediately isolated after entering Vietnam, 3 in Quang Nam, 1 in Hanoi, 2 in Hai Duong, bringing the total number to 983, including 645 cases of infection in the community.
According to the report of the National Steering Committee for COVID-19 Prevention and Control, the total number of cured cases in Vietnam is 467. In particular, among the patients under treatment, 47 cases have been tested negative for the first time with SARS-CoV-2; 23 had their second negative results and 48 had their third. The death toll remains 24.
Hanoi imposes strong sanctions on restaurants not complying to social distancing
At the meeting of Hanoi Steering Committee for COVID-19 Prevention on the afternoon of August 17, in response to the request of Department of Health, Mr. Ngo Van Quy - Vice Chairman of the Hanoi People's Committee announced that service businesses, factory facilities shall have plans to carry out epidemic prevention.
Particularly, the Department of Health's proposal is to implement strict isolation and epidemic prevention measures on restaurants, cafes, public services, namely: wearing a mask, measuring body temperature, disinfecting, performing seat spacing at least 1m,...
Mr. Quy said that these are the establishments with a large concentration of people, especially beer bars, therefore, if there is a patient sitting in the bar, the virus will easily and widely spread. Therefore, Mr. Quy demands that from 0:00 on August 19, restaurants must strictly implement the above contents.
Mr. Quy decisively directed to stop operations with unsafe hospitals, at the same time asked districts to continue to propagate so that people could well implement epidemic prevention measures, such as wearing masks when going out, not gathering of more than 30 people in public places, immediately go to health facilities if having a fever or cough,...
At the meeting, Mr. Nguyen Van Suu - Standing Vice Chairman of Hanoi People's Committee instructed that in this situation, citizens should not go out when unnecessary, districts need to strickly fine people not wearing masks in public places.
Mr. Suu emphasized: "Restaurants need to comply with the regulations. If they do not comply, the restaurant can be strongly punished, even closed. At the same time, Hanoi needs to mobilize more forces to inspect food hygiene and safety ".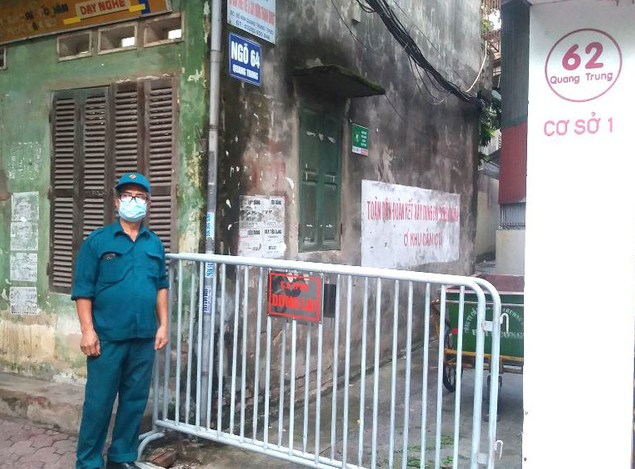 Many areas in Hai Duong are quarantined for 28 days (Photo: Gia Dinh va Xa Hoi)
Many areas in Hai Duong are quarantined for 28 days
According to the decision of the People's Committee of Hai Duong province, starting at 0 o'clock tonight, August 18, Hai Duong established a 28-day medical isolation zone for 3 quarters and 1 lane in the city.
The decision was made after the Ministry of Health announced four patients in Hai Duong were involved in the outbreak at 36 Ngo Quyen on the afternoon of August 17.
According to epidemiologists, the COVID-19 epidemic in Hai Duong is quite complicated. Results of decoding the COVID virus gene in Hai Duong were similar to the SARS-CoV-2 virus gene in Da Nang. It is possible that the earliest carriers of COVID-19 in Hai Duong could have the pathogen between July 24-28.
The Central Institute of Hygiene and Epidemiology will create a direct communication channel with Hai Duong to control the situation as well as have a plan for reality surveying, investigating in the community about the COVID-19 epidemic development to plan have a project of support.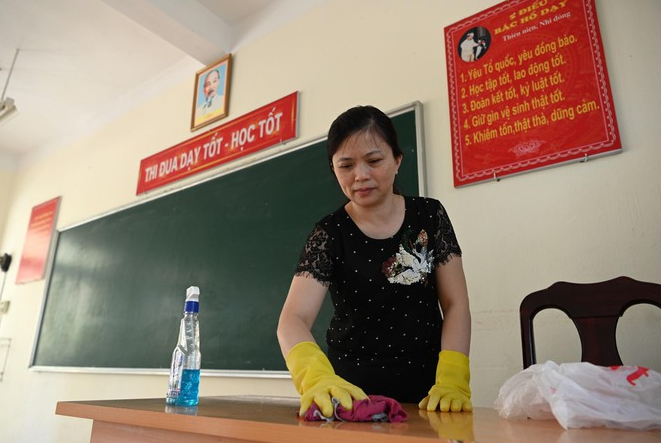 A teacher in Hanoi clean the classrooms to prevent pandemic (Photo: Tien Phong)
Localities close schools because of COVID-19
So far, many localities have announced the closure of educational institutions due to the COVID-19 epidemic, tens of thousands of candidates have not yet taken the 2020 high school graduation exam, cited by Tien Phong.
After detecting the return of COVID-19, Da Nang announced that all educational institutions in the city have to close. Students are asked to leave school and stop all other activities from 13:00 on July 26 until further notice. All the students in grade 12 of this province have not been able to take part in the first high school graduation exam 2020.
The People's Committee of Quang Nam has decided to suspend the operation of all language centers, life skills education centers, and tutoring institutions in the province. The high schools, boarding schools for ethnic minorities, the Provincial Continuing Education Center coordinates with students' parents to review and grasp the health situation of students; instructing students who have not yet attended the first round of graduation exams to continue to study online. Schools in Quang Nam are expected to re-open on September 1.
From the end of July 2020, Quang Ngai decided to close vocational education institutions and preschool education institutions; suspend all tutoring activities for COVID-19 epidemic prevention until further notice.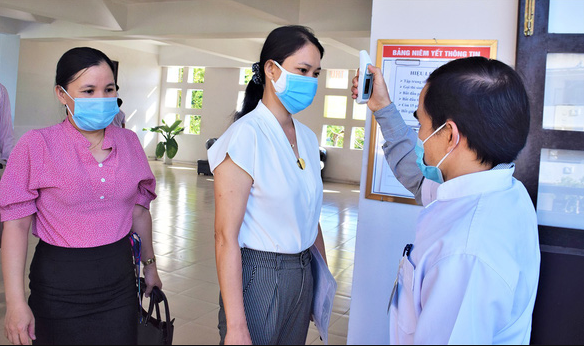 Body temperature measurement at national high school exam scores in 2020 (Photo: Tien Phong)
Hai Duong has issued a decision for all students in the area to leave school from August 14 until further notice. The People's Committee also requires vocational education institutions to actively decide whether students can return school, depending on the actual situation of the epidemic. However, if students return to school, they must ensure that the epidemic prevention and control conditions are in accordance with regulations.
The Department of Education and Training of Phu Yen previously requested to suspend some teaching and learning activities inside and outside the school. Specifically, from August 1, all preschool institutions, kindergartens, private child groups, general education institutions, continuing education institutions, private tutoring organizations, tutoring, life skills education institutions must suspend their teaching and learning activities to prevent COVID-19 epidemic.
The People's Committee of Tay Ho district, Hanoi has decided to close preschool institutions, foreign language teaching centers, life skills… to prevent COVID-19 from spreading.
Mr. Nguyen Xuan Thanh, Director of Secondary Education Department (Ministry of Education and Training), said that the ministry has calculated the scenarios to prepare for the new school year 2020-2021. In epidemic conditions, depending on each situation, the locality can be flexible and there are many ways to organize the opening ceremony to ensure the meaning and atmosphere of the opening day.
Valerie Mai