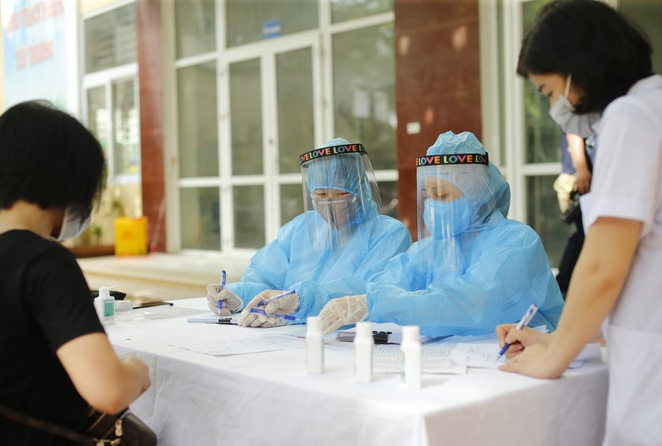 Vietnam reported 1 new case, total infection reaches 951 (Photo: Tien Phong)
Vietnam reported 1 new case, 24th death reported
The 6am news of the National Steering Committee for the COVID-19 Prevention and Control said that Vietnam only recorded one more fresh case of COVID-19, from abroad, who was isolated right after entry, with no risk of community transmission.
The new case has been identified as the patient no. 951, a 27-year-old male in Yen Thanh, Nghe An. On July 29, he entered Viet Nam from Equatorial Guinea and was quarantined and treated at the Central Hospital for Tropical Diseases 2 immediately after entry.
Notably, only after tested 4 times that the patient received positive results for the SARS-CoV-2 virus.
As of 6 a.m. on August 16: Vietnam, there are a total of 951 cases of COVID-19, 334 of which 334 are immediately isolated after entry and 617 infections detected in the community.
This morning, the country also confirmed one more death relating to Covid-19 namely a 82-year-old woman, who lived in Danang. The patient had a history of meningitis, died of pneumonia caused by Covid-19, severe respiratory distress and septic shock, according to Vnexpress.
10 COVID-19 patient in Da Nang declared cured
On August 15, Da Nang continued to announce its successful cure for 10 patients with COVID-19, bringing the total number of locally cured cases to 35 cases.
After a period of treatment and 3 negative tests for SARS-CoV-2, the mentioned 10 patients were eligible for their declaration of cure. They will continue to be placed in quarantine at their residence and undergo medical monitoring for 14 days under the national pandemic prevention regulations.
As reported by the Treatment Sub-Committee of the National Steering Committee for COVID-19 Control and Prevention:
- Number of first negative cases for SARS-CoV-2: 50 cases.
- Number of 2nd or higher times negative cases for SARS-CoV-2: 91 cases.
- Number of cured cases: 447 cases.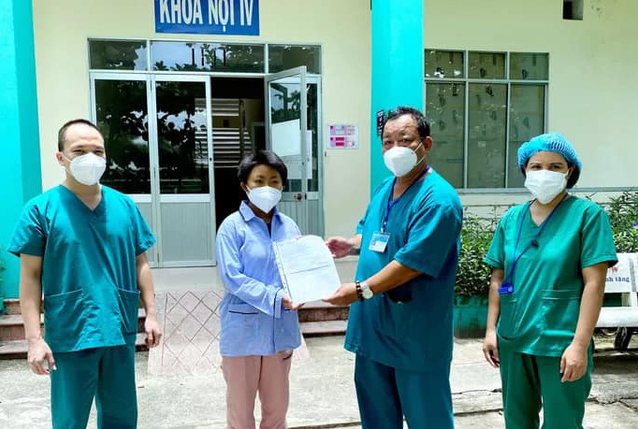 Da Nang Lung Hospital announced to cure patient number 783. (Photo: Ministry of Health)
1 more fatal case confirmed, death toll reaches 24
On the morning of August 16, 2020, the COVID-19 Special Standing Division of the Ministry of Health in Da Nang City informed about the death of patient COVID-19. This is the 24th death caused by COVID-19 since the epidemic occurred in Vietnam, cited by Tien Phong.
The 24th death is patient 575: A 82-year-old female in Hai Chau - Da Nang city, with a medical history of Meningitis. The patient died at the Hoa Vang district health center was diagnosed: Pneumonia caused by COVID-19 complications with severe respiratory failure, septic shock in meningitis patients.
According to Assoc.Prof. Dr. Luong Ngoc Khue - Director of the Department of Medical Examination and Treatment, Deputy Head of the Treatment Subcommittee, many patients with COVID-19 in this period experienced severe, aggravating developments, especially very critical developments.
Deputy Minister of Health Nguyen Truong Son said that the above group of people infected with COVID-19 will decrease the resistance, causing the amount of virus to develop in the body faster, and damage the organs faster than other patients.
"This is a very dangerous sign because these patients in general and patients with chronic kidney failure, in particular, will not only suffer from this disease but also other serious illnesses such as diabetes, heart failure, increased blood pressure ... When the virus attacks, the organs will be vulnerable, the resistance will decrease much "- Deputy Minister Nguyen Truong Son said.
People in Hai Duong not allowed to leave the city
After recording 5 COVID-19 infection cases in the city, Hai Duong City People's Committee requested: From 0 o'clock of August 16, all Hai Duong residents are not allowed to leave the city, except in truly necessary situations and with the permission of the competent authority.
Specifically, Hai Duong requires the establishment of a higher level of medical isolation throughout the city with drastic measures to stamp out the pandemic.
The People's Committee requires all residents not to leave the city, except in very necessary cases and with the permission of the competent authority. Only vehicles are allowed to get in and out of the city, only in cases of transporting essential goods but a medical declaration, travel schedule, temperature measurement and sterilization spray must be performed as prescribed.
The city closed all food and beverage stores, including home delivery services; beauty services, haircuts, hair wash and other services with high risk of infection, stopping mass gatherings, religious activities. Provincial freight trucks and passenger cars may not run through the city; taxi services can only carry 1 passenger. The above measures are applied from 0:00 August 16.
Hai Phong re-established the COVID-19 epidemic control post
Under the direction of the Hai Phong city People's Committee, 6 COVID-19 control posts were established in Thuy Nguyen district (Dinh ferry), Vinh Bao district (Chanh bridge and Quy Cao crossroad bordering Ninh Giang), An district. Duong (Di Nghia Station, Road 5A; Highway 17B, Ngo Duong); An Lao district (Quang Thanh ferry).
According to the policy of Hai Phong city, the pandemic control posts still create necessary conditions for all means of normal traffic circulation and economic development, cited by Gia Dinh va Xa Hoi.
People passing the post must go through a medical examination, as well as provide information about their epidemiological, destination, working time, people and medical facilities in contact,...
Below are some images of a COVID-19 control post in Hai Phong on its first day of operation.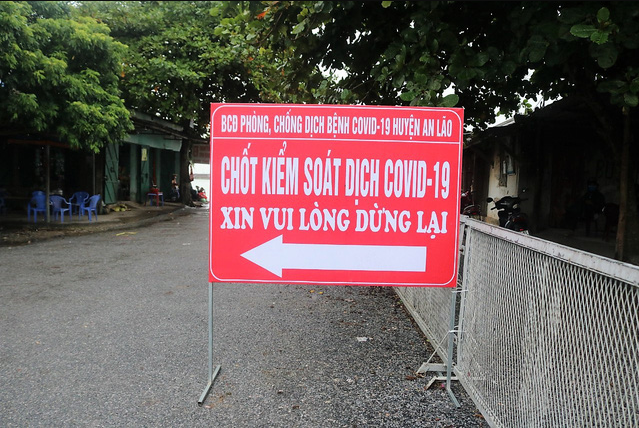 Lieutenant Colonel Nguyen Xuan Chinh, Deputy Head of PV05 Hai Phong Police Department said: "Initially, we controlled people and vehicles from the epidemic area, preventing the risk of the epidemic spreading from the epidemic area, entering Hai Phong." (Photo: Gia Dinh va Xa Hoi)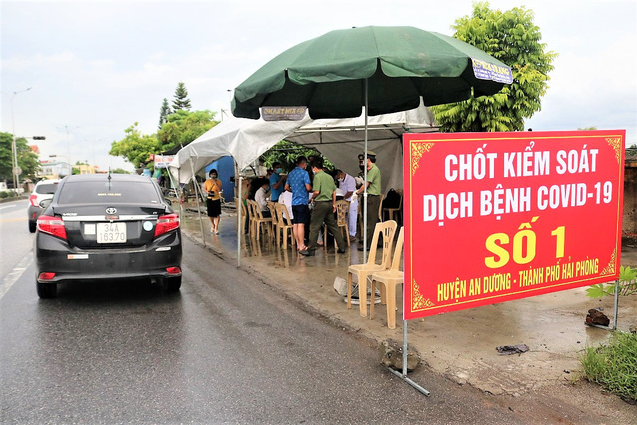 COVID-19 epidemic control post in An Duong district (Photo: Gia Dinh va Xa Hoi)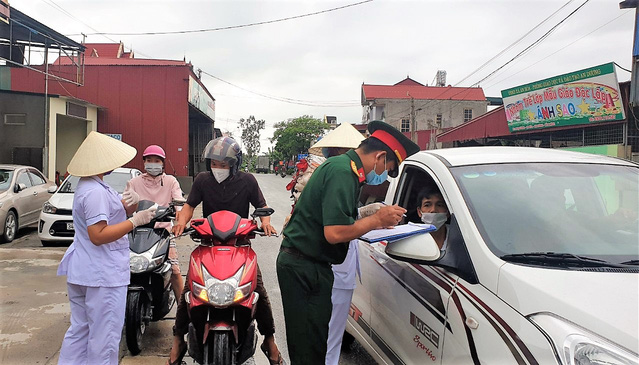 At Block No. 3, traffic density is very high because it is the intersection to the districts of Thai Binh, Hai Duong and Hai Phong. Due to the large density of vehicles and people, many times with traffic congestion, the control post group worked quite hard. (Photo: Gia Dinh va Xa Hoi)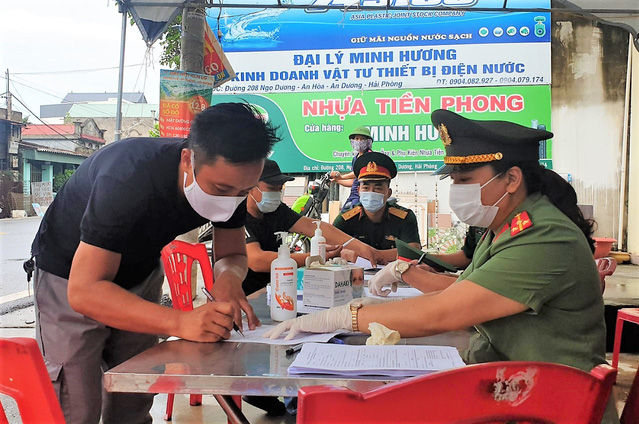 Mr. Pham Tuan Minh - a member of the working group said that all people happily obeyed when the delegation asked for medical report and temperature measurement. (Photo: Gia Dinh va Xa Hoi)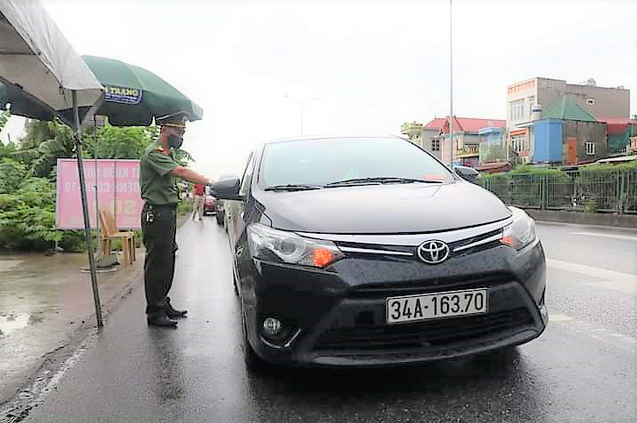 At the control post of Du Nghia Station, there are a total of 46 officers and soldiers, of which, the city police force has 20 people, 10 from military, the remaining 16 is from the medical force. (Photo: Gia Dinh va Xa Hoi)
Valerie Mai