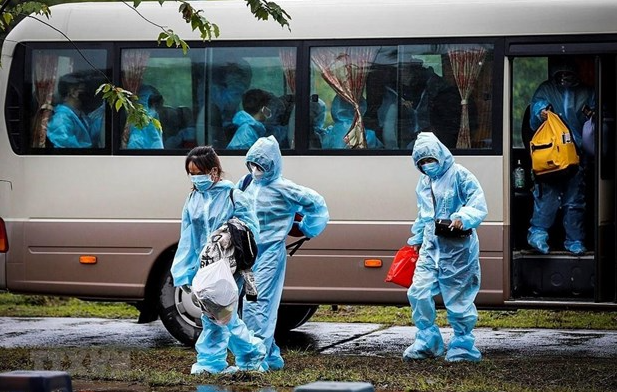 No community cases, 16 more imported patients in the last 24 hours. (Photo: VNA)
Hanoian suspected re-infecting with SARS-CoV-2 virus after 2 months tested negative
The information has been confirmed by the Ministry of Health after the suspected case had been brought to the National Hospital of Tropical Disease for testing. The result shows he is negative for the virus.
Earlier in the morning of November 16, Hanoi's Center for Disease Control had reported the case of P. N. M - a 21-year-old Hanoian who has just been confirmed of COVID re-infection 2 months after he was successfully treated by the National Hospital for Tropical Diseases.
The patient was first tested positive with SARS-CoV-2 virus on August 25, 15 days after he entered Vietnam from Russia. He was then transferred to the National Hospital for Tropical Diseases in Dong Anh, Hanoi for treatment. During the period from August 30 to September 15, he received 6 negative test results, resulting in his discharge from the hospital in September.
On November 7, he was diagnosed to have a viral fever after a health check in Hanoi's Transport Hospital. The patient started showing COVID-19 symptoms on November 14 and received his positive test result with coronavirus yesterday. He is currently treated at the 2nd institute of the National Hospital Of Tropical Diseases. All 25 people having close contact with the patient are being sampled for COVID-19 tests.
No community cases, 16 more imported patients in the last 24 hours
The morning news of the National Steering Committee on November 16 suggested that Vietnam has recorded no community COVID-19 cases in the last 75 days. Meanwhile, Vietnam reported 16 new imported COVID-19 cases on November 15 evening, including 15 Vietnamese and one Russian citizen, who were quarantined upon their arrival. The new patients brought the total number of COVID-19 cases in Vietnam to 1,281, said the National Steering Committee for COVID-19 Prevention and Control.
As stated by the Treatment Sub-Committee, 1,103 patients have been cured. Among those who are going under treatment, 14 have been negatively tested with coronavirus once, 12 twice and 13 thrice. Currently, 15,549 people are quarantined for having close contact with or passing through pandemic areas. Currently, there are no COVID-19 patients in critical conditions while the number of deaths related to the disease was kept at 35.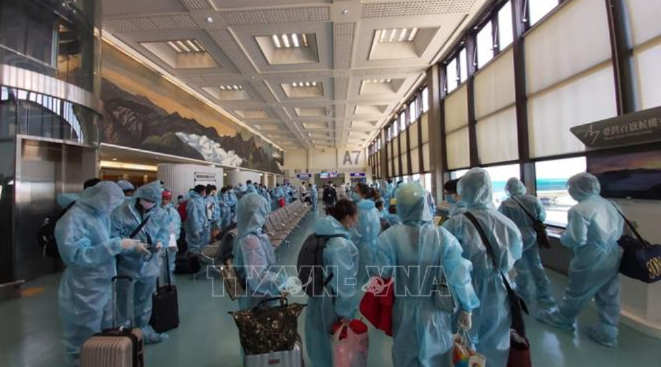 Over 340 Vietnamese citizens flown home from Taiwan. (Photo: VNA)
Over 340 Vietnamese citizens flown home from Taiwan
More than 340 Vietnamese citizens were brought home safely from Taiwan (China) on two flights of national flag carrier Vietnam Airlines on November 15. The flights were arranged by Vietnamese authorities, the Vietnamese economic–cultural office in Taipei, Vietnam Airlines and Taiwanese authorities.
The passengers included the elderly, those with underlying conditions or had suffered from occupational accidents, pregnant women, workers with expired labor contracts, students who finished their studies and others in extremely disadvantaged circumstances. The Vietnamese economic–cultural office in Taipei sent staff to the airport to assist them with boarding procedures.
In-flight safety and preventive measures against the COVID-19 pandemic were rigorously enforced to protect the passengers' health and prevent the spread of the disease. All passengers and crew members received medical check-ups and were sent to quarantine in line with regulations upon arrival at Da Nang airport in the central city of the same name.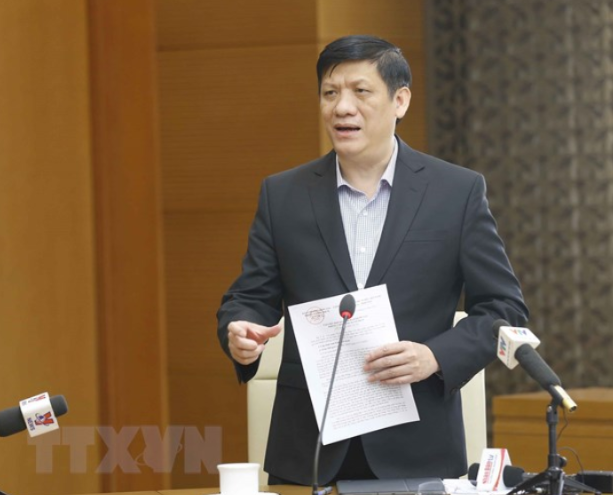 Acting Minister of Health Nguyen Thanh Long. (Photo: VNA)
Minister urges tightening of COVID-19 measures
At a meeting of the National Steering Committee for COVID-19 Prevention and Control in Hanoi recently, the Ministry of Health (MoH) noted that the world had recorded nearly 52.5 million COVID-19 cases as of November 13, including 1.3 million deaths, in 219 countries and territories.
In Vietnam, the number of cases stands at 1,253, including 596 imported cases. It has now been free of community transmission for 72 consecutive days. The MoH said, however, that the risk of transmission remains, especially as international flights are set to increase and the winter and spring provide conditions favorable for infectious diseases.
In calling for tightened anti-COVID-19 measures, the minister also urged greater resolve and that all forces be engaged in the task more strongly. He added that it is impossible to guarantee there will be no local infections in the time ahead, so ministries, sectors, and localities must update their COVID-19 planning scenarios and gear up for the winter. The MoH is boosting negotiations with foreign vaccine suppliers while stepping up domestic development and production, he said, stressing that the country should not rely only on vaccines and must remain vigilant and increase its anti-pandemic efforts.
Valerie Mai