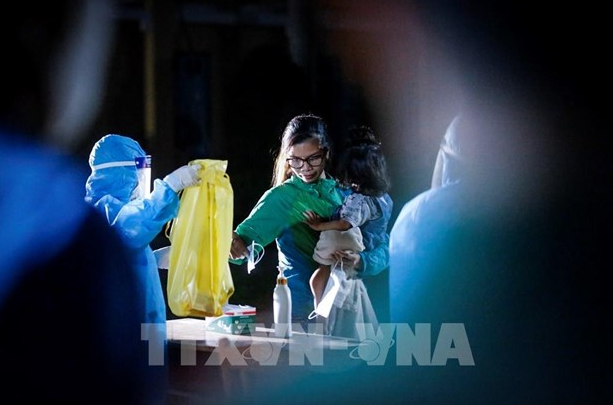 No new community infection, 4 imported cases reported on Oct. 30 morning. (Photo: VNA)
No new community infection, 4 imported cases
According to the National Steering Committee for COVID-19 Control and Prevention, as of 6 am on October 30, Vietnam has recorded no new community cases of COVID-19 in 58 days continuously. On the afternoon of Oct. 29, 4 new imported cases were reported, raising the national count to 1,177. All the four new patients returned from France on flight VN5010 which landed in Tan Son Nhat airport in Ho Chi Minh City on October 21. They tested positive for SARS-CoV-2 while in quarantine.
Vietnam has cured 1,062 out of 1,177 patients with COVID-19 so far. Among patients under treatment, 5 have been tested negative for the virus once, 3 twice, and 7 thrice. Besides, 14.184 people are under quarantine for having close contact with or passing through pandemic areas.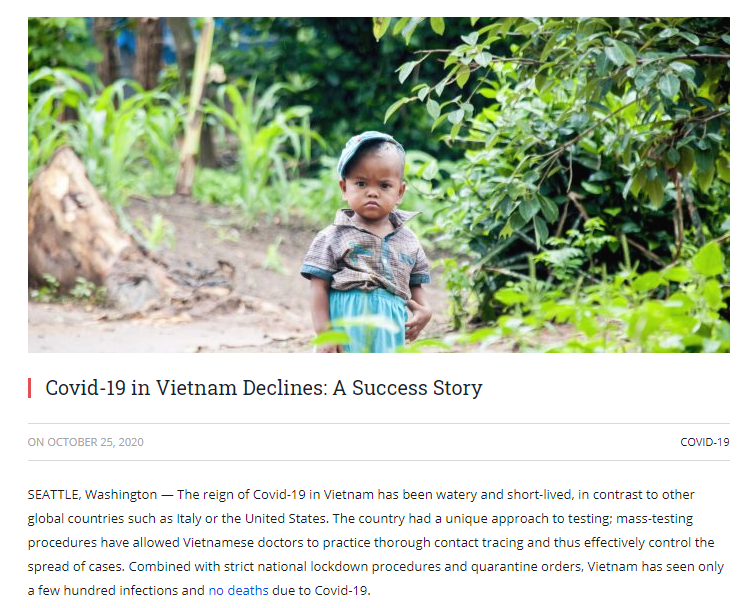 US magazine praises Vietnam unique COVID testing method. (Photo: Borgen Magazine)
US magazine praises Vietnam unique COVID testing method
The reign of COVID-19 in Vietnam has been watery and short-lived, in contrast to other countries like Italy or the United States thanks to a unique approach to testing, US-based Borgen Magazine said in a recent article. It is mass-testing which has allowed Vietnamese doctors to practice thorough contact tracing and thus effectively control the spread of cases, the magazine noted.
It went on to say despite the tenure of the novel coronavirus in Vietnam and the world, the Vietnamese government remains optimistic about the country's economy. "The Vietnam Institute for Economic and Policy Research (VEPR) predicts at least a 5-percent growth in the country's GDP by the end of 2020, and citizens have already resumed normal economic activities."
It also highlighted that Vietnam and the EU recently came to an agreement on a free trade deal which would eliminate 99 percent of tariffs on traded goods between the countries. "These optimistic projections also benefit the citizens of Vietnam — many of whom are farmers or producers of exported goods," it said.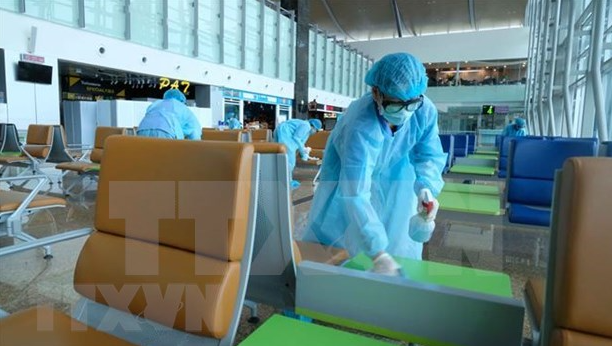 Khanh Hoa's Cam Ranh International Airport is disinfected to prevent the spread of COVID-19. (Photo: VNA)
Vietnamese brought home from Japan, UAE, Kuwait
Relevant agencies of Vietnam, Japan, the United Arab Emirates (UAE) and Kuwait worked together to arrange a flight to carry more than 600 Vietnamese citizens residing in Japan, the UAE and Kuwait back to Vietnam on October 29.
Passengers on the flight were those in difficult circumstances, including under-18 children, the elderly, pregnant women, those with illnesses, workers with expired labor contracts and students without accommodations.
All passengers and crew members received medical checkups and were sent to quarantine in line with regulations upon arrival at Cam Ranh and Da Nang International Airport. Safety and preventive measures against COVID-19 were rigorously enforced during the flight to protect passengers' health and prevent the spread of diseases.
Valerie Mai