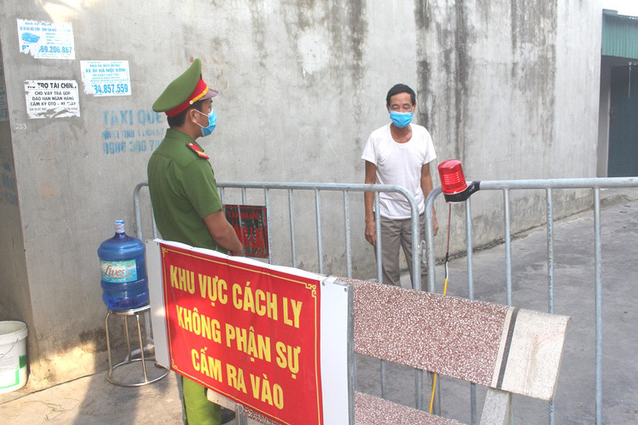 Hai Duong removes several quarantine blockages. (Photo: Bao Gia Dinh)
9 continuous days of no community infection recorded
The National Steering Committee for the COVID-19 Prevention and Control 6 am news on September 11, reported that in the last 9 days, Vietnam has recorded no new case of COVID-19 in the community. There are currently more than 35,000 people quarantined. According to the report of the Treatment Sub Committee under The National Steering Committee for COVID-19 Prevention and Control, so far, Vietnam has successfully cured 893 patients with COVID-19.
Hai Duong removes several quarantine blockages
On the afternoon of September 10, Chairman of Hai Duong People's Committee - Nguyen Duong Thai issued a decision on ending the period of medical isolation in Ngo Quyen street (Pham Ngu Lao ward), where an outbreak of 13 cases recorded earlier. From 12 pm on September 12, the quarantine areas of Thuong Bi 2 village will also be re-opened.
Earlier on the evening of August 13, the People's Committee of Hai Duong province issued a decision to establish a temporary medical isolation blockade for Ngo Quyen street, with a radius of 250m from 36 Ngo Quyen. On August 27, the area of Thuong Bi 2 village applied quarantine measures after detecting the case of a positive patient with COVID-19.
340 Vietnamese in Russia brought home via rescue flight. (Photo: VN Express)
340 Vietnamese in Russia brought home via rescue flight
On September 9 and 10, Vietnamese authorities, the Embassy of Vietnam in the Russian Federation, and Vietnam Airline cooperated with Russian authorities to bring home more than 340 Vietnamese citizens. During the flight, passengers and the entire flight crew strictly abide by the regulations on COVID-19 prevention. All passengers were also quarantined and medically checked according to regulations when the plane landed at Cam Ranh International Airport.
In order to successfully organize the flight, the Vietnamese Embassy in the Russian Federation has cooperated closely with the local authorities to support the procedures, creating favorable conditions for citizens to travel to the airport; dispatching officers to the airport to directly assist citizens in the check-in process.
Binh Dinh reopens bars, clubs, and karaoke services
On September 10, the People's Committee of Binh Dinh province announced a new direction of COVID-19 prevention and control in the province. Accordingly, from 0 am on September 11, the committee allows the operation of business services, such as bars, clubs, karaoke, movie theaters, massage, wedding services, restaurants, Tuoi Tre cited.
The provincial authority decides to continue to stop organizing tutoring activities, extra classes inside and outside schools. Binh Dinh maintains 6 medical checkpoints at stations, ports, and bus stations in the province as well as stops quarantining people coming from Quang Nam, maintaining medical isolation of people coming from Da Nang.
Valerie Mai