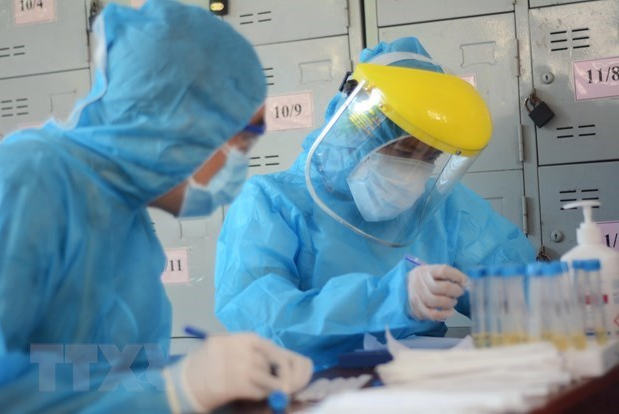 Medical workers conduct SARS-CoV-2 testing (Photo: VNA)
No new cases reported on Sunday morning
Vietnam reported no new COVID-19 cases on September 6 morning, keeping the national count at 1,049, including 691 locally-transmitted cases, according to the National Steering Committee for COVID-19 Prevention and Control.
A total of 805 patients have been given the all-clear. Meanwhile, there have been 35 fatalities so far. Among the active patients, 27 have tested negative for the coronavirus once, 24 twice, and 35 three times. There are 40,620 people having close contact with confirmed cases or coming from pandemic-hit areas under quarantine at present, according to Vietnam Plus.
Nearly 1,000 Vietnamese citizens return home on Friday and Saturday
Close to 1,000 Vietnamese citizens were safely flown home on repatriation flights on September 4 and September 5, according to Vietnam News.
Specifically, on September 4, nearly 350 Vietnamese people were repatriated from Australia and New Zealand on a flight which was conducted under a joint effort of national flag carrier Vietnam Airlines, Vietnamese authorities, representative missions of Việt Nam in Australia and New Zealand and the two countries' authorities.
Meanwhile, on September 5, the repatriation flight from Singapore operated by Vietjet Air carried over 240 passengers, all of whom were in particularly disadvantaged circumstances, and 405 passengers were on the flight from the RoK, operated by national flag carrier Vietnam Airlines.
Also on September 5, as reported by the Treatment Sub-Committee of the National Steering Committee for COVID-19 Control and Prevention, 19 patients have been given all-clear, including six patients at Đà Nẵng Lung Hospital, nine at Hoa Vang District Medical Centre and four at Quang Nam Central General Hospital. The total recoveries in Vietnam now reach 805.
Currently, the checkpoints in Da Nang and Quang Nam have settled for people and vehicles passing between the two localities (Photo: Tuoi Tre)
Danang fighting COVID-19 in a state of "new normal"
After 39 days of social isolation, Da Nang is ready to transition to a new pandemic fighting state to gradually bring a stable life back.
Commenting that the Covid-19 epidemic is still complicated and unpredictable, the People's Committee of Da Nang city determines that the epidemic prevention work will go on for a long time, so it is necessary to thoroughly settle the dual goal: pandemic prevention and economic development.
Accordingly, the People's Committee of Da Nang City proposes to the Ministry of Transport (MOT) to restore interprovincial, railway and air passenger transport routes to/from provinces and cities. Previously, from 0:00 on September 5, Da Nang allowed public passenger transport services in the area to be operated again, but transporting no more than half of the allowed number of people for each type of vehicle and take measures to prevent epidemics according to regulations.
Valerie Mai