Covid-19 vaccine injection and testing speed in Vietnam
Over 500 volunteers have finished the two-dose Nanocovax vaccine regime, while nearly 53,000 first responders have been administered the first jab of AstraZeneca.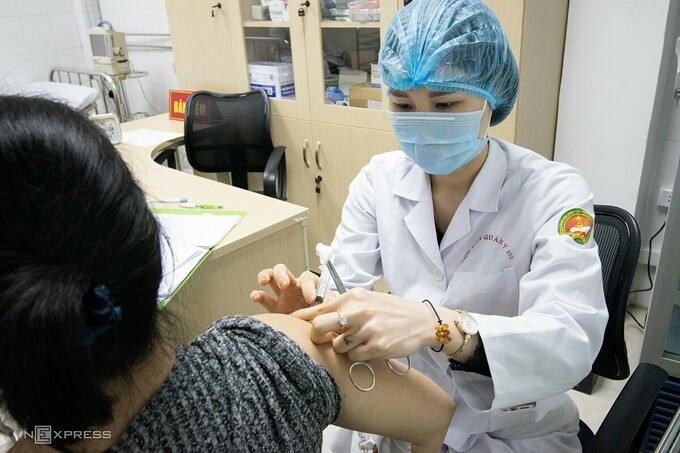 One volunteer getting the Nanocovax trial jab in Hanoi (Photo: VNE)
Reports from the Military Medical Academy say all the volunteers fully vaccinated are currently in stable health. Side effects after the injection such some people experienced such as swelling at the injection site, muscle and joint pains, wore off after resting time. A total of 280 volunteers got the trial jab in Long An province, 271 in Hanoi. Another 9 volunteers are expected to be given the vaccine this week.
Nanocovax which was studied and developed by Nonagen Pharmaceutical Company started its human trials in December 2020. The candidate is currently under the second phase trial, with the elderly and those with underlying disease eligible for participation. To date, 108 old people have been vaccinated, with the oldest one is a 76-year-old. All are reportedly displayed mild reactions post injections, no abnormal symptoms recorded, as reported by VNE.
Preliminary evaluation after the first trial phase shows the homegrown Nanocovax is safe and highly immunogenic. Antibodies level in volunteers increases sharply after the second jab.
The human clinical trials protocol, which includes three phrases, was approved by the Ethics Council of the Ministry of Health on December 9. Each phrase consists of two injections, 28 days apart.
Nanocovax is priced at VND120,000 ($5.17) per dose.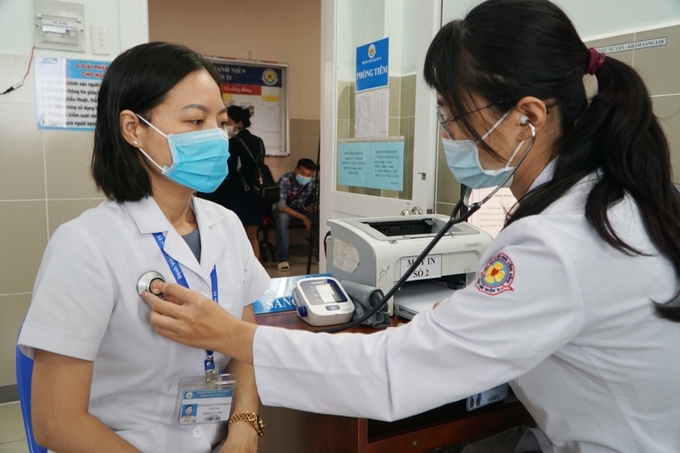 One medical staff getting her health checked before getting AstraZeneca vaccine (Photo: VNE)
Along with injections, Vietnam's COVID-19 Nanocovax vaccine will also be developed in the form of eye-drop and nasal spray for special subjects.
Meanwhile, Covivac - another made-in-Vietnam Covid-19 vaccine – entered the first stage clinical trial which involves 120 volunteers on March 8. As of April 6, a total of 66 people have received the first dose, all are in stable health. Mild post-injection reactions include injection site pain, headache, muscle pain, fatigue. Most of these side effects wore off after one day.
Along with the implementation of clinical trials, Vietnam has been deploying a nationwide Covid-19 vaccination campaign, prioritizing frontline workers, including medical personnel, border guards, high-achieving athletes. AstraZeneca vaccines are sourced from AstraZeneca company and the global Covax program. As of April 6 afternoon, nearly 53,000 people have been given the prioritized doses.
The 811,200 doses of AstraZeneca vaccine that arrived at Noi Bai International Airport Thursday morning is the first batch among the 30-million-dose allocation from the global vaccine access mechanism Covax. Over 3,3 million more doses are scheduled to land in Vietnam in May while the rest will arrive by late 2021, according to Zing News.
The 30 million doses, which are supplied by the United Nations International Children's Funds (UNICEF) via Covax, are deemed to cover 20 percent of the Vietnamese population, prioritizing frontline workers.
On February 24, the first 117,600 purchased doses arrived in the country and have been administered to nearly 50,000 prioritized recipients in the National Expanded Vaccination program.
On March 23, Vietnam greenlighted Russia's Sputnik V vaccine for emergency use.
The Ministry of Health has just issued a dispatch asking 63 provinces and cities nationwide to promptlyreview and define the priority groups for the free injection of COVID-19 vaccines.
Accordingly, the Ministry of Health requested the Departments of Health of 63 provinces and cities urgently make a list of 10 priority groups to be vaccinated in accordance with Resolution No.21 of the Government and Announcement No. 47 of the Government Office.
The 10 priority groups should include medical workers, people in the anti-pandemic effort (COVID-19 prevention and control steering committees at all levels, quarantine facility workers, reporters, volunteers, etc.), military forces (local forces participating in pandemic prevention), public security forces (forces working at localities in the anti-pandemic effort); diplomats; customs officers and people working entry and exit procedures; essential workers (aviation, transport, tourism staff, utility workers, etc.); teachers; people with chronic health issues; elders above 65 years old; people in virus-hit regions; the needy, policy beneficiaries; and people who want to study or work overseas.
The Ministry of Health requires the number for each group to be sent to the Preventive Medicine Department and Pasteur institutes before April 15, this will serve as the basis for the ministry to develop a plan to distribute the vaccine and implement vaccination.