Vietnam eyes sufficient Covid-19 vaccine in 2022
The Government Office is collecting comments on the Draft PM Decision on Covid-19 Vaccine Research and Development Project, aiming at having enough vaccines available in 2022.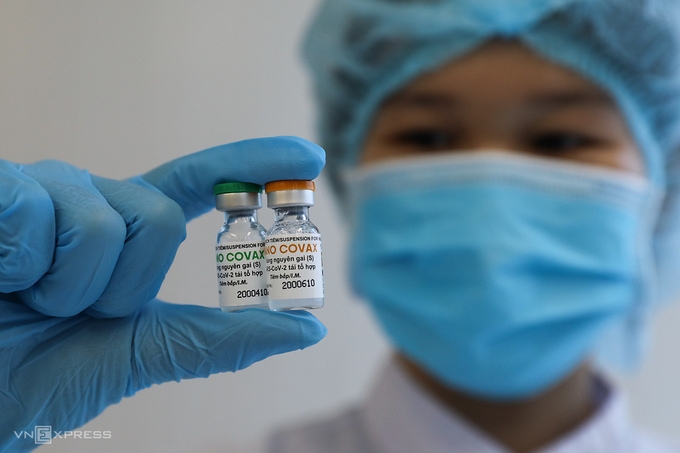 One medical staff in Nanogen Pharmaceutical company holding two Nanocovax vaccine vials (Photo: VNE)
In the draft, the Ministry of Health proposes to promote and facilitate research, clinical trials, and vaccine production in Vietnam from 2021.
Accordingly, Vietnam would strengthen cooperation with foreign manufacturers to transfer technology or import semi-finished vaccines for tubing and domestic production. The Ministry of Health will be in charge of reviewing and amending the regulations, particularly in shortening vaccine trialing and licensing time in line with standard protocols.
Research units and manufacturers are tasked to develop clinical trial projects in different phases, outlining proposals for overseas clinical trials. Meanwhile, the Ministry of Health and the Ministry of Science and Technology will approve and report the proposal to the Ministry of Finance to get its funds.
Once the clinical trial results are proven successful, the units will outline plans for vaccine production, propose appropriate investment capital. For the State budget, project construction units shall report to the Ministry of Health, the Ministry of Finance, the Ministry of Planning and Investment, the Ministry of Science and Technology for the competent authorities to consider and decide, as reported by VNE.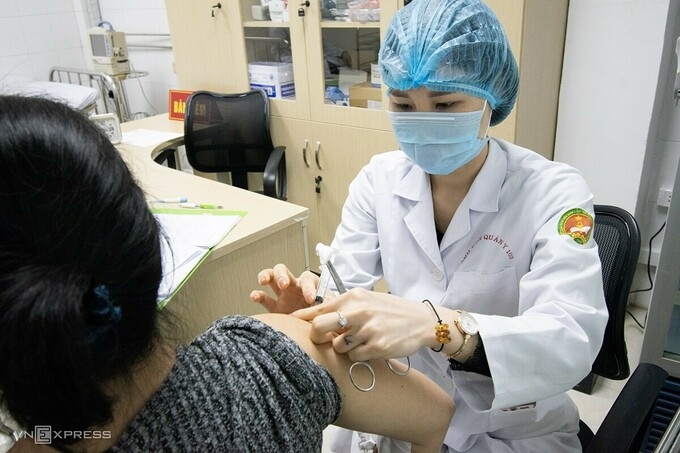 One volunteer getting the Nanocovax jab in Hanoi (Photo: VNE)
Vietnam, the country's been showered with praises over comprehensive and effective COVID-19 containment attainment is having four potential vaccines on hands. The vaccines are studied and produced by Nanogen, Vabiotech, Polyvac and the Institute of Vaccines and Medical Biologicals (IVMB), all have completed the laboratory production process.
While Vabiotech and Polyvac's vaccines are still under evaluation on animals, Nanogen's Nanocovax completed its first phase trial in late March and is currently under the second phase. The human clinical trials protocol, which includes three phrases, was approved by the Ethics Council of the Ministry of Health on December 9. Each phrase consists of two injections, 28 days apart.
Nanocovax is priced at VND120,000 ($5.17) per dose.
Along with injections, Vietnam's COVID-19 Nanocovax vaccine will also be developed in the form of eye-drop and nasal spray for special subjects.
Meanwhile, IVAC's Covivac vaccine entered the first phase of human trial in March 8. The trial is expected to end on April 20, involves 120 volunteers. The remaining 144 people will be divided into groups of 12-18. Each group is scheduled to receive the vaccine 8 days apart. All recipients will be injected with two doses of Covivac, 28 days apart.
The Covivac vaccine is the research work of the Institute of Vaccines and Medical Biologicals (IVAC) under the Ministry of Health (MOH). It had earlier yielded safe results and strong immunity responses on mice, rabbits, etc. Given promising results on animals, the vaccine is granted to enter human trials starting January, two months earlier than expected.
"If all three trial phases yield good results, Vietnam might have the vaccine in late 2021", Thai said. "IVAC has an edge in the production process thanks to its available infrastructure, technology, and decade-long experience in producing flu vaccines", Dr. Duong Huu Thai, Director of IVAC said.
Vietnam is expecting 60 million doses of the UK's AstraZeneca vaccine, with 30 million sourced via Covax and another 30 million by order.
The 811,200 doses of AstraZeneca vaccine arrived at Noi Bai International Airport Thursday morning is the first batch among the 30-million-dose allocation from the global vaccine access mechanism Covax. Over 3,3 million more doses are scheduled to land in Vietnam in May while the rest will arrive by late 2021, according to Zing News.
The 30 million doses, which are supplied by the United Nations International Children's Funds (UNICEF) via Covax, are deemed to cover 20 percent of the Vietnamese population, prioritizing frontline workers.
On February 24, the first 117,600 purchased doses arrived in the country and have been administered to nearly 50,000 prioritized recipients in the National Expanded Vaccination program.
On March 23, Vietnam greenlighted Russia's Sputnik V vaccine for emergency use.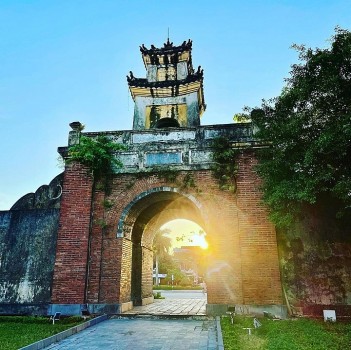 Travel
Quang Binh has many natural wonders as well as magnificent man-made architecture, one of which is Quang Binh Quan