Vietnam COVID-19 Updates (March 12): Vietnam records two more domestic Covid-19 patients
The Health Ministry confirmed two new Covid-19 patients in Hai Duong Friday morning, raising the northern province's community transmission tally to 713 since late January.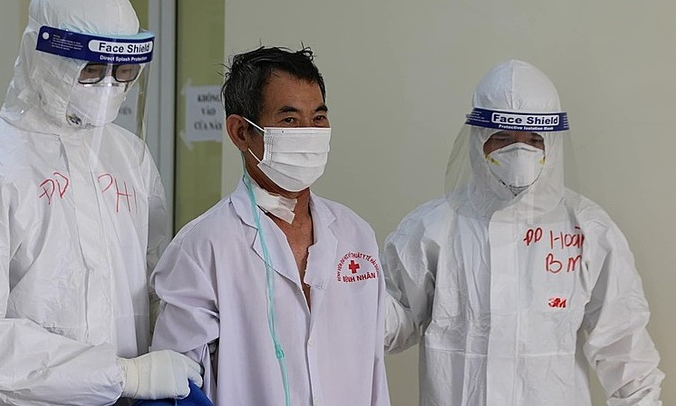 Photo: VN Express
Vietnam records two more domestic Covid-19 patients
No domestic infections of COVID-19 were reported in the past 12 hours to 6 pm on March 14, but four imported cases were detected, according to the Health Ministry. All the four imported cases are Vietnamese citizens who returned from abroad and were put into quarantine immediately after arrival.
Meanwhile, the Health Ministry confirmed two new Covid-19 patients in Hai Duong Friday morning, raising the northern province's community transmission tally to 713 since late January. Both patients had close contact with previously confirmed patients and have already been quarantined following contact tracing.
Ten cities and provinces, including HCMC and Hanoi, have gone almost a month without recording any new locally-transmitted cases.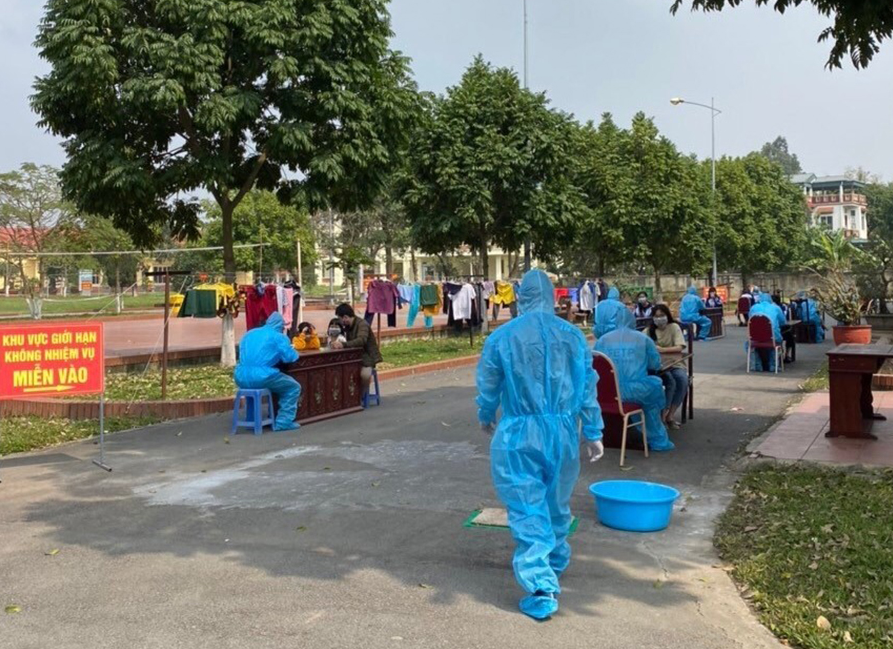 Photo: CDC
Hai Phong traces people related to new COVID-19 patients
The northern city of Hai Phong is promptly tracing people who had close contact with two local residents who were tested positive for coronavirus SARS-CoV-2 when arriving in Australia. The patients included a 42-year-old woman and her child, born in 2003, residing on Nguyen Cong Tru street of Le Chan district. They traveled to Hanoi on February 26 where their samples showed negative results. They flew to Australia on February 28 and arrived in the country on March 1 after transiting in Singapore.
The child tested negative for the virus on March 3, while the mother was declared infect with the disease three days later.
The city's authorities have asked people who had contact with the two patients from February 20-28 to contact medical centers in their residential areas or the hotline of the Hai Phong Health Department, 0978 789 499, 0902 210 218, or 0912 498 366 to receive support. So far, the city has found five F1s and 35 other people who had contact with the patients and put them under quarantine. Their samples have been taken for testing.
Photo: VN Express
Quang Ninh reopens bars, karaoke parlors
The northern province of Quang Ninh, once a Covid-19 hotspot, has decided to reopen movie theaters, bars, discos, video games, internet, and karaoke parlors starting Thursday. Provincial authorities have authorized the reopening of many non-essential businesses on the condition that they strictly maintain anti-epidemic measures. The decision takes effect throughout the province, except in Dong Trieu Town, which was hit hardest by infections in the province.
Tourism activities in Quang Ninh, home to the famous Ha Long Bay, also resume Thursday welcoming all tourists except those from locked-down areas. Intercity buses are allowed to operate, except in routes to and from its neighboring Hai Duong Province, the epicenter of the recent outbreak. Forces will continue to collect medical declarations from people entering Quang Ninh.
Quang Ninh is encouraging residents to continue registering for Covid-19 testing. The province has recorded 61 cases of Covid-19 since January 28, when it recorded one of the first cases in the country's latest outbreak after two clean months. Lockdowns imposed on 14 communes and wards have been lifted.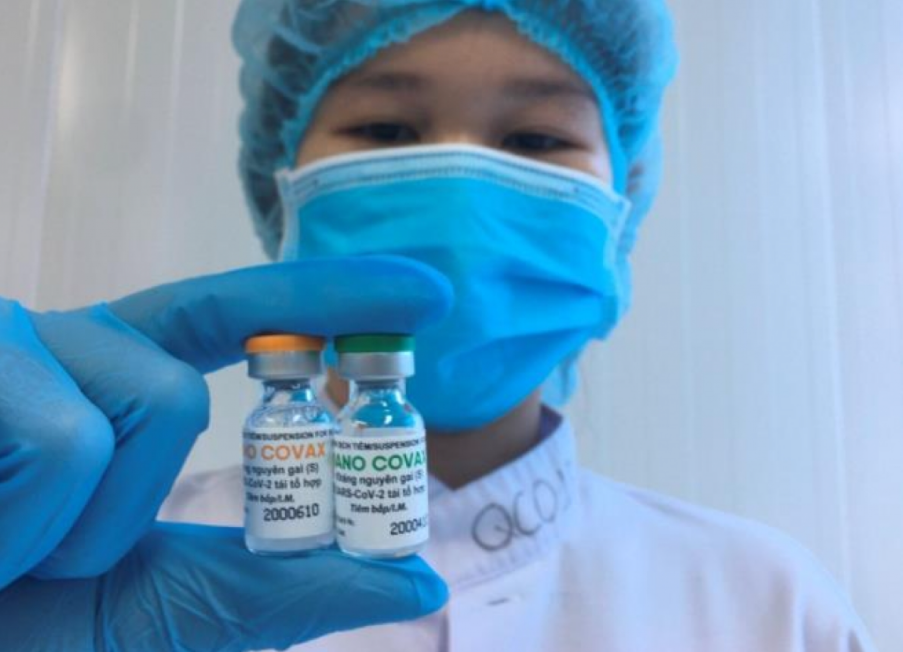 Photo: VOV
Vietnam completes first shots of Nano Covax in 2nd-stage human trials
The Hanoi-based Vietnam Military Medical University and the Pasteur Institute in Ho Chi Minh City have completed the administration of the first doses of Nano Covax in the second-stage human trials of this homegrown COVID-19 candidate vaccine. The inoculation for 560 volunteers, with 280 getting shots from each unit, was carried out in 12 days.
Initial assessment shows that Navo Covax is "relatively safe" for the volunteers, said Chu Van Men, Director of the Military Medical University's Centre for Clinical Trials and Bioequivalence. The 560 volunteers were divided into four groups, with 80 people injected with placebo and three other groups administered with 25mcg, 50mcg, and 75mcg doses. Among them, there are 105 people aged over 60, and the eldest is 76 years old. Some also have "not-too-serious" underlying health conditions like high blood pressure, blood lipid disorders, diabetes, and cardiovascular diseases.
Men said all the volunteers are currently in stable health condition, noting that their blood samples will be collected for antibody testing on the 28th, 34th, and 42nd days, as well as after three and six months, since the first jabs. They are set to get the second shots of Nano Covax after the next 28 days, he added.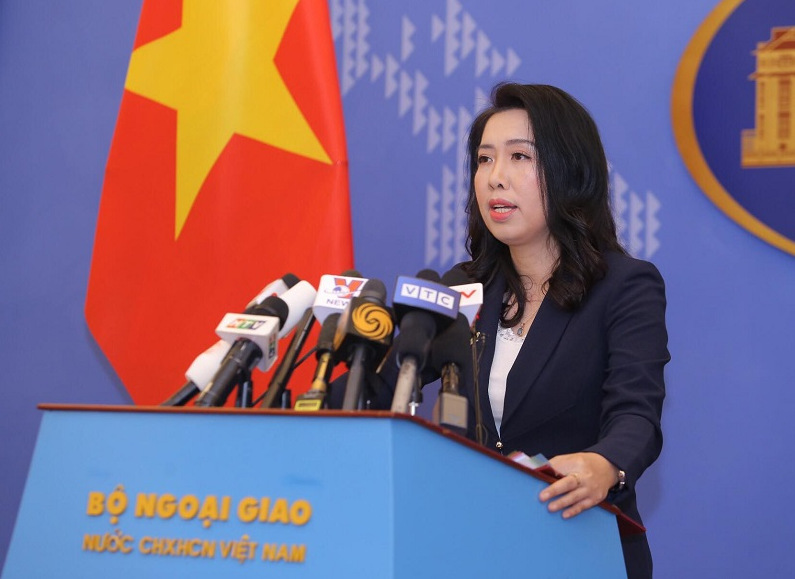 Foreign Ministry spokeswoman Le Thi Thu Hang. (Photo: Hanoi Times)
Foreign Spokesperson clarified Vietnam's view on COVID-related issues
Vietnam is intensifying surveillance along its borders to prevent any illegal entry and exit, Foreign Ministry spokeswoman Le Thi Thu Hang told a regular press conference on March 11. Foreigners have been discovered illegally entering Vietnam by authorities in some localities, she said, and these people were tested for COVID-19 and sent to quarantine or given treatment if infected. They will be punished under Vietnamese law after their quarantine is completed, Hang added.
She revealed that Vietnamese authorities have been actively coordinating with their counterparts in other countries, especially those with which it shares a border, like China, to better manage the border and stop illegal entry and exit
Vietnamese authorities are in talks with partners on how to safely resume commercial flights. To achieve the twin goals of combating COVID-19 and boosting economic growth, Vietnamese authorities have been discussing with foreign partners highly effective in COVID-19 response about reopening regular commercial air routes, she said at a regular press conference on March 11 in reply to a reporter's query that Taiwan (China) is considering promoting "travel bubbles" with certain countries and Vietnam is on the list thanks to its response to COVID-19.
For other partners wishing to resume commercial flights with Vietnam, aviation authorities are studying and discussing how and when the air routes should be restored, Hang said.
The national tally now stands at 2,535, including 1,588 domestically-transmitted cases, with 895 recorded since January 27. On March 11, 44 COVID-19 patients were given the all-clear, raising the total recoveries to 2,048. The death toll remains at 35.
Among patients still under treatment, 70 have tested negative for SARS-CoV-2 once, 44 twice and 100 thrice. A total of 44,540 people who had close contact with COVID-19 patients or arrived from pandemic-affected areas are being quarantined nationwide.