Cuba hopes Vietnam to invest in six key agricultural projects
The Ministry of Construction, standing for the Vietnam-Cuba Intergovernmental Committee recently said Cuba's Government called for and expected Vietnamese businesses to invest in six key agricultural projects. These are the 6 top priority and urgent projects for Cuba.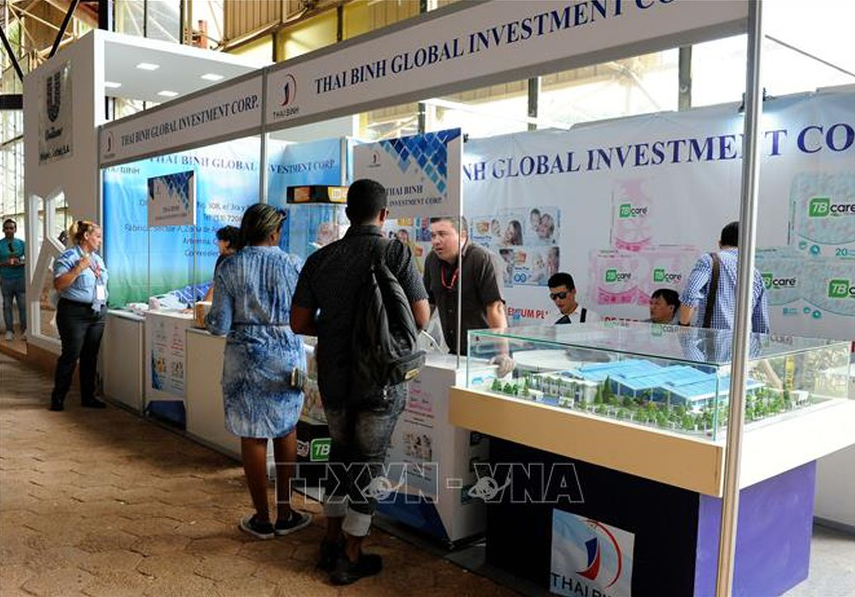 Vietnam's stall in Havana International Fair 2018. (Photo: VNA)
These projects include:
(1) Producing and selling chilled chicken
(2) Producing pork for products made from pork
(3) Producing industrially processed beef and selling traditional and special blended beef, sausages, and other beef products
(4) Producing and selling high-quality coffee in plains
(5) Industry and agriculture joint venture company to develop citrus and fruit trees in the Western production center
(6) Promoting and developing rice industry in Pinar del Rio
Cuba proposes investment in form of joint ventures under the provisions of the Law on Foreign Investment No. 118, published in Cuba's Legal Gazette no 20 on April 16, 2014.
Cuba proposes investment in form of joint ventures under the provisions of the Law on Foreign Investment No. 118, published in Cuba's Legal Gazette no 20 on April 16, 2014. (Photo: Cong Thuong)
In the 2017-2018 period, Cuba's foreign investment policies still posed shortcomings for investors, as it did not allow them to mortgage assets to borrow capital; while required them to sell products through Cuban intermediaries at a price fixed by Cuba,...
However, in 2020, Cuba has made a series of policy adjustments to improve the investment environment, and issued an ordinance on pledge, mortgage, guarantee, and allows mortgage of future assets to mobilize foreign loans. Cuba started implementing currency consolidation from January 1, 2021, using only pesos, removing the convertible peso, at the rate of $1 equivalent to 25 pesos. The country accepts investment in form of joint venture and 100% foreign capital. Cuba commits to creating maximum conditions for Vietnamese businesses to invest in Cuba.
According to statistics, so far Vietnam has 4 projects in Cuba with a total capital of USD 44,33 million, focusing on processing, manufacturing industry, and real estate.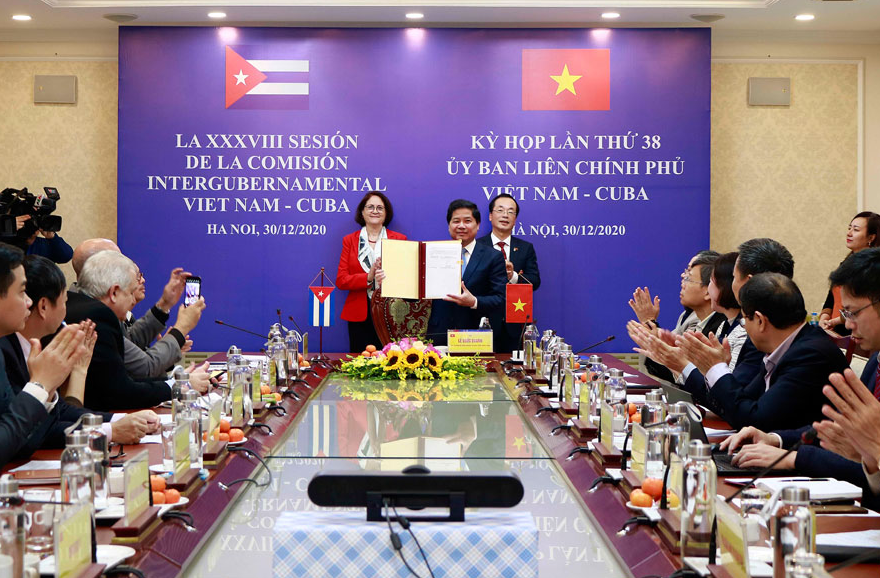 A Vietnam-Cuba Intergovernmental Committee meeting in 2020. (Photo: Hanoimoi)
On April 1, 2020, Vietnam and Cuba completed protocol to enact Vietnam – Cuba Free Trade Agreement. Consisting of 14 chapters, the Agreement covers regulations on good commerce, rules of origin, custom administration, trade facilitation, trade defense, technical regulations and standards, conformity assessment procedures, food safety and phytosanitary measures, economic and commercial cooperation... Accordingly, the two countries commit to reduce or remove tax to nearly 100% on imported goods from both sides in 5 years.
According to Mrs. Irima Perojo, Commercial and Economic Counselor of the Cuban Embassy to Vietnam, Vietnam is the major Asian investor in Cuba. Cuba always affirms its determination in supporting Vietnamese enterprises to seek investment opportunities, as well as specify their investment plans. Cuba's government attempts to create a favorable environment, ensure foreign investors' rights in Cuba.
Striving to bring the two-way trade turnover to USD 500 million by 2022, Cuba hopes to increase goods exports to Vietnam, especially medical services and biological products; at the same time, attract more investment projects from Vietnam to Cuba.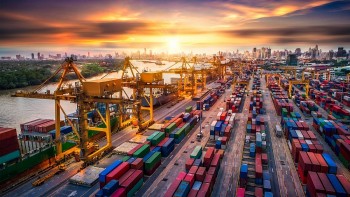 National
Vietnam, a rising star in the global supply chain, has the potential to become a new tiger in Asia, economist Brian Lee Shun Rong at Maybank - Malaysia's largest financial services group and the leading banking group in South East Asia – has reportedly said.