Vietnam, Cuba hold phone talks on bilateral relations
Deputy Prime Minister and Foreign Minister Pham Binh Minh on March 16 phoned Cuban Foreign Minister Bruno Rodriguez Parrilla to discuss measures aimed at strengthening the special friendship and cooperation between the two countries.
Deputy Prime Minister and Foreign Minister Pham Binh Minh (Photo: VNA)
During the talks, Deputy PM Minh affirmed Vietnam's consistent policy of standing shoulder-to-shoulder with and supporting Cuba.
Minister Bruno, in turn, said that Cuba attaches importance to and hopes to deepen its special friendship and comprehensive cooperation with Vietnam. He appreciated Vietnam's efforts to both respond to the COVID-19 pandemic and maintain economic growth, said Vietnam Plus.
The two sides spoke highly of the results of the sixth Political Consultation virtually held on March 2, 2021, between the two countries' Foreign Ministries, which worked out a bilateral cooperation program.
They affirmed their determination to fulfill high-level commitments in order to tighten solidarity, a special friendship, and comprehensive cooperation between Vietnam and Cuba.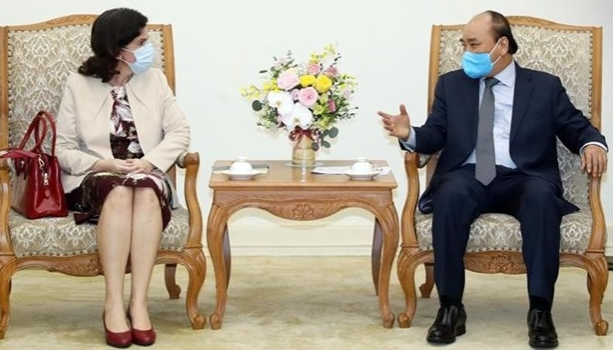 Prime Minister Nguyen Xuan Phuc (R) receives Cuban Ambassador to Vietnam Lianys Torres Rivera during a reception on April 17, 2020. (Photo: VNA)
They agreed to effectively implement the 2021 bilateral agenda, including strengthening exchange and sharing experience and consultation on issues of mutual interest, while closely coordinating and supporting each other at international organizations and multilateral forums, VOV cited.
During the fight against the pandemic, Vietnam and Cuba provide each other with medical supplies, which is the vivid evidence of the brotherhood and solidarity between the two countries, significant and meaningful to bilateral relations. Cuba handed over thousands of vials of its antiviral drug to Vietnam to assist the fight against COVID-19. The drug, Interferon alfa-2b, produced by Cuba to European standards, induces the human body to produce antibodies against the novel coronavirus. The drug could play a vital role in treating severely ill COVID-19 patients. A group of Cuban health experts were also been sent to Vietnam to support the fight against coronavirus in 2020. Meanwhile, Vietnam has sent 3 tonnes of medical equipment to Cuba which includes fast test kits and medical face masks, Vietnam News cited.
Vietnam, Cuba treasure special friendship

The Vietnamese Party, State, and people always treasure the solidarity and whole-hearted support, both spiritually and materially, that Cuba has given to Vietnam during the ...