Da Nang bans gatherings more than 5 people, HCMC shut down activities in the park
Amid the new surges of Covid-19, Da Nang has banned gatherings of more than five people in public and outside of offices and schools.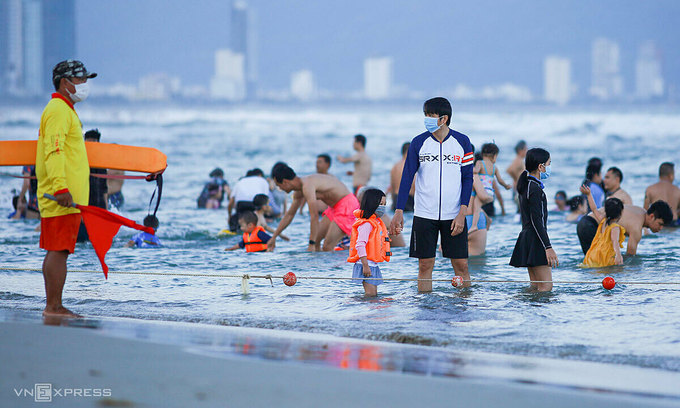 Tourists gather on a beach in Da Nang on April, 30, 2021, before new Covid-19 outbreaks hit. Photo by VnExpress/Nguyen Dong.
Earlier the city had limited gatherings to 30 people.
It has closed bars, dance clubs and karaoke parlors and banned festivals.
The city, a leading tourist destination and a coronavirus epicenter last year, has reported 112 Covid cases since May 4, according to VnExpress.
While authorities said the outbreak has been brought under control, mass testing is still being done to zero in on any potential source of infection.
In the latest wave that began on April 27 Vietnam has had 713 cases in 26 cities and provinces.
HCMC bans all gatherings in the park
Ho Chi Minh City Department of Construction has requested to stop all the activities at children's play areas, sport activities and gatherings in the parks.
Ho Chi Minh City Department of Construction has announced to ban all the activities in children's play areas, community yards, outside sport activities, and other gatherings in groups in the parks, in order to contain Covid-19 community transmission. The Department also requested all the areas that were on the list quickly put up the barriers and bulletin boards to inform local citizens about the shut down.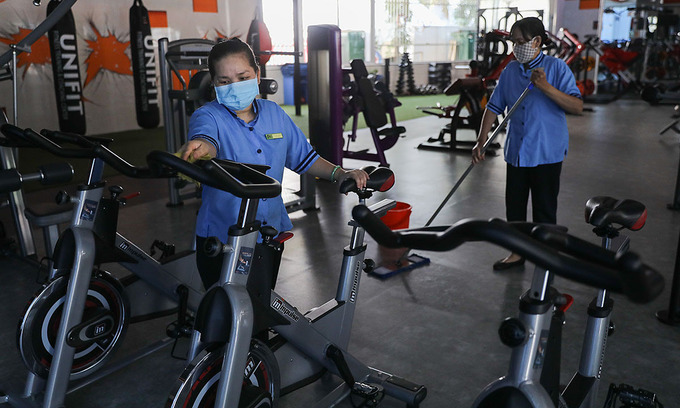 Janitors clean up equipment at a gym in HCMC in February 2021. Photo by VnExpress/Quynh Tran.
Additionally, other activities such as festivals and events with a large number of people will also be banned. For activities that have been approved by The People's Committee of HCMC, the attendees have to strictly follow social distancing rules, the number of people must not exceed 50% of the capacity and comply the 5k rules.
Previously, from 18 p.m on May 3, HCMC shut down bars, discotheques, karaoke parlors, theaters, massage parlors, spas, and gaming cafes… in an effort to curb the spread of Covid-19.
On May 6, more than 1.7 million students up to high school level in Ho Chi Minh City stayed home and switch to online study, as schools were closed all over the city.
All the public gatherings with more than 30 people at once such as fairs or group exercises in public will be banned in the city.
From May 13, the Covid-19 infected cases in HCMC is 270 people, with 247 recovered cases and 23 others that are still in treatment.
Vietnam records 16 more local Covid-19 cases
Vietnam has recorded 16 more local Covid-19 cases Friday noon, all contained within quarantine zones.
Seven of the new cases are in the northern province of Bac Ninh, three in Hanoi's locked down K Hospital, two in Lang Son, two in Nam Dinh and one each in Thai Binh and Hung Yen.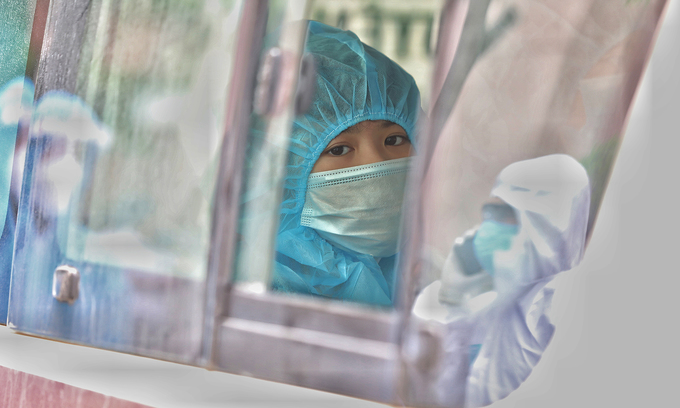 A person wears a protective suit on a bus at a Covid-19 locked down zone in Hanoi, with reflections of medical workers on the windows, May 13, 2021. Photo by VnExpress/Ngoc Thanh.
The seven cases in Bac Ninh are all close contacts of previously confirmed coronavirus cases.
The three cases in Hanoi's K Hospital are two medical workers and a patient, who have now been quarantined right inside the hospital.
The two cases in Lang Son are a 42-year-old man and a 17-year-old girl, both close contacts of a confirmed coronavirus cases. They are being treated at the Huu Lung District medical center.
The two cases in Nam Dinh are a 49-year-old woman and a 53-year-old man, both close contacts of confirmed coronavirus cases. The woman is treated at the Y Yen District medical center, and the man at the Giao Thuy District medical center.
The case in Thai Binh is a 53-year-old man who made contact with confirmed coronavirus cases. He's being treated at the Thai Binh Lung Hospital.
The case in Hung Yen is a 46-year-old woman who made contact with a coronavirus case. She's being treated at the National Hospital for Tropical Diseases.
Vietnam's new Covid-19 wave has seen 729 local cases recorded in 26 cities and provinces since April 27.
Over 959,000 people have been vaccinated against Covid-19 so far.