Vietnam's Covid-19 testing capacity significantly improved
Vietnam's Covid-19 testing capacity has been significantly improved, with several laboratories across the country capable of handling up to 100,000 samples per day, according to figures given by representatives from the Ministry of Health (MoH).
This confirmation was made by Deputy Minister of Health Tran Van Thuan during an online meeting held on May 13 alongside the National Institute of Hygiene and Epidemiology, the Pasteur Institute, and other testing units.
The nation has enough testing techniques including real-time RT-PCR, rapid antigen test, and rapid antibody test in order to detect and diagnose cases of the SARS-CoV-2 virus, VOV reported.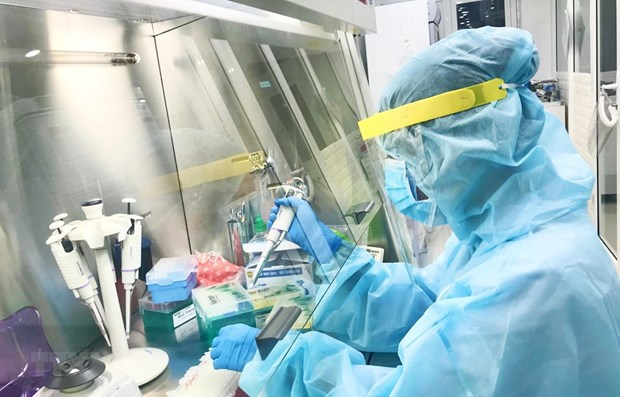 A health worker at a testing laboratory. Photo: VNA
The Ministry of Health (MoH) has also moved to release guidelines relating to each type of testing and different scenarios, especially the scenario of 30,000 infected cases detected in the nation, Deputy Minister Thuan added.
The MoH representative emphasized that the MoH will continue to ramp up the dissemination to raise public awareness regarding the significance of SARS-CoV-2 testing as part of Covid-19 prevention activities.
Nguyen Minh Hang, deputy director of the General Department of Preventive Medicine, revealed that rapid antigen testing will serve as a means of strengthening surveillance over the spread of the Covid-19 pandemic, with this being also regarded as an aid to the results of RealTime RT- PCR.
These techniques have been competently implemented by the MoH in order to support laboratories nationwide to improve their testing capacity, Hang affirmed.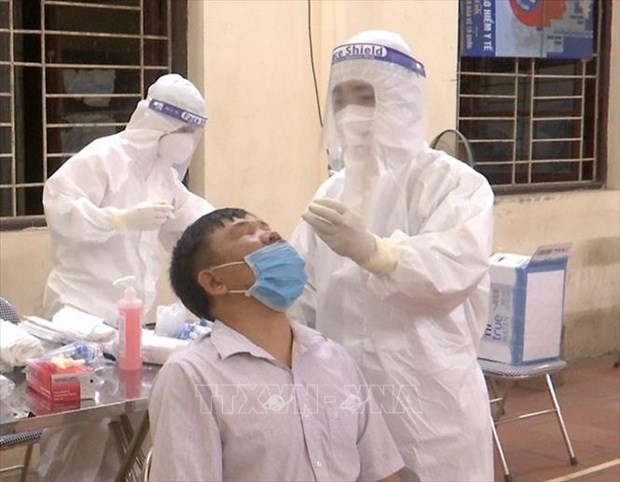 Medical staff is collecting samples for Covid-19 testing. Photo: VNA
Furthermore, Hang outlined that 175 laboratories throughout the country are capable of performing SARS-CoV-2 testing, adding that compared to previous waves of the epidemic, the overall testing capacity has enjoyed a rapid increase, with the country carrying out approximately 310,000 test samples as of April 27.
At present, there are three types of biological products which are used as part of testing techniques, while there are 16 types of biological products for the RealTime RT-PCR test, four types of biological products for the rapid antigen test, and nine types for the antibody test.
These are the biological products licensed for circulation by the MoH. In addition, Vietnam has also used biological products recommended by the World Health Organization (WHO) or the US Centers for Disease Control and Prevention (US CDC).
Previously, Deputy Minister of Health Tran Van Thuan received 10,000 sets of Covid-19 testing kits donated by the Ampharco U.S.A Pharmaceutical Joint Stock Company at a ceremony held in Hanoi on May 12.
Licensed by the Ministry of Health to circulate under Decision No. 2263/QD-BYT issued on May 7, the Ampharco U.S.A's AmphaBio HT- Hithroughput PCR Covid-19 kit can detect most of the current coronavirus variants. As a joint product between the firm and the university, it has been tested and clinically proven on 2,000 patient samples.
Under the Prime Minister's direction, the ministry set up a board for the mobilization and coordination of resources for Covid-19 prevention and control in March. The freshly received test kits will be stored at the company's warehouse to ensure preservation conditions and be distributed to localities in need following real-life situations.
Thirty new Covid-19 infections, including 29 local-infected cases, were recorded over the last 12 hours to 6:00 am on May 14, according to the Ministry of Health (MoH).
The new patients included 10 in Bac Giang, 6 in Bac Ninh, 9 in Hanoi, 4 in Lang Son, and one imported case in Ha Giang.
The new cases brought the national tally to 3,740, with 2,282 domestic and 1,458 imported cases.
The MoH's Department of Medical Examination Management reported that 2,657 patients have been given the all-clear. The death toll remains at 35.
Meanwhile, 77,648 people are being quarantined nationwide.
The Ministry said an additional 17,152 people were administered the Covid-19 vaccine nationwide on May 13, raising the total number of vaccinated people to 959,182.
To stay safe from Covid-19, people are urged to strictly follow the MoH's 5K health message: khau trang (facemask), khu khuan (disinfection), khoang cach (distance), khong tu tap (no gathering), and khai bao y te (health declaration).