Daily Horoscope for August 18: Astrological Prediction for Zodiac Signs
Daily Horoscope for August 18: We have a void-of-course moon in Leo today that is likely to make early risers of us, because we'll feel connected to the sun and its vitality. A warm and glowing vibe will blanket the morning, creating an easy, breezy atmosphere. A sense of personal joy should be easy to tap into.
A sextile between Uranus and Venus could lead to pleasant surprises in the love department, so be sure to keep an open heart. As you roll into evening you'll feel inclined to use your voice and speak up about the things you feel passionate about.
However, a moon-Saturn quincunx warns against making promises or agreements that may be difficult to fulfill. On the flip side of that, take what others say or promise with a grain of salt because you might have trouble holding them to it later.
Your ego will tell you that you're capable of anything tonight, and for the most part you will be! However, Saturn is looking over your shoulder and asking if you're willing to put in the work to accomplish your goals and fight for your dreams. New moons tend to bring a great deal of energy with them. Use tonight's new moon energy to set your intentions around meeting your personal goals. Make a vow to yourself that you'll work hard for the things you want.
Aries
Your patience for indecisive people is running very low right now. You know what you're doing, so how come no one else does? Well, you'll never be able to get a satisfying answer to that question, so why even ask it? You'll only get frustrated or angry. To keep your resentment a bay, you've got to move past the wafflers and just not give them a second thought. Focus your communication on getting your own stuff down, not on trying to get other people in trouble.
Taurus
You have reached a critical point with someone you care about. You actually know how you feel, so you need to communicate it! This isn't about having too many expectations. You just need to share what you are thinking and feeling. How the other person reacts isn't something you can control, so it's not something you need to worry about. You'll still feel vulnerable, there's no getting away from it. But you need to make them aware of your feelings.
Gemini
An interesting discussion today could inspire you to get moving on an exciting new project. Try to make some time to give it all the dedication it requires. A quick online search will help you find the answers you need and get you going down the right path. And while you probably won't be able to make as much headway as you'd like, you can at least make enough progress to give yourself a strong sense of satisfaction and an excuse to pat yourself on the back.
Cancer

Someone who lives a flashy lifestyle might be charming and exciting, but they don't have the substance you need in your life right now. So have fun talking to the flighty folks, but don't get sucked into their way of doing things. Not only will it alienate you from the more serious people in your life, but it could start you on some bad habits. You can take a walk on the wild side every now and then, but just make sure you can find your way back!
Leo
You should research less and brainstorm more. The facts and figures that have helped you in the past aren't going to help you today. There's too much emotional energy in the air for logic and reason to have any real impact. This is a day full of possibilities. The hardest task you have is to think up a new way to do something routine. It could be at home or it could be at work. Get started coming up with new ideas early, and by late afternoon you should have a winner.
Virgo
Do your best to stay cool and calm when the drama erupts. If you stay objective about what's going on, you'll find it easy to turn away from it all and stay unaffected and happy in your own little world. It's too soon to tell where this soap opera is headed, so wait until the dust settles and deal with the outcome then. You shouldn't be one of the main players. You owe nothing to anyone but yourself. Remember that if someone tries to get you to choose sides.
Libra
A friend is telling you that they're doing one thing but doing something else. Their duplicity is probably due to their fear that if you really knew what was going on, your feelings about them would change. But this is definitely not true. Don't waste time being disappointed that they aren't trusting you. Instead, get in contact with them and ask point-blank about what's really going on. You need to reach out to people to let them know that you can be trusted.
Scorpio
By spending all your free time with just one person, you're taking a risk. You can't ignore the other relationships in your life just because you met someone new. If you stop paying attention to them, they'll stop paying attention to you. Check in with your old friends today. Get back in the old familiar groove and remind yourself why you love all these people so much. They'll be thrilled to be in your life again.
Sagittarius
Watch out when you're dealing with others today. They don't have your same priorities. While you want to get things done, they just want to goof off and have fun. So be prepared to deal with interruptions from them, and there could be many. But the one thing you don't have to worry about is them leaving you with all the work. You don't have to take on any of their stuff, so don't. Let them be responsible, and let them take the heat if it doesn't get done.
Capricon
Getting more closely connected with the people you really value is easier than ever. Right now, everyone's schedules fit together, and everyone is on the same page. This harmony is sure going to make your life sweeter for a while. Communicate with them in every way you can, from handwritten notes to video chats to in person, if you can. They are going to add some good energy to your life, and who doesn't need that?
Aquarius
If you're looking for romance, keep in mind that not all romances start off as sizzling affairs. Many of the healthiest and longest-lasting relationships start out as friendships. So, instead of looking for lightning to strike, just keep an eye out for interesting people, and then put in the time it takes to get to know each other. If you aren't looking for romance, you should be aware that someone might be looking for a relationship with you!
Pisces
There's been a nagging worry on your mind lately, and it's not going away anytime soon, probably because you've been so busy lately that you simply haven't had the time to think about it or process it. So unless you want this thing to plague you for the foreseeable future, you have to stop and give yourself the quiet time you need to get it out of your system. Call up a friend and talk it out with them. They'll help you move on and clear your head.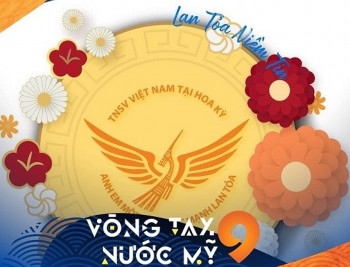 Overseas Vietnamese
Association of Vietnamese Students and Professionals in the United States (AVSPUS), in collaboration with Vietnamese Youth and Student Association in Texas, shall co-organize the series of events named "The 9th America's Arms" (Vong tay nuoc My) in December in Dallas, Texas (USA). It is known as the year-end meeting for Vietnamese youth and students in the US.