Daily Horoscope for December 15: Astrological Prediction for Zodiac Signs
Daily Horoscope for December 15: For Sun Signs, each of the planets involved in aspects are scored according to their sign positions of the planets involved and the relationship they make to the Sun Sign. Each Sun Sign has a different perspective on the aspects of each day.
Daily Planetary Overview
The moon takes its first steps in Capricorn today, giving us the opportunity to feel grounded and pragmatic. This earth sign values composure, so emotions are much more in check than they were during yesterday's dramatic solar eclipse. You won't be in the mood for anyone's BS today, so don't be afraid to set boundaries if someone tries to start up with you.
Your mind may have been racing over the past couple of days, giving you the desire to reach for the stars and achieve your wildest dreams, while the next couple days give you the opportunity to figure out a plan to get there. Your desire for status is real right now, and a helpful aspect to Uranus during the first part of the day could throw unexpected opportunities your way. Be ready to say yes to the universe!
A trine between Mars and Mercury helps us put our thoughts into action, so make a plan and execute it. The Capricorn energy the moon carries right now leaves you feeling driven and status oriented, especially when it comes to matters of career and work life. Today is not the day to hide in the shadows. Assert yourself in professional matters, close deals, and take care of business!
Aries
The first sign of the Zodiac, Aries are the trailblazers. Passionate and independent, Aries will never do something just because everyone else is doing it—a Ram needs to be 100 percent committed to the task at hand.
Dec 15, 2020 - Your thoughts may be scattered and frantic early in the day, Aries, but things should settle down by evening. Your emotions will be more stable, and you will be much more disciplined about tasks that need completion. Plan for the next few days and be practical about what you can accomplish. Don't set yourself up for failure by biting off more than you can chew.
Taurus
Smart, ambitious, and trustworthy, Taurus is the anchor of the Zodiac. Amazing friends, colleagues, and partners, Taureans value honesty above all else and are proud that their personal relationships tend to be drama free.
Dec 15, 2020 - Communicate your feelings early in the day, because by evening you might feel too restricted to want to communicate with anyone. Use this disciplined, sober tone to get a realistic perspective on the issues at hand. You'll have a stable, practical attitude for dealing with any situation. Take a slow, well-calculated approach in order to overcome whatever hurdle is in your way.
Gemini
Smart, passionate, and dynamic, Gemini is characterized by the Twins, Castor and Pollux, and is known for having two different sides they can display to the world. Expert communicators, Gemini is the chameleon of the Zodiac, adept at blending into different groups based on the vibe and energy they perceive.
Dec 15, 2020 - Things will get much easier and more controlled as the day progresses, Gemini. People's superficial attitudes and idle chatter will give way to more realistic and deep-seated conversations as the evening hours draw near. You will find that it's much easier to get to the heart of the issues and be more honest and realistic about your emotions tonight. Assess your feelings with a practical perspective.
Cancer
Emotional, intuitive, and practically psychic; ruled by the moon and characterized by the crab, Cancer has so much going on in its watery depths. Cancers may seem prickly and standoffish at the first meeting, once they make the decision to become friends with someone, that person has a friend for life.
Dec 15, 2020 - Today may be a rough day in which you find it hard to decide about anything. Refrain from making any major moves regarding finances or real estate. Concentrate on you and the answers will come from within. Be realistic and practical when it comes to your emotions. You may find it hard to connect with someone tonight, so stick close to home and focus inward.
Leo
Bold, intelligent, warm, and courageous, fire sign Leo is a natural leader of the Zodiac, ready to blaze a trail, vanquish injustice, and make a name for themselves along the way. Blessed with high self-esteem, Lions know that they possess enviable traits—and they're proud of them.
Dec 15, 2020 - You might find it hard to connect with anyone on a deep and meaningful level today, Leo, so just free yourself and have a good time. Take a more refined and disciplined approach to your projects. You will find that you can be productive after sundown. Later you should consider snuggling up close to someone you trust and care about deeply.
Virgo
Smart, sophisticated, and kind, Virgo gets the job done without complaining. Virgos are amazing friends, always there to lend a hand and also lend advice. Practical Virgos are incredibly adept at big picture thinking, and planning out their life, their vacations, and what they're going to do today isn't a drag it makes them feel in control and secure.
Dec 15, 2020 - Get the party started early in the day, Virgo. You may be running from task to task, but this is OK. You have the ability to get a lot done by multitasking and keeping things light. As the day progresses, however, there will be a veil of restriction that slowly settles over your mood. You may find it harder to communicate your thoughts than it was earlier in the day.
Libra
Intelligent, kind, and always willing to put others before themselves, Libras value harmony in all forms. Ruled by Venus, the planet of beauty, Libra adores a life that looks good. As the master of compromise and diplomacy, Libra is adept at seeing all points of view and excels at crafting compromises and effecting mediation between others.
Dec 15, 2020 - Bring your thoughts down to Earth, Libra, especially later tonight. You may be flip-flopping through the day like a fish out of water, but suddenly things start to fall into place at sundown. You will find that people are much more caring and sensitive to your mood later this evening. Spend it at home with someone you love. Ground yourself and plan for the upcoming week.
Scorpio
Passionate, independent, and unafraid to blaze their own trail no matter what others think, Scorpios make a statement wherever they go. They love debates, aren't afraid of controversy, and won't back down from a debate.
Dec 15, 2020 - The earlier portion of the day is apt to flow much more smoothly than the later part, Scorpio. You should get things solidified right off the bat, if possible. Things will be a bit more relaxed and free flowing in the morning, but become a bit more restrictive as the evening sets in. Don't go to bed without making a plan for what you want to accomplish over the next few days.
Sagittarius
Independent and strong-willed, Sagittarius personalities are all about going off the beaten path. Sagittarius isn't afraid to step away from the pack and is a natural-born leader who goes after what he or she wants, regardless of what other people think.
Dec 15, 2020 - This may be a frenzied day for you, Sagittarius, but it's likely to settle down as evening sets in. It will be a tender night in which you should stick close to home and get organized. If you have any task that requires discipline, you're better off waiting until tonight to do it. Things will run much more smoothly then.
Capricorn
Smart, hardworking, and fully in control of their destiny, a Capricorn will always get what they set their mind to, in both personal and professional life—no excuses. Capricorns may get a reputation as stubborn, but they simply know what they want, and also know how they wish other people would behave.
Dec 15, 2020 - You should be on cloud nine today, Capricorn. As evening sets in, however, things might get a little too heavy for your comfort. People will have had enough of your gossip by then, so give it a rest. Kick back and plan for the next few days. You might also want to take a more serious approach to your romantic commitments by confirming your feelings about your partner now.
Aquarius
Independent and enigmatical, Aquarians are unique. There is no one quite like an Aquarius, and because each is so incredibly individual, it can be tough to describe them as a group. Aquarians don't like labels, and may shy away from any adjective—even the good ones you might bestow upon them.
Dec 15, 2020 - Lie low during the day and try not to get caught up in the frivolous verbiage that dominates the waking hours. After sundown, feel free to speak your mind. You may notice that there is a sober tone and restrictive sensation today that leaves you feeling like you will never be able to break free from your current situation. Don't get caught in this negative mindset.
Pisces
Smart, creative, and deeply intuitive, Pisces can be close to psychic. Pisces feel things deeply and have incredibly strong gut reactions. A Pisces "knows" things from deep within, and can often judge whether a person or situation is good or bad.
Dec 15, 2020 - Let your fun-loving nature come out to play today, Pisces. As the day progresses, the clouds are likely to move in. There may be a more restrictive tone to your emotions that could make it difficult to express how you really feel. Focus your attention inward and realize that you can maintain a high level of self-esteem without having to prove anything.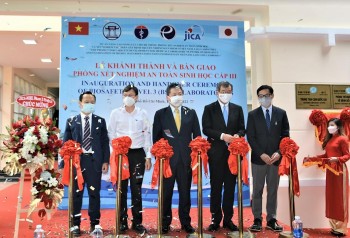 Friendship
The Pasteur Institute in Ho Chi Minh City (PI HCMC) hold an inauguration of its new Biosafety Level-3 Laboratory (BSL-3) on January 17th, 2022. For this new laboratory, the Japan International Cooperation Agency (JICA) has supported the main materials and equipment such as the air conditioning system, the wastewater treatment system, and the two-door autoclave, with a total value of 200 million yen (nearly 40 billion VND).