Daily Horoscope for December 16: Astrological Prediction for Zodiac Signs
Daily Horoscope for December 16: Venus began its journey in Sagittarius yesterday, and as we begin to settle into that energetic shift, we feel more generous with our love and optimism when it comes to matters of the heart.
Daily Planetary Overview
In terms of romance, you're in the mood to visualize a future with that special someone, but the Capricorn moon also lends us some much-needed discernment. Allow your mind and heart to work together today to avoid getting swept up in grandiose and emotionally charged plans for your life moving forward. Allow yourself to lean into love, but don't let it take away your logic.
An unbalanced aspect between the moon and north node could make it especially difficult to see clearly into the future if you allow your feelings to assume control over your thoughts.
The moon forms a conjunction to Pluto about midday, which could cause emotions to run extremely deep. We will be looking to take relationships to the next level, but be careful not to rush into anything too quickly.
The moon and Pluto form a difficult aspect to Mars, which could cause you to make mistakes if you act without thinking things through (so avoid making any sudden commitments or eloping). This aspect can also trigger aggression, so watch out for anger in yourself and others, and remove yourself from any situations that don't feel calm or safe.
Aries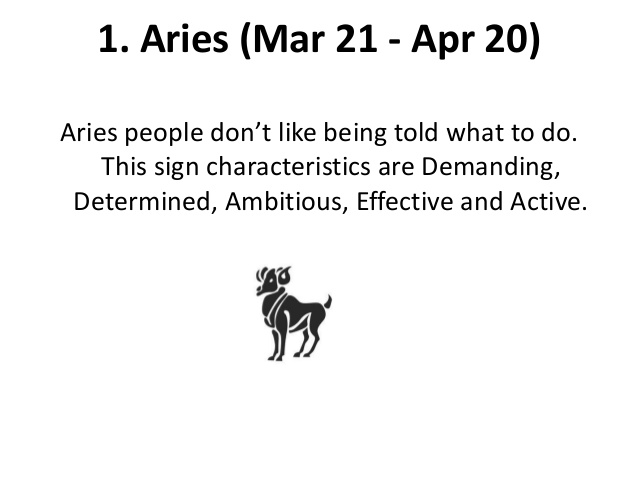 Photo: Slideshare
The first sign of the Zodiac, Aries are the trailblazers. Passionate and independent, Aries will never do something just because everyone else is doing it—a Ram needs to be 100 percent committed to the task at hand.
Dec 16, 2020 - Today is a terrific day in which you should find that things work very smoothly. You have a hardheaded approach that will help you get down to business and get things done. Make sure you're on solid ground before you take the next step upward. You have the ability to reach the summit of many mountains, so don't waste any time. Put on your boots and start climbing.
Taurus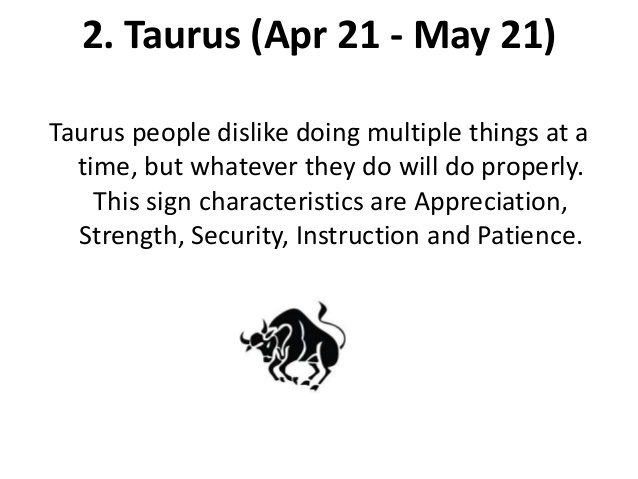 Photo: Slideshare
Smart, ambitious, and trustworthy, Taurus is the anchor of the Zodiac. Amazing friends, colleagues, and partners, Taureans value honesty above all else and are proud that their personal relationships tend to be drama free.
Dec 16, 2020 - There's a serious tone to the day, Taurus, so take this into account when you get the urge to play a practical joke on a friend. Keep things real. Stick close to home and take care of any menial tasks. Start a garden or buy some plants for your house. You have a disciplined nature that will help you get things done.
Gemini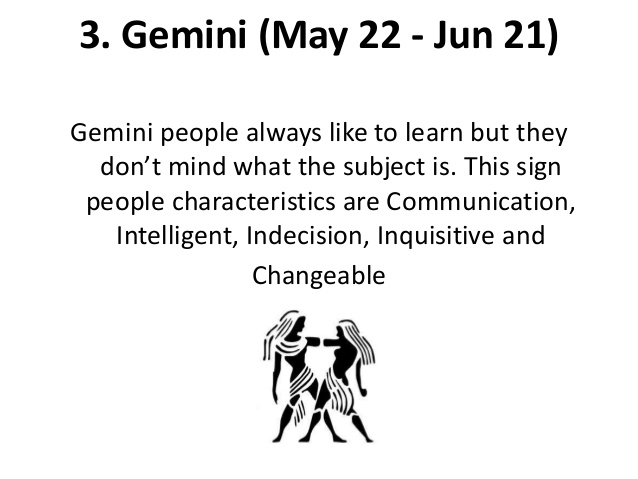 Photo: Slideshare
Smart, passionate, and dynamic, Gemini is characterized by the Twins, Castor and Pollux, and is known for having two different sides they can display to the world. Expert communicators, Gemini is the chameleon of the Zodiac, adept at blending into different groups based on the vibe and energy they perceive.
Dec 16, 2020 - Bring stability to your emotions today, Gemini. You have the tendency to take things to extremes, swinging from incredible highs to rock-bottom lows. Give your nervous system a break and calm down. Go for a walk in the woods. Make sure that all your actions are rational and well planned. See to it that you're in control of your emotions before you interact with others.
Cancer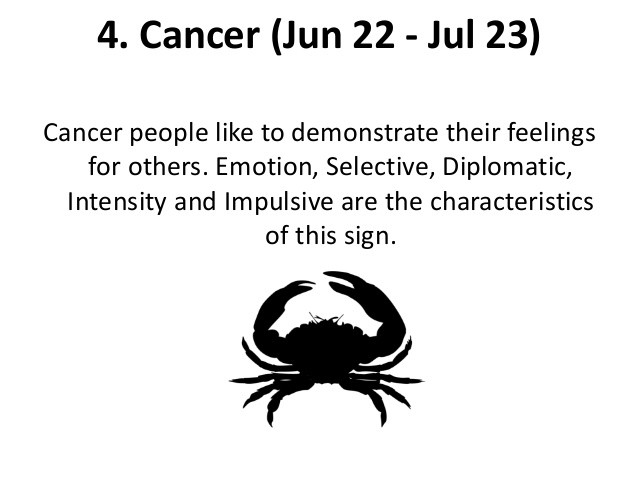 Photo: Slideshare
Emotional, intuitive, and practically psychic; ruled by the moon and characterized by the crab, Cancer has so much going on in its watery depths. Cancers may seem prickly and standoffish at the first meeting, once they make the decision to become friends with someone, that person has a friend for life.
Dec 16, 2020 - Take care of your home today, both physically and emotionally. See that bills are paid, and the bedroom is tidy. Don't forget to clean the dust from under your bed and the demons from inside your mind. Realize that you might be running on someone else's operating system that got stuck in your hard drive. Make sure you replace it with your own software before you continue.
Leo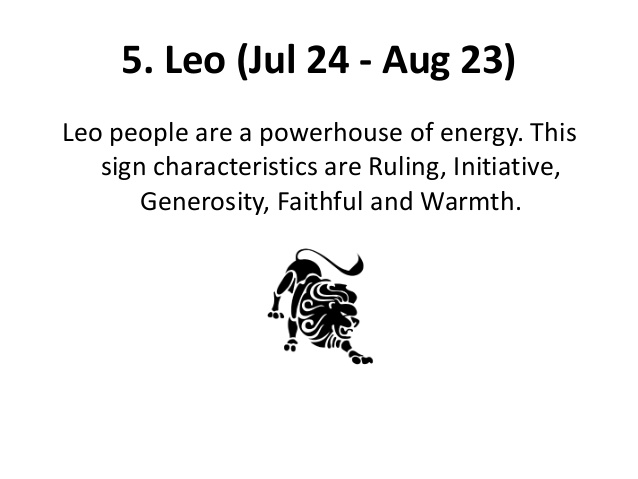 Photo: Slideshare
Bold, intelligent, warm, and courageous, fire sign Leo is a natural leader of the Zodiac, ready to blaze a trail, vanquish injustice, and make a name for themselves along the way. Blessed with high self-esteem, Lions know that they possess enviable traits—and they're proud of them.
Dec 16, 2020 - Go ahead and act confidently, Leo. You will probably find that you're more stable and grounded in general, leaving you free to explore and take more risks than you normally would. Your intuition may be strong, so don't hesitate to rely on it. Make sure your actions are clear and decisive. You have a great deal of power, so use it wisely.
Virgo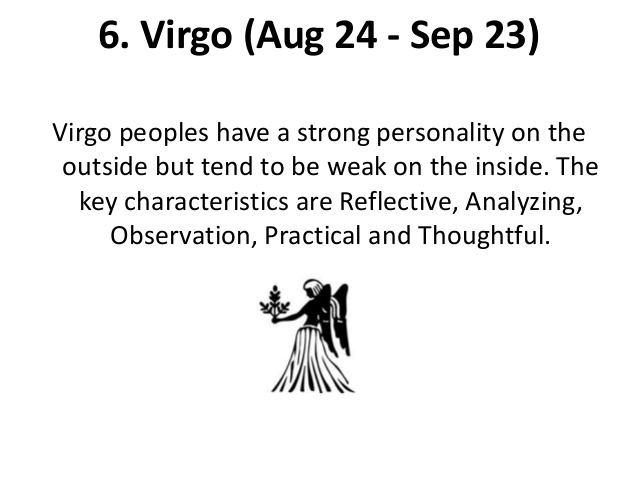 Photo: Slideshare
Smart, sophisticated, and kind, Virgo gets the job done without complaining. Virgos are amazing friends, always there to lend a hand and also lend advice. Practical Virgos are incredibly adept at big picture thinking, and planning out their life, their vacations, and what they're going to do today isn't a drag it makes them feel in control and secure.
Dec 16, 2020 - It may be hard for you to get a project off the ground, Virgo. Perhaps this is a sign that it needs to stay there. Take it back to the drawing board. Do some more planning and testing. Make sure that your actions are well thought out. Test the brakes before you drive down the mountain. You will find that you can accomplish a lot today if you stay focused and disciplined.
Libra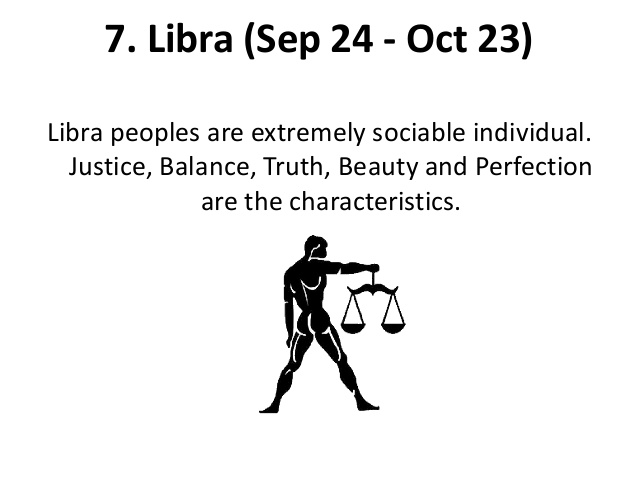 Photo: Slideshare
Intelligent, kind, and always willing to put others before themselves, Libras value harmony in all forms. Ruled by Venus, the planet of beauty, Libra adores a life that looks good. As the master of compromise and diplomacy, Libra is adept at seeing all points of view and excels at crafting compromises and effecting mediation between others.
Dec 16, 2020 - Finish whatever you didn't wrap up yesterday, Libra. Use the morning to plan, the afternoon to execute, and the evening to relax. Be conscious of time and your physical and mental limitations. Bring your dreaminess down to Earth and be realistic about goals. Take time to put the extra coat of wax on the car or extra stitch in the fabric. That effort will serve you well in the long run.
Scorpio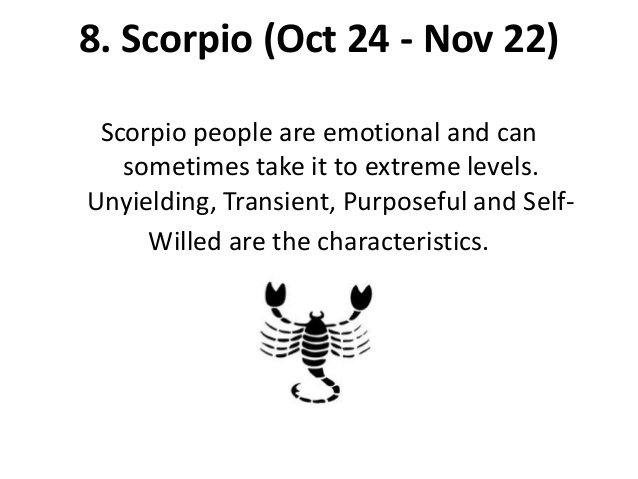 Photo: Slideshare
Passionate, independent, and unafraid to blaze their own trail no matter what others think, Scorpios make a statement wherever they go. They love debates, aren't afraid of controversy, and won't back down from a debate.
Dec 16, 2020 - Give it a rest today, Scorpio. Recharge your batteries. Stick close to home and take a load off your feet. Convince someone to give you a massage, or better yet, go to a professional. You deserve a break. Once you're restored, consider all the ramifications of whatever actions you take before you start. Plan your moves carefully. Be strong and decisive not rash and frantic.
Sagittarius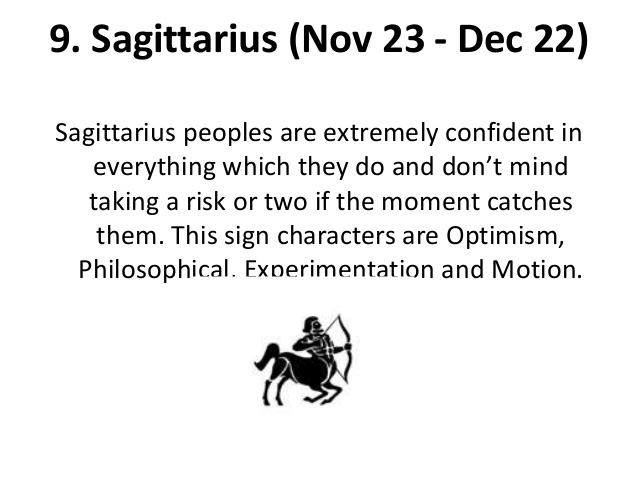 Photo: Slideshare
Independent and strong-willed, Sagittarius personalities are all about going off the beaten path. Sagittarius isn't afraid to step away from the pack and is a natural-born leader who goes after what he or she wants, regardless of what other people think.
Dec 16, 2020 - Feel free to move forward with your plans, Sagittarius. This is a great day to act. You've done a great deal of data collecting and analyzing lately. Now is the time to put that information to good use. You're helped by an extra boost of inner confidence and emotional strength. Your grounded, conservative approach will be richly rewarded. You couldn't ask for a more productive day!
Capricorn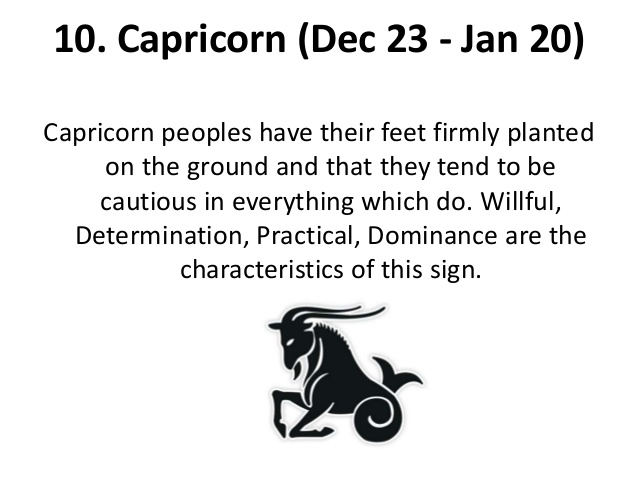 Photo: Slideshare
Smart, hardworking, and fully in control of their destiny, a Capricorn will always get what they set their mind to, in both personal and professional life—no excuses. Capricorns may get a reputation as stubborn, but they simply know what they want, and also know how they wish other people would behave.
Dec 16, 2020 - You may have a hard time getting started today, Capricorn. This might be a better time to plan. Be realistic and thoughtful in your actions. Be conscious of the steps you need to take to reach a certain goal. When in doubt, take the more conservative route. You will find that there is a great deal of support for that path. Don't get distracted along the way. Stay on target.
Aquarius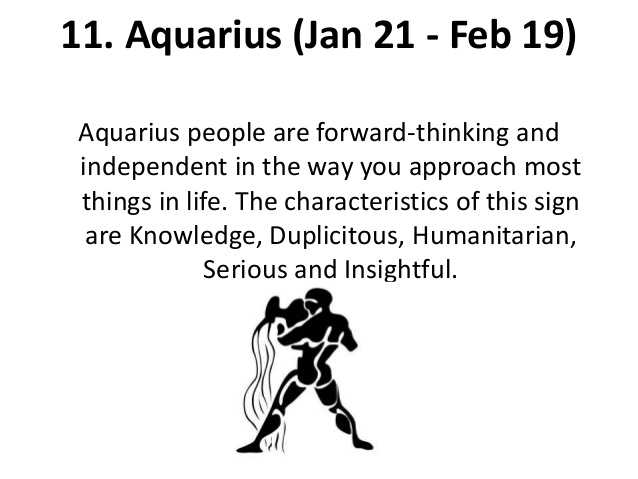 Photo: Slideshare
Independent and enigmatical, Aquarians are unique. There is no one quite like an Aquarius, and because each is so incredibly individual, it can be tough to describe them as a group. Aquarians don't like labels, and may shy away from any adjective—even the good ones you might bestow upon them.
Dec 16, 2020 - Bring your emotions down to Earth today, Aquarius. Your imagination may run away with you. If you don't take a hard look at reality, you may find yourself in big trouble later. The higher you soar, the harder you fall. Make sure you have a working parachute. Be realistic about your current situation and act with confidence. Make sure you have the facts before you set goals and plans.
Pisces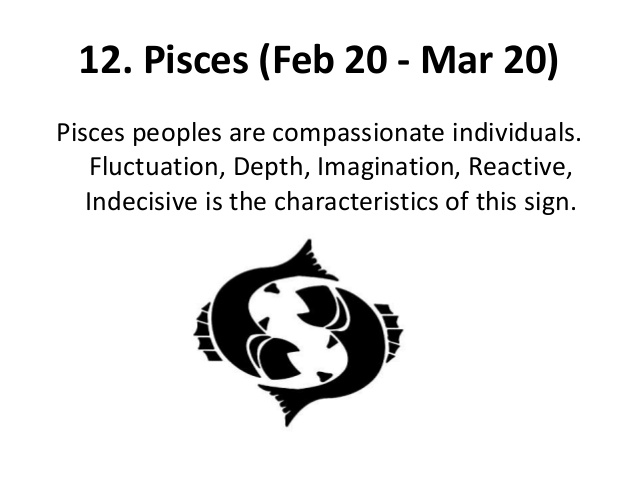 Photo: Slideshare
Smart, creative, and deeply intuitive, Pisces can be close to psychic. Pisces feel things deeply and have incredibly strong gut reactions. A Pisces "knows" things from deep within, and can often judge whether a person or situation is good or bad.
Dec 16, 2020 - Try not to be extravagant today, Pisces. You're much better off lying low. Focus on you and what you need to do. Don't waste your time trying to attract others' attention. Let them deal with themselves while you concentrate on your goals and chores. Tackle all projects with gusto. You will find that you can be very productive as long as you stay focused and calm.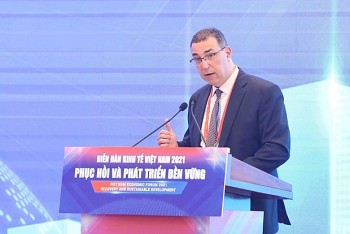 National
Vietnam News Today (December 6): Vietnam records 14,312 new Covid cases; Vietnam-Lao special relations continue to be nurtured; Vietnam's economy showing signs of recovery; Hanoi changes face-to-face learning plan at last minute.