Daily Horoscope for February 1: Astrological Prediction for Zodiac Signs
Daily Horoscope for February 1: The sun in Aquarius squares Uranus in Taurus, creating some tension when it comes to wealth and ownership. You aren't into "traditional" ways of doing things, but maybe it's time to use your social connections to find new ways to make money.
Daily Planetary Overview
You're feeling lovely and energized when the full moon is in Leo. The moon is in your pleasure zone, making for a very entertaining night! Whether you're completing a creative project or sealing the deal on a love affair, you're coming into your power.
Mercury retrogrades in Aquarius. This retrograde occurs in your friendship sector, creating some major tension in your social group. Watch out! The group chat is about to get heated, especially if politics come up. If you find yourself writing an impulsive text, just delete it instead of sending it.
Daily Zodiac Horoscopefor February 1
Aries
The first sign of the Zodiac, Aries are the trailblazers. Passionate and independent, Aries will never do something just because everyone else is doing it—a Ram needs to be 100 percent committed to the task at hand.
Feb 1, 2021 - You should be especially efficient in whatever work you need to get done today, Aries. Your natural eye for detail is especially sharp. You're also feeling industrious, energetic, and efficient, so don't be surprised if others give you some admiring compliments. When the work is all done, you might reward yourself by making some definite plans for a vacation you've been dreaming about for a while.
Taurus
Smart, ambitious, and trustworthy, Taurus is the anchor of the Zodiac. Amazing friends, colleagues, and partners, Taureans value honesty above all else and are proud that their personal relationships tend to be drama free.
Feb 1, 2021 - Your dreams might be especially intense now, and some could even be prophetic. You may have recently dreamed of an old friend you haven't seen for a while. Don't be surprised if you suddenly hear from this person, Taurus. You might also come up with some previously unknown ideas for advancing yourself professionally. Don't let the unorthodox source of these insights stop you from using them.
Gemini
Smart, passionate, and dynamic, Gemini is characterized by the Twins, Castor and Pollux, and is known for having two different sides they can display to the world. Expert communicators, Gemini is the chameleon of the Zodiac, adept at blending into different groups based on the vibe and energy they perceive.
Feb 1, 2021 - Social events involving both old and new friends could prove especially satisfying at this time, Gemini. You will be able to catch up with those you haven't seen for a while. You might also be introduced to new people who prove valuable business contacts in the future. Expect good news, stimulating conversation, and a lot of reminiscing about the past with warm and congenial companions.
Cancer
Emotional, intuitive, and practically psychic; ruled by the moon and characterized by the crab, Cancer has so much going on in its watery depths. Cancers may seem prickly and standoffish at the first meeting, once they make the decision to become friends with someone, that person has a friend for life.
Feb 1, 2021 - Today you might decide to get some annoying but necessary chores done, Cancer. You have the energy and stamina to finish them and probably will, although you may go crazy from boredom in the meantime. Your mind should be especially active, so don't be surprised if during the course of doing your chores you find the answers to questions you've been asking yourself for a long time.
Leo
Bold, intelligent, warm, and courageous, fire sign Leois a natural leader of the Zodiac, ready to blaze a trail, vanquish injustice, and make a name for themselves along the way. Blessed with high self-esteem, Lions know that they possess enviable traits—and they're proud of them.
Feb 1, 2021 - Some information that you've been seeking for a long time might finally be unEarthed today through your diligent efforts, Leo. This is going to increase your ability to take on whatever challenges you're planning to address. Your already sharp business acumen is likely to be enhanced by whatever you discover. Be prepared for a lot of hard work and continued success over the next few months.
Virgo
Smart, sophisticated, and kind, Virgo gets the job done without complaining. Virgos are amazing friends, always there to lend a hand and also lend advice. Practical Virgos are incredibly adept at big picture thinking, and planning out their life, their vacations, and what they're going to do today isn't a drag it makes them feel in control and secure.
Feb 1, 2021 - Virgo, some volatile emotional matters that may have reared their heads over the past few days could finally be settled to the satisfaction of all involved. The subject of money may come up. Happiness reigns in the home, as all the members of your household are basically pleased with the way their lives are going. The appearance of some well-loved visitors may add to the contentment.
Libra
Intelligent, kind, and always willing to put others before themselves, Libras value harmony in all forms. Ruled by Venus, the planet of beauty, Libra adores a life that looks good. As the master of compromise and diplomacy, Libra is adept at seeing all points of view and excels at crafting compromises and effecting mediation between others.
Feb 1, 2021 - Some solid, honest communication between you and those you love is likely to clear up some confusion. Roles are more clearly defined, emotional problems clarified, and chores are more fairly allotted. This is going to make a big difference in your daily life. The removal of relationship issues will guarantee that the atmosphere is more harmonious from now on.
Scorpio
Passionate, independent, and unafraid to blaze their own trail no matter what others think, Scorpios make a statement wherever they go. They love debates, aren't afraid of controversy, and won't back down from a debate.
Feb 1, 2021 - Today you might feel the need to get as much done as possible. You're especially energetic, Scorpio, and you have stamina and focus, and so you should be able to accomplish whatever you want. Tasks and chores you may have put off finally get done today. Don't work too hard, however. You will want to save some energy for tomorrow.
Sagittarius
Independent and strong-willed, Sagittarius personalities are all about going off the beaten path. Sagittarius isn't afraid to step away from the pack and is a natural-born leader who goes after what he or she wants, regardless of what other people think.
Feb 1, 2021 - You might need to do some of the less exciting chores involved with creative or artistic projects today, Sagittarius. You're in the right frame of mind to get them done. Your efficiency is at a peak. A practical, no-nonsense manner marks all your interactions. By day's end you should feel more than satisfied with what you've done. You're apt to be prepared for the next phase of the project.
Capricorn
Smart, hardworking, and fully in control of their destiny, a Capricorn will always get what they set their mind to, in both personal and professional life—no excuses. Capricorns may get a reputation as stubborn, but they simply know what they want, and also know how they wish other people would behave.
Feb 1, 2021 - You may have let household tasks and chores go for a few days, Capricorn, so today you might decide to get them all done at once. You have the energy and the stamina to do it. However, take care not to get too caught up in little details that only you tend to notice. This can keep you from getting the most important chores done.
Aquarius
Independent and enigmatical, Aquarians are unique. There is no one quite like an Aquarius, and because each is so incredibly individual, it can be tough to describe them as a group. Aquarians don't like labels, and may shy away from any adjective—even the good ones you might bestow upon them.
Feb 1, 2021 - Some letters and calls that you may have agreed to do for a group you're affiliated with might have to be taken care of today, Aquarius. Don't be surprised if you spend a lot of your time on the phone. It might take a little persistence, as some of the people you need to reach may not be in. But you're likely to get everything done. Your determination is strong.
Pisces
Smart, creative, and deeply intuitive, Pisces can be close to psychic. Pisces feel things deeply and have incredibly strong gut reactions. A Pisces "knows" things from deep within, and can often judge whether a person or situation is good or bad.
Feb 1, 2021 - You may need to take care of paperwork related to financial matters today, Pisces. You will pay bills, make deposits, or balance checkbooks. Whatever you need to handle, you will get it done, and done well. You might even find that you're better off financially than you thought you were. In the evening, go to a movie and forget about money for a while.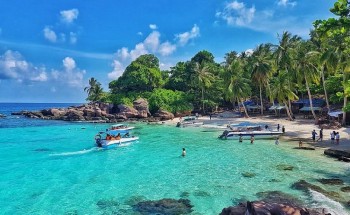 National
Vietnam News Today (Jan. 18): Vietnam confirms 21,691 new local Covid-19 cases; Logo marking 30 years of Vietnam-RoK diplomatic ties unveiled; Phu Quoc represents golden hope for Vietnamese tourism rebound; Int'l searches on Vietnam tourism reopening on the rise.