Daily Horoscope for July 16: Astrological Prediction for Zodiac Signs
July 16 Horoscope - The moon moves into the sign of Gemini early in the morning, so the biggest focus right away is communicating about your feelings. You can meet this with a carefree disposition or be a bit obsessive, and that likely will depend on the gravity of the situation.
Daily Planetary Overview
Jul 16, 2020 - The moon moves into the sign of Gemini early in the morning, so the biggest focus right away is communicating about your feelings. You can meet this with a carefree disposition or be a bit obsessive, and that likely will depend on the gravity of the situation.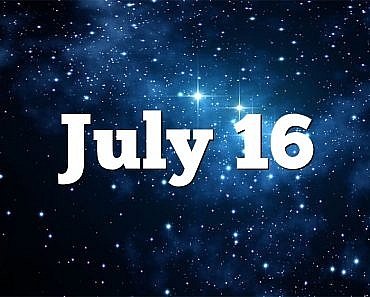 Daily-Horoscope-for-16th-July:-Astrological-Prediction-for-Zodiac-Signs
Saturn conjoins the north node, and the approaching change has been palpable for some time now. You will review your accomplishments as well as likely be recognized for your efforts. Where you go next should also be very clear, so if you've been waiting for a sign, keep your eyes wide open during this transit. You'll probably also want to write down your ideas about this as time goes by so you can better organize your thoughts.
Tonight's Mars-Saturn quintile is also a great time to get more organized, lending itself to figuring out a better way of doing things. Being effective and feeling positive about your progress is a symbiotic cycle and good for morale.
Daily Zodiac Horoscope for July 16
Arie
The first sign of the Zodiac, Aries are the trailblazers. Passionate and independent, Aries will never do something just because everyone else is doing it—a Ram needs to be 100 percent committed to the task at hand.
Today's horoscope: Today might be a bit difficult, Aries, because you aren't likely to be as productive as usual. You won't have much to say, and you'll feel sleepy and somewhat grumpy. In other words, it's the perfect day to go back to bed with that novel. Take a nap - or several naps - and follow your desire to do as little as possible. There will be plenty of time to catch up on work.
Taurus
Smart, ambitious, and trustworthy, Taurus is the anchor of the Zodiac. Amazing friends, colleagues, and partners, Taureans value honesty above all else and are proud that their personal relationships tend to be drama free.
Today's horoscope: You certainly are in a strange mood today, Taurus. True, things have been going smoothly for the past few days, but be careful not to fool yourself. "Pride comes before a fall," as the expression goes. You should be wary of the way you treat your lover now. You're likely to be dismayed by your sweetie's attitude, yet you're the one who has strayed from reality.
Gemini
Smart, passionate, and dynamic, Gemini is characterized by the Twins, Castor and Pollux, and is known for having two different sides they can display to the world. Expert communicators, Gemini is the chameleon of the Zodiac, adept at blending into different groups based on the vibe and energy they perceive.
Today's horoscope: It will be as though you're in a new, hopeful world today, Gemini. The people you meet will be cordial and caring, and the future will seem like a bright, attractive place to live. In other words, you feel as though you're living in a fabulous dream. Alas, the alarm clock is bound to wake you up soon. Enjoy the sweet reality of the day ahead while it lasts.
Cancer
Emotional, intuitive, and practically psychic; ruled by the moon and characterized by the crab, Cancer has so much going on in its watery depths. Cancers may seem prickly and standoffish at first meeting, once they make the decision to become friends with someone, that person has a friend for life.
Today's horoscope: Because your tendency recently has been to brood over everything, Cancer, a day like this can't be anything but beneficial. It has been difficult for you to find material satisfaction of late, but today offers you a view into the world of the intangible and unreal. You may find it especially gratifying to participate in an artistic or religious activity.
Leo
Bold, intelligent, warm, and courageous, fire sign Leo is a natural leader of the Zodiac, ready to blaze a trail, vanquish injustice, and make a name for themselves along the way. Blessed with high self-esteem, Lions know that they possess enviable traits—and they're proud of them.
Today's horoscope: There are days when you feel wonderful without being able to attribute the feeling to any real event. Of course, your rational mind will search for a reason for the happiness. If you count the number of times when you do things against your will or better judgment, it becomes obvious that logic and reason don't always apply to this world. Don't even try to understand, Leo, just enjoy!
Virgo
Smart, sophisticated, and kind, Virgo gets the job done without complaining. Virgos are amazing friends, always there to lend a hand and also lend advice. Practical Virgos are incredibly adept at big picture thinking, and planning out their life, their vacations, and what they're going to do today isn't a drag it makes them feel in control and secure.
Today's horoscope: The day ahead should be excellent. You've been searching for meaning behind recent events. No doubt there have been a lot of changes both at work and at home. You're bursting with new ambition. Today, Virgo, you're likely to put all these experiences into the hopper, stir them up, and be grateful for the thrilling life you lead right now! You may not get a specific answer. Sometimes feeling grateful is an answer all its own.
Libra
Intelligent, kind, and always willing to put others before themselves, Libras value harmony in all forms. Ruled by Venus, the planet of beauty, Libra adores a life that looks good. As the master of compromise and diplomacy, Libra is adept at seeing all points of view and excels at crafting compromises and effecting mediation between others.
Today's horoscope: You'll probably be perfectly in tune with the day ahead, Libra. Of course, there are days when it's tempting to run away from the reality of the moment and its hardships. At times like today, you're so compassionate that you find it easy to listen to others, and life is truly rewarding. People find your company soothing and pleasant, and they are likely to thank you for it.
Scorpio
Passionate, independent, and unafraid to blaze their own trail no matter what others think, Scorpios make a statement wherever they go. They love debates, aren't afraid of controversy, and won't back down from a debate.
Today's horoscope: Don't even try to understand what's happening today, Scorpio, because you won't be able to fathom it. Collective currents of concern are imposing upon your life and you're powerless to stop them. Some soul searching may help. True, at the moment you do feel like you're just a grain of sand in a vast universe, but is that really so bad?
Sagittarius
Independent and strong-willed, Sagittarius personalities are all about going off the beaten path. Sagittarius isn't afraid to step away from the pack and is a natural-born leader who goes after what he or she wants, regardless of what other people think.
Today's horoscope: This kind of strange day doesn't occur often, Sagittarius. You no longer seem to know what you want. Work or time off? Redecorate your house or live in a beach shack? It's hard to communicate because you feel it's pointless to try to explain your point of view, especially when you don't know what it is. The best thing to do may be to unplug from your usual activities and go for a walk. This confusion will pass.
Capricorn
Smart, hardworking, and fully in control of their destiny, a Capricorn will always get what they set their mind to, in both personal and professional life—no excuses. Capricorns may get a reputation as stubborn, but they simply know what they want, and also know how they wish other people would behave.
Today's horoscope: Do countries abroad represent real opportunities for you, Capricorn? This is a question that you'll soon have to answer. The grass may be greener on the other side of the world, but have you considered the possibility that it isn't? Could it be that the dream of working abroad is a convenient explanation for the dissatisfaction you feel at work? It's important to solve this riddle, because you'll soon make some key decisions that depend on the answer.
Aquarius
Independent and enigmatical, Aquarians are unique. There is no one quite like an Aquarius, and because each is so incredibly individual, it can be tough to describe them as a group. Aquarians don't like labels, and may shy away from any adjective—even the good ones you might bestow upon them.
Today's horoscope: Today won't be like most other days, Aquarius. Look around and you'll see that people either have their heads in the clouds, are depressed, or seem to be trying to keep up a good front. The planetary atmosphere is such that a lot of people - and you in particular - feel frustrated by an inability to realize their dreams. This is a difficult situation to be sure. Know that it will pass.
Pisces
Smart, creative, and deeply intuitive, Pisces can be close to psychic. Pisces feel things deeply and have incredibly strong gut reactions. A Pisces "knows" things from deep within, and can often judge whether a person or situation is good or bad.
Today's horoscope: If you were offered the opportunity to take a trip around the world, where you would see wonderful palaces and experience a timeless love affair, would you take it? The freedom would tempt you, without a doubt, but would it make you happy, Pisces? Have you considered the possibility that you can create an environment here at home that gives you that same sense of freedom?