Daily Horoscope for March 20: Astrological Prediction for Zodiac Signs
Daily Horoscope for March 20: The sun moves into its compatible sign of Aries first thing this morning, instilling in us motivation and bravery. Feeling strong enough to tackle the things you want to accomplish, now is a good time to get the ball rolling on any project you were apprehensive about before because now you know how to win!
Daily Planetary Overview
This big energy fades a bit when the moon squares Neptune, bringing with it some doubt and an inability to know what's actual and true. Big decisions are not advised during this time because your perception of what is real is likely off a bit. You could now be more susceptible to attack from people who are jealous or competitors or anyone you've angered. It would be best to lay low for now and protect yourself in whatever way you need to.
At about the same time, the moon trines Jupiter, which generally increases likability for everyone, so perhaps even your haters won't be able to resist your many charms today. You're likely feeling generous and charitable as well. Go with it and just be your most authentic self. Generosity is good for your aesthetic as you gain the support of many with your kindness. Let your public profile get a boost! Why not? Today's spring equinox means the earth comes back to life, so why shouldn't your popularity do the same?
Daily Zodiac Horoscope for March 20
Aries
The first sign of the Zodiac, Aries are the trailblazers. Passionate and independent, Aries will never do something just because everyone else is doing it—a Ram needs to be 100 percent committed to the task at hand.
Mar 20, 2021 - If you wake up this morning and feel glued to the bed, perhaps that's where you should spend the day, Aries. You've been working hard and long these past few weeks. It only makes sense that your body would rebel eventually. This is a day for rest and relaxation. The office will survive without you. Call in sick and then turn off the phone. You're likely to sleep better than you have in a long time.
Taurus
Smart, ambitious, and trustworthy, Taurus is the anchor of the Zodiac. Amazing friends, colleagues, and partners, Taureans value honesty above all else and are proud that their personal relationships tend to be drama free.
Mar 20, 2021 - Pay attention today, Taurus. There may be some unethical behavior occurring at work, and it could trigger some long-buried anger. You may have difficulty keeping your emotions in check, but you need to. Honest communication is the only way you can get through this day. Once you've calmed down, you might want to approach the person who's behaving irresponsibly.
Gemini
Smart, passionate, and dynamic, Gemini is characterized by the Twins, Castor and Pollux, and is known for having two different sides they can display to the world. Expert communicators, Gemini is the chameleon of the Zodiac, adept at blending into different groups based on the vibe and energy they perceive.
Mar 20, 2021 - Check and double-check any information that comes your way today, Gemini. There's deception and discontent in the air, which is an unfortunate combination under any circumstances. Research before you judge. Gossip is likely to fly around the office. Run for cover when necessary. You don't want to get involved in this particular round of office politics.
Cancer
Emotional, intuitive, and practically psychic; ruled by the moon and characterized by the crab, Cancer has so much going on in its watery depths. Cancers may seem prickly and standoffish at the first meeting, once they make the decision to become friends with someone, that person has a friend for life.
Mar 20, 2021 - Don't take your bank or portfolio statement at face value today, Cancer. Financial errors are likely. Someone may want you to see things from his or her viewpoint, which may not be based on fact. Check and double-check important figures that cross your desk. You're the only one you can trust to truly work in your best interests. It's time to put your mind to use and work on your own behalf.
Leo
Bold, intelligent, warm, and courageous, fire sign Leois a natural leader of the Zodiac, ready to blaze a trail, vanquish injustice, and make a name for themselves along the way. Blessed with high self-esteem, Lions know that they possess enviable traits—and they're proud of them.
Mar 20, 2021 - You won't feel particularly social today, Leo. You'd be happiest at home with a good book, a good meal, and no contact with the outside world. Alas, such solitude isn't always possible. You may have to balance your need for isolation with obligations to colleagues. Part of your grumpiness might be due to a physical imbalance. Make it an early night and you will wake tomorrow with a new attitude.
Virgo
Smart, sophisticated, and kind, Virgo gets the job done without complaining. Virgos are amazing friends, always there to lend a hand and also lend advice. Practical Virgos are incredibly adept at big picture thinking, and planning out their life, their vacations, and what they're going to do today isn't a drag it makes them feel in control and secure.
Mar 20, 2021 - All isn't quiet at home today, Virgo. There's tension in the air. You can't shake the feeling that someone is lying. You're a peacemaker by nature, so your inclination is to suppress your suspicions. In this instance, your instincts are right. The person withholding information is doing it for your own good and will come to you once the situation has been resolved. You can all laugh about it then.
Libra
Intelligent, kind, and always willing to put others before themselves, Libras value harmony in all forms. Ruled by Venus, the planet of beauty, Libra adores a life that looks good. As the master of compromise and diplomacy, Libra is adept at seeing all points of view and excels at crafting compromises and effecting mediation between others.
Mar 20, 2021 - It's strange how past incidents can still cause such pain in the present. Today you may feel overwhelmed by memories of a particularly traumatic incident. No one is more surprised than you by your reaction. You felt sure you'd addressed this issue and put it behind you. Apparently there's still work to be done, Libra.
Scorpio
Passionate, independent, and unafraid to blaze their own trail no matter what others think, Scorpios make a statement wherever they go. They love debates, aren't afraid of controversy, and won't back down from a debate.
Mar 20, 2021 - It's apparent that something underhanded and unethical is occurring at your job today, Scorpio. Co-workers could try to manipulate situations and take advantage of proprietary information to use to their own benefit. Steer clear of office politics and refrain from participating in any gossip. Trust your instincts. You know who can and who can't be trusted.
Sagittarius
Independent and strong-willed, Sagittarius personalities are all about going off the beaten path. Sagittarius isn't afraid to step away from the pack and is a natural-born leader who goes after what he or she wants, regardless of what other people think.
Mar 20, 2021 - Don't trust anyone today, not even people you consider friends, Sagittarius. There are indications of deception all around, especially at work. Someone may be keeping something from you or even manipulating information to his or her own advantage. Be sure to check the facts of any situation. Don't take anyone's word for anything. This is a good day to take your own advice rather than someone else's.
Capricorn
Smart, hardworking, and fully in control of their destiny, a Capricorn will always get what they set their mind to, in both personal and professional life—no excuses. Capricorns may get a reputation as stubborn, but they simply know what they want, and also know how they wish other people would behave.
Mar 20, 2021 - Don't trust anything related to money or contracts today, Capricorn. This isn't a good day to enter into any kind of contract, whether it's starting an investment program, negotiating a salary, or changing banks. There's a lot of miscommunication and misunderstanding in the air. You may think you understand what you're signing, but you may not. Save legal and financial matters for another day.
Aquarius
Independent and enigmatical, Aquarians are unique. There is no one quite like an Aquarius, and because each is so incredibly individual, it can be tough to describe them as a group. Aquarians don't like labels, and may shy away from any adjective—even the good ones you might bestow upon them.
Mar 20, 2021 - This isn't the day for contracts or legal work of any kind, Aquarius. You may think you understand everything about a document, but it's likely you don't. The atmosphere is ripe for misinformation and misunderstanding. You will be well served today if you keep to yourself and do your work carefully and systematically. The legal documents can wait for another day.
Pisces
Smart, creative, and deeply intuitive, Pisces can be close to psychic. Pisces feel things deeply and have incredibly strong gut reactions. A Pisces "knows" things from deep within, and can often judge whether a person or situation is good or bad.
Mar 20, 2021 - Trust your instincts regarding anyone you meet today, Pisces. There are unethical people around, and one of them may enter your circle. Entering into legal contracts or business or personal partnerships of any kind is absolutely out of the question. Don't even go to renew your driver's license, as you're likely to fail the eye exam! Stay home and save contracts and bureaucracy for another day.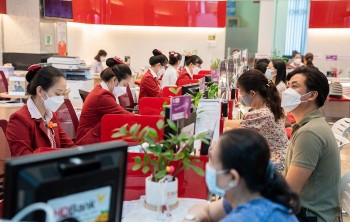 Economy
Vietnam Business & Weather Briefing (August 12): Air passengers reach a record number in July, seafood exports expected to reach 3 billion USD in Q3