Daily Horoscope for November 11: Astrological Prediction for Zodiac Signs
Daily Horoscope for November 11: Early in the morning, Saturn trines the moon, and your attention will be focused on doing the most practical thing and what makes the most sense.
Daily Planetary Overview
You have a strong sense of responsibility, duty, and structure.
The moon enters Libra later in the morning. Libra is ruled by Venus, the planet of love, so the moon in Libra urges you to seek peace, harmony, and cooperation. Your emotional nature will ease you into a more diplomatic, charming, and receptive approach. You will be more eager to socialize with loved ones and acquaintances.
Discussions are more productive under this influence, so use the harmony boost to have important conversations, charm your love interest, smooth out tension with a co-worker, or just enjoy your friendships.
However, be aware of your own perspective as an individual in the midst of other opinions. You are more likely to sacrifice your own needs and allow people to push their agendas on you during this transit of the moon.
Aries
The first sign of the Zodiac, Aries are the trailblazers. Passionate and independent, Aries will never do something just because everyone else is doing it—a Ram needs to be 100 percent committed to the task at hand.
Nov 11, 2020 - Have fun with loved ones, Aries. Put your worries aside. Don't think of the possible negative consequences of having a good time. Focus on the fun and excitement of the moment. You have the ability to create fantastically strong bonds between you and your romantic partner. Love is in your favor, so act with confidence. There is no reason to feel bad or insecure in any way. Hold your head high.
Taurus
Smart, ambitious, and trustworthy, Taurus is the anchor of the Zodiac. Amazing friends, colleagues, and partners, Taureans value honesty above all else and are proud that their personal relationships tend to be drama free.
Nov 11, 2020 - You're the secret jewel, Taurus. You're apt to be extremely loving and devoted to those who recognize this in you. There is no reason to shrink back and hide. Put on your royal air and flaunt your stuff. Your peaceful, charming nature shines through, and you radiate the god-like qualities you have within. Whoever shares your company tonight is extremely lucky. Make sure this person is worthy of you.
Gemini
Smart, passionate, and dynamic, Gemini is characterized by the Twins, Castor and Pollux, and is known for having two different sides they can display to the world. Expert communicators, Gemini is the chameleon of the Zodiac, adept at blending into different groups based on the vibe and energy they perceive.
Nov 11, 2020 - You may feel locked in a bind of deep emotion and stubborn attitudes with close friends or lovers, Gemini. Perhaps it's hard for you to say what you really feel. You may be under the impression that you're being tested and judged by everyone else. Try not to let your ego get in the way of a good time. Say what you feel without getting worried about how others will react.
Cancer
Emotional, intuitive, and practically psychic; ruled by the moon and characterized by the crab, Cancer has so much going on in its watery depths. Cancers may seem prickly and standoffish at the first meeting, once they make the decision to become friends with someone, that person has a friend for life.
Nov 11, 2020 - Your spirit sparkles, Cancer. You may feel filled with tremendous energy as you go about your day. Your sense of adventure is high, and there's very little that gets you down. One area that might be difficult to deal with right now is love and romance. You may feel like this is the one domain in which things aren't going the way you'd like them to. Patience is the secret.
Leo
Bold, intelligent, warm, and courageous, fire sign Leo is a natural leader of the Zodiac, ready to blaze a trail, vanquish injustice, and make a name for themselves along the way. Blessed with high self-esteem, Lions know that they possess enviable traits—and they're proud of them.
Nov 11, 2020 - You may feel yourself slipping into a deeper understanding with a close friend or loved one, Leo. Romantic situations are heating up, and you're slowly letting your inhibitions fade away so they're completely absent. You realize the exuberance and excitement that come when you come out of hiding and let your playful spirit charm the world. Put serious subjects aside and make time to have fun and be more social.
Virgo
You can reform yourself as the energy coincides with your self-realization, getting you in touch with your root chakra. Today's lunar transit includes a very sobering reflection courtesy of opposition to Saturn in mighty Capricorn emphasizing the value of finding balance through rebuilding your internal stability.
Smart, sophisticated, and kind, Virgo gets the job done without complaining. Virgos are amazing friends, always there to lend a hand and also lend advice. Practical Virgos are incredibly adept at big picture thinking, and planning out their life, their vacations, and what they're going to do today isn't a drag it makes them feel in control and secure.
Nov 11, 2020 - Most of the time it's good to have strong opinions and be independent and willful, Virgo. But there are other times when this attitude turns people away you're hoping to draw closer. There's a stubborn yet sensitive attitude in your world of romance that may be difficult for you to deal with. Perhaps you're taking a more rational approach to things while your loved one is taking a more emotional one.
Libra
Intelligent, kind, and always willing to put others before themselves, Libras value harmony in all forms. Ruled by Venus, the planet of beauty, Libra adores a life that looks good. As the master of compromise and diplomacy, Libra is adept at seeing all points of view and excels at crafting compromises and effecting mediation between others.
Nov 11, 2020 - Sensual, passionate lovemaking is definitely on the agenda of activities for tonight, Libra. Fun, excitement, romance, and love are all key themes likely to take precedence if you have anything to say about it - and you do. Don't let someone else dictate your path for you. You know what you want, so don't say you don't care when you do. Love is coming your way. Learn how to grab it.
Scorpio
Passionate, independent, and unafraid to blaze their own trail no matter what others think, Scorpios make a statement wherever they go. They love debates, aren't afraid of controversy, and won't back down from a debate.
Nov 11, 2020 - You may feel like the brakes have been slammed in the romance department, Scorpio. Realize that this doesn't mean you have to stop having fun. Laughter and good times are in store for you today as long as you don't get hung up on the slow pace of your love life. You can have a good time while taking things one step at a time. Savor each moment. Don't try to rush to the next.
Sagittarius
Independent and strong-willed, Sagittarius personalities are all about going off the beaten path. Sagittarius isn't afraid to step away from the pack and is a natural-born leader who goes after what he or she wants, regardless of what other people think.
Nov 11, 2020 - The stars indicate that love and romance are in your favor, Sagittarius. You will find that this area of your life is going well. Shower your partner with affection. You honey's ego needs to be stroked. However, don't spoil him or her to the point that your mate becomes self-centered and ends up disregarding all of your wants and needs.
Capricorn
Smart, hardworking, and fully in control of their destiny, a Capricorn will always get what they set their mind to, in both personal and professional life—no excuses. Capricorns may get a reputation as stubborn, but they simply know what they want, and also know how they wish other people would behave.
Nov 11, 2020 - Your sensitive, sensual side is being drawn out, Capricorn. You may feel like your romantic side is on display. You're like a dancer onstage, and you accept this role with pleasure! There's a great combination of energies at work letting you become more realistic about love and approach it with dramatic flair and courage. Be more expressive when it comes to your needs and desires.
Aquarius
Independent and enigmatical, Aquarians are unique. There is no one quite like an Aquarius, and because each is so incredibly individual, it can be tough to describe them as a group. Aquarians don't like labels, and may shy away from any adjective—even the good ones you might bestow upon them.
Nov 11, 2020 - Come out of your shell and be proud of your sensitive side, Aquarius. Although you may feel vulnerable when it comes to love and romance, this doesn't mean that you have to hide it. You may think that everyone else has it together in this department, but don't be fooled. They're just as insecure as you are! Go ahead and let this side of your personality shine. Admitting your vulnerability is wonderfully attractive.
Pisces
Smart, creative, and deeply intuitive, Pisces can be close to psychic. Pisces feel things deeply and have incredibly strong gut reactions. A Pisces "knows" things from deep within, and can often judge whether a person or situation is good or bad.
Nov 11, 2020 - You shouldn't have any problem getting your way in most areas of life, Pisces. The time is ripe for you to take the lead. Unfortunately, there may be one important part of your life that isn't going exactly to plan, and this is love and romance. It's likely that you will run into a tremendously stubborn attitude that you can't seem to break through. It could be your own.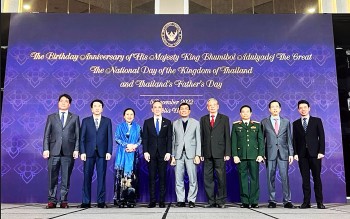 Friendship
The Royal Thai Embassy organises the reception on the occasion of celebration of the Birthday Anniversary of His Majesty King Bhumibol Adulyadej the Great, the National Day of the Kingdom of Thailand and Thailand's Father's Day on 2nd December 2022 in Hanoi.