Daily Horoscope for November 8: Astrological Prediction for Zodiac Signs
Daily Horoscope for November 8: The proud and bold Leo moon forms a sextile to Venus and trines Mars, giving us the opportunity to be assertive in relationships and causing passion and excitement to flare.
Daily Planetary Overview
While this day allows you to talk things out and get your point across, remember to be extra conscious of and receptive to other people's thoughts to prevent this strong energy from escalating into arguments. A relationship is based on more than just one person, so be open to hearing what others have to say if you also want them to listen to you.
The moon shares a connection with the south node, bringing to light past emotional baggage in order to heal it. Frustrations could arise throughout the day with the inquisitive Scorpio sun-moon square.
Now would be the perfect time to do some shadow work to understand how you react to challenging situations. It's perfectly fine if you feel the need to spend the rest of the day by yourself, so make self-care a priority. Fill your tub with hot water and pink salt, meditate, and light a candle to center your energy and release any tension that's built up throughout the day. That way, you can go to bed feeling renewed.
Aries
The first sign of the Zodiac, Aries are the trailblazers. Passionate and independent, Aries will never do something just because everyone else is doing it—a Ram needs to be 100 percent committed to the task at hand.
Nov 8, 2020 - For the past several days, Aries, you've been fairly lucky in financial and material terms. But the day ahead will be an exception. If you're planning to make an investment, sign a contract, or purchase a major item, postpone it until another day. You may as well resign yourself to this fate and be grateful that you were spared the chance to make a mistake!
Taurus
Smart, ambitious, and trustworthy, Taurus is the anchor of the Zodiac. Amazing friends, colleagues, and partners, Taureans value honesty above all else and are proud that their personal relationships tend to be drama free.
Nov 8, 2020 - The way you act when you first meet people is typical of Taurus. What is it that you do? You try to teach them something. It seems that you always have a lesson to impart, making you prone to giving advice when it isn't always wanted. Try to accept the points of view of others for a change.
Gemini
Smart, passionate, and dynamic, Gemini is characterized by the Twins, Castor and Pollux, and is known for having two different sides they can display to the world. Expert communicators, Gemini is the chameleon of the Zodiac, adept at blending into different groups based on the vibe and energy they perceive.
Nov 8, 2020 - Your philosophy of life comes naturally, Gemini. Others need to study, listen to experts, or sign on to various allegiances. You, on the other hand, already have a profound outlook on life that you surely inherited from your past experiences. It would be interesting for you to expand on your philosophy a bit and try to turn it into something concrete.
Cancer
Emotional, intuitive, and practically psychic; ruled by the moon and characterized by the crab, Cancer has so much going on in its watery depths. Cancers may seem prickly and standoffish at the first meeting, once they make the decision to become friends with someone, that person has a friend for life.
Nov 8, 2020 - It isn't because your new projects demand such precision that they're causing you problems, Cancer. You tend to think details keep you from having a global vision, but that simply isn't true. There's no conflict between the long-term view and short-term needs. You just think that the latter gets in the way of the former. Try thinking of the details that you find annoying as steppingstones to your larger vision.
Leo
Bold, intelligent, warm, and courageous, fire sign Leo is a natural leader of the Zodiac, ready to blaze a trail, vanquish injustice, and make a name for themselves along the way. Blessed with high self-esteem, Lions know that they possess enviable traits—and they're proud of them.
Nov 8, 2020 - Yes, Leo, this is a good moment to abandon old beliefs and moral values. Your view of life has changed and, above all, you're more aware of how your outdated, preconceived ideas sometimes poison your life. The past no longer concerns you. It's time for you to make a clean break from the beliefs that are holding you back. You might shock your family, but they'll get over it.
Virgo
You can reform yourself as the energy coincides with your self-realization, getting you in touch with your root chakra. Today's lunar transit includes a very sobering reflection courtesy of opposition to Saturn in mighty Capricorn emphasizing the value of finding balance through rebuilding your internal stability.
Smart, sophisticated, and kind, Virgo gets the job done without complaining. Virgos are amazing friends, always there to lend a hand and also lend advice. Practical Virgos are incredibly adept at big picture thinking, and planning out their life, their vacations, and what they're going to do today isn't a drag it makes them feel in control and secure.
Nov 8, 2020 - If you aren't careful to keep your eyes straight ahead and focused on the future, the past is likely to catch up to you, Virgo. Don't look back, even if you don't see anything in front of you. You must continue to move forward. It's true that this is easier said than done. Nevertheless, you feel inspired to give it a try.
Libra
Intelligent, kind, and always willing to put others before themselves, Libras value harmony in all forms. Ruled by Venus, the planet of beauty, Libra adores a life that looks good. As the master of compromise and diplomacy, Libra is adept at seeing all points of view and excels at crafting compromises and effecting mediation between others.
Nov 8, 2020 - This would be the moment to say yes to your destiny, Libra. You're a little frustrated because things haven't been moving forward the way you'd like. But now that opportunities are coming your way, you find you're holding things up. You're just afraid, that's all. But rather than let your fear overtake you, turn its energy to your advantage.
Scorpio
Passionate, independent, and unafraid to blaze their own trail no matter what others think, Scorpios make a statement wherever they go. They love debates, aren't afraid of controversy, and won't back down from a debate.
Nov 8, 2020 - Don't expect to meet the partner of your dreams today, Scorpio. Rather, your romantic hopes are likely to meet with frustration. It would be better to devote your energies to something more realistic, such as yourfinancial situation. It probably does need some attention, wouldn't you agree? If you redirect your energy, the rewards are more likely to be forthcoming.
Sagittarius
Independent and strong-willed, Sagittarius personalities are all about going off the beaten path. Sagittarius isn't afraid to step away from the pack and is a natural-born leader who goes after what he or she wants, regardless of what other people think.
Nov 8, 2020 - There's some likelihood that a recent meeting with an influential person has put a damper on your hopes for your projects. Will you abandon them and live with regret? Or will you choose to maintain your goals despite advice to the contrary and the risk of encountering disapproval from your supervisors? This is the type of question you will have to resolve today, Sagittarius.
Capricorn
Smart, hardworking, and fully in control of their destiny, a Capricorn will always get what they set their mind to, in both personal and professional life—no excuses. Capricorns may get a reputation as stubborn, but they simply know what they want, and also know how they wish other people would behave.
Nov 8, 2020 - You will have to expect a few disturbances in the harmony that has reigned over the past few days, Capricorn. For example, your needs may not match those of your mate or close friends, or you may feel restless. Minor worries about the future may intrude on people's good moods. In short, this won't be a good day to look to emotional harmony as a source of satisfaction.
Aquarius
Independent and enigmatical, Aquarians are unique. There is no one quite like an Aquarius, and because each is so incredibly individual, it can be tough to describe them as a group. Aquarians don't like labels, and may shy away from any adjective—even the good ones you might bestow upon them.
Nov 8, 2020 - As a person who embodies affection and tenderness, Aquarius, you may feel especially resentful about today's mood. It will be difficult to charm a smile out of anyone or achieve any semblance of harmony. Moreover, the friction won't spare siblings - even close friends may quarrel. Prepare to duck and cover because clashes are likely to occur all around you.
Pisces
Smart, creative, and deeply intuitive, Pisces can be close to psychic. Pisces feel things deeply and have incredibly strong gut reactions. A Pisces "knows" things from deep within, and can often judge whether a person or situation is good or bad.
Nov 8, 2020 - A longing for comfort and the small, simple pleasures in life is likely to cripple your initiative today, Pisces. Have you decided to withdraw from the career world for the time being? Or perhaps you're just discouraged by the lack of enthusiasm in your colleagues. In any case, this would be a good day to stay home and rest, Pisces.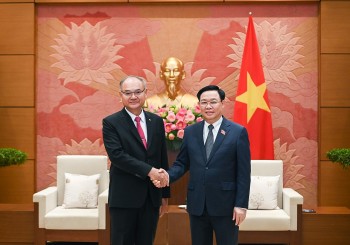 National
A Thai delegation is visiting Vietnam to learn about the guidelines and policies in the fight against corruption in Vietnam; exchange experiences with relevant Vietnamese agencies.