Daily Horoscope for October 6: Astrological Prediction for Zodiac Signs
Daily Horoscope for October 6: There is so much to notice as the day unfolds! With the void-of-course moon entering the dynamic sign of Gemini this morning, today opens with a ton of mental downloads.
Daily Planetary Overview
The overall energy rating is 1. This is just one of those days. Be prepared for battle!
In fact, Mercury is all up in our business today, both emotionally and spiritually. An enlightening opposition between the planet of communication in the intense sign of Scorpio and eccentric Uranus in Taurus gives us all perspective on life's bigger lessons. This could even bring forth some surprising news that we weren't even expecting. It's an aspect that you can't really prepare for, but it does hold weight in making plans going ahead.
With Mercury in the sign of the Scorpion, this can also mean that your thoughts are geared toward more depressing subjects in general, as there is some type of death going on in your life right now. It could mean that you're letting go of what no longer serves you. On a romantic level, this can be a breakup aspect, for sure. If you've been going back and forth about a partnership, today is the day to come clean and air your grievances.
Venus in obsessive Virgo and the airy Gemini moon hold some tension through a square early in the day, making it hard for partners to see eye to eye. The truth is that you know what you want to do about this. If someone isn't your ride or die, then you might as well kick them out the door, especially as retrograde Mars in Aries squares Pluto in Capricorn, both intensely stubborn in their own way.
Aries
The first sign of the Zodiac, Aries are the trailblazers. Passionate and independent, Aries will never do something just because everyone else is doing it—a Ram needs to be 100 percent committed to the task at hand.
Oct 6, 2020 - Be aware that love is likely to wear some sort of disguise today, Aries. There's something fanciful about the way in which this new romance will manifest, so get ready. Don't think that love always has to be planned and calculated. There is a strong sense of spontaneity associated with the delicious love interest of the day. Don't dismiss those who don't seem practical or levelheaded enough for you.
Taurus
Smart, ambitious, and trustworthy, Taurus is the anchor of the Zodiac. Amazing friends, colleagues, and partners, Taureans value honesty above all else and are proud that their personal relationships tend to be drama free.
Oct 6, 2020 - Make your loved one a romantic dinner tonight, Taurus. Escort him or her on an imaginary magic-carpet ride to fantastic places that encourage a playful mood and carefree attitude. Consider having a bottle of wine at a playground afterward, if possible. Decorate your house with candles and burn some incense. Create a mood that will calm the nerves and soothe the soul. Your sense of romance is right on target.
Gemini
Smart, passionate, and dynamic, Gemini is characterized by the Twins, Castor and Pollux, and is known for having two different sides they can display to the world. Expert communicators, Gemini is the chameleon of the Zodiac, adept at blending into different groups based on the vibe and energy they perceive.
Oct 6, 2020 - When it comes to romantic relationships, Gemini, you might find that you're playing more of a game of hide-and-go-seek than a combined effort toward friendship, trust, and honesty. It could be that you're purposely trying to hide in order to test the stamina of your opponent. You might want to take a new approach now, one that involves an effort toward connecting instead of distancing.
Cancer
Emotional, intuitive, and practically psychic; ruled by the moon and characterized by the crab, Cancer has so much going on in its watery depths. Cancers may seem prickly and standoffish at the first meeting, once they make the decision to become friends with someone, that person has a friend for life.
Oct 6, 2020 - You're apt to be somewhat fickle when it comes to love and romance right now, Cancer. The key for you now is freedom. The problem with this mindset is that it might be misinterpreted. Your partner may think you simply aren't interested in him or her anymore. Remind your partner that it's OK to love someone while also needing time and space to do things on your own.
Leo
Bold, intelligent, warm, and courageous, fire sign Leo is a natural leader of the Zodiac, ready to blaze a trail, vanquish injustice, and make a name for themselves along the way. Blessed with high self-esteem, Lions know that they possess enviable traits—and they're proud of them.
Oct 6, 2020 - You may be confused when it comes to matters of the heart, Leo. Perhaps you feel cheated when the object of your desire doesn't give you complete attention at all times. The fundamental security of your being is your responsibility, not someone else's. Find a way to incorporate your dreams into the dreams of others instead of always working toward goals at opposite sides of the spectrum.
Virgo
You can reform yourself as the energy coincides with your self-realization, getting you in touch with your root chakra. Today's lunar transit includes a very sobering reflection courtesy of opposition to Saturn in mighty Capricorn emphasizing the value of finding balance through rebuilding your internal stability.
Smart, sophisticated, and kind, Virgo gets the job done without complaining. Virgos are amazing friends, always there to lend a hand and also lend advice. Practical Virgos are incredibly adept at big picture thinking, and planning out their life, their vacations, and what they're going to do today isn't a drag it makes them feel in control and secure.
Oct 6, 2020 - Your fairytale imagination of how your romantic life should run is hooking you up with many different opportunities, Virgo. Whether you realize it or not, the optimal situation you seek is within your grasp. Make sure that you aren't trying to manipulate a certain person into becoming the person you want him or her to be. If you're unhappy in your relationship, perhaps you need to find someone new.
Libra
ntelligent, kind, and always willing to put others before themselves, Libras value harmony in all forms. Ruled by Venus, the planet of beauty, Libra adores a life that looks good. As the master of compromise and diplomacy, Libra is adept at seeing all points of view and excels at crafting compromises and effecting mediation between others.
Oct 6, 2020 - Your dreams work out quite nicely in your head, Libra, but the problem now is how to turn them into some sort of real-life scenario. Be careful of taking too intellectual of an approach. When it comes to relationships, things don't normally happen logically or rationally. You're going to have to leave a great deal up to chance, so just learn to deal with things as they come.
Scorpio
Passionate, independent, and unafraid to blaze their own trail no matter what others think, Scorpios make a statement wherever they go. They love debates, aren't afraid of controversy, and won't back down from a debate.
Oct 6, 2020 - Love and personal relationships are likely to take on a much dreamier and more romantic tone now, Scorpio. Your eyes are apt to sparkle as you speak or even think of the person you care about the most. The unmistakable glow that surrounds you is likely to attract others to your side even if you aren't in the market for a romantic relationship right now.
Sagittarius
Independent and strong-willed, Sagittarius personalities are all about going off the beaten path. Sagittarius isn't afraid to step away from the pack and is a natural-born leader who goes after what he or she wants, regardless of what other people think.
Oct 6, 2020 - When it comes to relationships with others, be careful about insisting that everything be done only your way, Sagittarius. It could be that you have such high expectations of your partner that he or she will never be able to live up to your standards. Basically, you're setting the stage for failure by demanding that the person for you be of a certain make and model.
Capricorn
Smart, hardworking, and fully in control of their destiny, a Capricorn will always get what they set their mind to, in both personal and professional life—no excuses. Capricorns may get a reputation as stubborn, but they simply know what they want, and also know how they wish other people would behave.
Oct 6, 2020 - Your fantasies could come true now, especially when it comes to relationships, Capricorn. This could be the moment you've always dreamed about, so get ready. The attractive, romantic person in the corner has been keeping an eye on you all night. Your blood is pumping faster than ever. Remind yourself that all dreams can come true on a day such as today.
Aquarius
Independent and enigmatical, Aquarians are unique. There is no one quite like an Aquarius, and because each is so incredibly individual, it can be tough to describe them as a group. Aquarians don't like labels, and may shy away from any adjective—even the good ones you might bestow upon them.
Oct 6, 2020 - While you normally like all of your romantic relationships to be extremely nurturing and comforting, you may find that this isn't always possible, Aquarius. There's a disconnect between you and a close partner right now that could be hard to rectify. Time is really the only thing that's likely to resolve this sort of problem. Remember that all of your relationships can't always go exactly according to plan.
Pisces
Smart, creative, and deeply intuitive, Pisces can be close to psychic. Pisces feel things deeply and have incredibly strong gut reactions. A Pisces "knows" things from deep within, and can often judge whether a person or situation is good or bad.
Oct 6, 2020 - A creative project that you've been working on may be coming to a climactic peak now, Pisces. Discuss your progress with others and feel free to hold an informal critique in order to get honest feedback on your work. A piece of art should stir some sort of reaction inside another person. Consider ways in which you can challenge the people around you with your talent.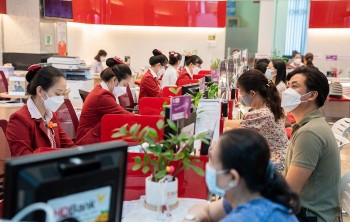 Economy
Vietnam Business & Weather Briefing (August 12): Air passengers reach a record number in July, seafood exports expected to reach 3 billion USD in Q3