Daily Horoscope for September 28: Astrological Prediction for Zodiac Signs
Daily Horoscope for September 28: A wonderful trine between Venus in expressive Leo and Mars retrograde in passionate Aries is perfect for those who need a giant lift in their spirits.
Daily Planetary Overview
Even with other heavier aspects, this transit alone can brighten any day with true joy and light.
A void-of-course moon in Aquarius in the early morning hours ends as the moon enters compassionate Pisces. This also brings the harmonious energy of a trine between the moon and Mercury in stimulating Scorpio. It's a perfect day to just listen to your favorite music or dive into those artprojects and pampering activities you postponed.
There is also strong psychic energy floating through the cosmos, and you might even channel messages from the spirit world. Be open to those tingling feelings that you get. They might just be your guides letting you know that you're on to something new.
The continual square between Mars retrograde in Aries and Saturn in tyrannical Capricorn needs to be approached through the eyes of love. It could mean you still have certain struggles to work through, but your creative outlets are your ultimate muse.
Aries
The first sign of the Zodiac, Aries are the trailblazers. Passionate and independent, Aries will never do something just because everyone else is doing it—a Ram needs to be 100 percent committed to the task at hand.

Sep 28, 2020 - A lot of creative work may need to be finished by today, Aries. If you're professionally involved with writing, a deadline may loom. It could be difficult to get it done because family members and friends could constantly call and text, which keeps you from concentrating. The best course of action might be to go somewhere quiet, like a library, and do your work there. Think about it!
Taurus
Smart, ambitious, and trustworthy, Taurus is the anchor of the Zodiac. Amazing friends, colleagues, and partners, Taureans value honesty above all else and are proud that their personal relationships tend to be drama free.
Sep 28, 2020 - What's happening in your community today that attracts crowds, Taurus? A parade? A festivalof some kind? Some friends may want you to go with them, but you hesitate for many different reasons. Go if you want to but take necessary precautions. You could meet some interesting people. If you don't go, find another way to have fun. You deserve it.
Gemini
Smart, passionate, and dynamic, Gemini is characterized by the Twins, Castor and Pollux, and is known for having two different sides they can display to the world. Expert communicators, Gemini is the chameleon of the Zodiac, adept at blending into different groups based on the vibe and energy they perceive.
Sep 28, 2020 - You may be too free with your money right now, Gemini. You're usually careful with it, but the spirit of generosity and abundance is definitely upon you. You're more inclined to be generous with those you care about. After all is said and done, you could panic, but don't. You're good at making money. A little belt tightening later is entirely possible, and it won't hurt you. Follow your heart - within limitations.
Cancer
Emotional, intuitive, and practically psychic; ruled by the moon and characterized by the crab, Cancer has so much going on in its watery depths. Cancers may seem prickly and standoffish at the first meeting, once they make the decision to become friends with someone, that person has a friend for life.

Sep 28, 2020 - You usually love to talk, Cancer, but right now you've probably reached your limit. You've attended a number of virtual gatherings and talked to a lot of people over the past week or so, and now you want to sit quietly at home. If friends or family members insist on your chatting with them, don't be afraid to say no. Everyone knows how busy you've been. Take some time to yourself and relax.
Leo
Bold, intelligent, warm, and courageous, fire sign Leo is a natural leader of the Zodiac, ready to blaze a trail, vanquish injustice, and make a name for themselves along the way. Blessed with high self-esteem, Lions know that they possess enviable traits—and they're proud of them.

Sep 28, 2020 - Have you been indulging in too many goodies, Leo? You might feel under the weather because of all this abundance. You probably should take it easy. Think about reorganizing your priorities. Is a second piece of chocolate cake more important than your energy and health? Indulging can be important to your psyche, but don't forget about moderation - and don't forget that there are many other ways to indulge.
Virgo
You can reform yourself as the energy coincides with your self-realization, getting you in touch with your root chakra. Today's lunar transit includes a very sobering reflection courtesy of opposition to Saturn in mighty Capricorn emphasizing the value of finding balance through rebuilding your internal stability.
Smart, sophisticated, and kind, Virgo gets the job done without complaining. Virgos are amazing friends, always there to lend a hand and also lend advice. Practical Virgos are incredibly adept at big picture thinking, and planning out their life, their vacations, and what they're going to do today isn't a drag it makes them feel in control and secure.
Sep 28, 2020 - It has been said that you can never have too many friends, Virgo, but today you might wonder if perhaps you do. Your phone could be ringing off the hook. One person after another will be soliciting you for advice and your famous shoulder to cry on. Be patient. One day you may need that person to be there for you. Try to listen and keep your sense of humor about you.
Libra
Intelligent, kind, and always willing to put others before themselves, Libras value harmony in all forms. Ruled by Venus, the planet of beauty, Libra adores a life that looks good. As the master of compromise and diplomacy, Libra is adept at seeing all points of view and excels at crafting compromises and effecting mediation between others.
Sep 28, 2020 - A small gathering of some kind could attract you and your family tonight, Libra. Perhaps you will arrange to meet some friends there, if possible. You may feel good just being out with those you love, but you're likely to be tired by the end of the event. Make sure you fortify yourself with nourishing food during the day. Take care of yourself so you can have some fun.
Scorpio
Passionate, independent, and unafraid to blaze their own trail no matter what others think, Scorpios make a statement wherever they go. They love debates, aren't afraid of controversy, and won't back down from a debate.
Sep 28, 2020 - Too many phone calls may be on the agenda today, Scorpio. You might also have a few last-minute errands to run in your neighborhood. It won't be easy, probably because of unexpected delays, closures and traffic. Nonetheless, your sense of excitement and enthusiasm will help you tolerate conditions that would normally be very frustrating. Furthermore, you're having fun! Go to it.
Sagittarius
Independent and strong-willed, Sagittarius personalities are all about going off the beaten path. Sagittarius isn't afraid to step away from the pack and is a natural-born leader who goes after what he or she wants, regardless of what other people think.
Sep 28, 2020 - You may have lost your usual control of the purse strings and spent too much money lately, Sagittarius. Don't worry about it. It's all been for a good cause. It's nothing you can't handle, and certainly not enough to bankrupt you. The situation is only temporary anyway. The financial picture looks great for you in the months to come. Make the most of it!
Capricorn
Smart, hardworking, and fully in control of their destiny, a Capricorn will always get what they set their mind to, in both personal and professional life—no excuses. Capricorns may get a reputation as stubborn, but they simply know what they want, and also know how they wish other people would behave.
Sep 28, 2020 - Generally, you're a very sociable person, Capricorn, and today you won't want to slow down. Invitations to parties, from intimate coffee klatches to big neighborhood bashes, continue to come in, but you weigh the pros and cons of attending carefully now. Saying no goes against your nature because you don't want to miss anything. But right now, you must pick the most important to you and leave the rest.
Aquarius
Independent and enigmatical, Aquarians are unique. There is no one quite like an Aquarius, and because each is so incredibly individual, it can be tough to describe them as a group. Aquarians don't like labels, and may shy away from any adjective—even the good ones you might bestow upon them.

Sep 28, 2020 - You and other members of your household might suddenly decide to do one more thorough house cleaning, Aquarius. Usually this would be a good idea, but today it doesn't really need it, and you might work too hard and do too much. Do you really need to clean your closets now? Dust and vacuum, then spruce it up with some decorations, and that should be enough for now. Relax!
Pisces
Smart, creative, and deeply intuitive, Pisces can be close to psychic. Pisces feel things deeply and have incredibly strong gut reactions. A Pisces "knows" things from deep within, and can often judge whether a person or situation is good or bad.
Sep 28, 2020 - Too many people may be making demands on your time right now, Pisces. Some may have genuine concerns and need your assistance, but others have definite agendas that they really should deal with on their own. Use your intuition to tell the difference because you won't be able to help them all. A female friend might have the most urgent need. If you can only help one, help her.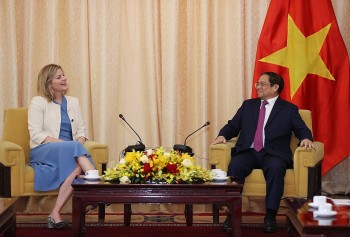 National
The Netherlands committed to cooperate with Vietnam, and together find innovative and sustainable solutions to accelerate green economy transformation.