Dead Tiger Found inside a Freezer in Ha Tinh Province
The body of a dead tiger, weighing 160 kilos, along with 34 kilograms of animal bones were found at a house in the central province of Ha Tinh on Thursday
The dead tiger and bones were found inside the freezer of 42-year-old Nguyen Van Chung in Ha Tinh's Huong Son District. A Thursday raid by the Hanoi environmental police and officers of Huong Son District had uncovered the animal remains, VNE reported.
Chung said he met a truck container driver at a restaurant in Huong Son District last year. When the man came by Chung's house, he asked him to keep a freezer containing animals used to make bone glue, even offering him money. Chung accepted.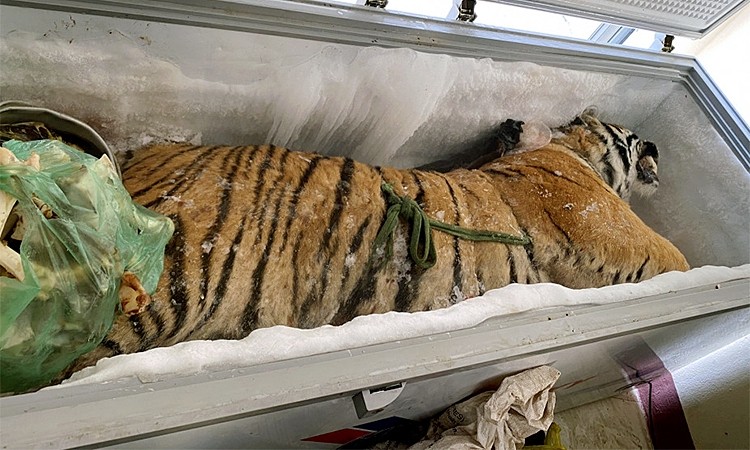 The body of a dead tiger and animal bones are found inside a freezer in a house in Ha Tinh Province, September 16, 2021. Photo courtesy of the police
About 10 days later, the man came by Chung's house with the freezer. Chung saw there was a body of a tiger and animal bones inside, so he initially refused to take it. The man then gave Chung VND9 million ($393.41), which made him change his mind.
It is not the first time police finds dead tigers in the central province of Ha Tinh.
In January, Ha Tinh environmental police department cooperated with police of Huong Son District to raid a house belonging to 49-year-old Dinh Nhat Nghe at night.
They found a large tiger, weighing over 250 kg, lying on the floor. Its hind legs were bound with chains and blood was oozing from its mouth. The police suspect that a large boiler nearby was being used to cook animal bones, said Vietnam Insider.
Nghe and his wife, Nguyen Thi Yen, were not present in the house during the raid. Three other people, including 16-year-old Dinh Nho Quyen, Nghe's son, said they had nothing to do with the dead tiger.
The following morning, the couple turned themselves in, saying they owned the tiger. They were reportedly investigated for illegally storing and butchering wild animals.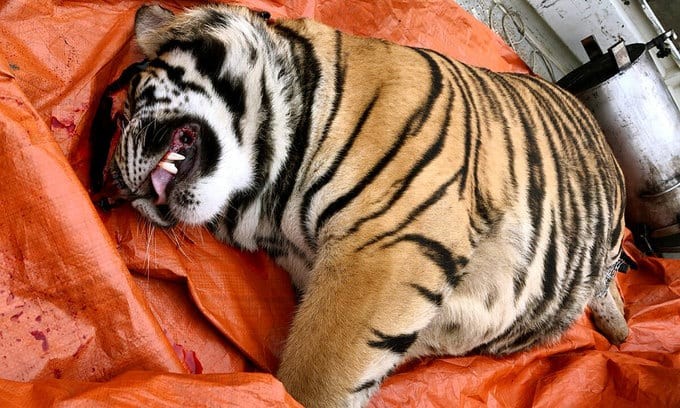 A freshly killed 250 kg tiger was found after police raided a house in the central province of Ha Tinh in early 2021. Photo: Vietnam Insider
Last month, 17 Indochinese tigers weighing 200 - 265 kg kept in the basement of two families in Nghe An province were rescued.
During the investigation, the families said they brought these tigers from Laos when they were still cubs, and kept them in small cages for several months. Feeding the tigers was insanely costly, and when the cubs became adult tigers, the families would sell them for money.
The police said the tigers were tranquilized and transported by trucks to an ecological area in Dien Chau (Nghe An) to be taken care of. The owners of the tiger farms are being investigated for illegal wildlife animals keeping.
This is the most serious and biggest illegal tiger farming case that have been discovered in Nghe An.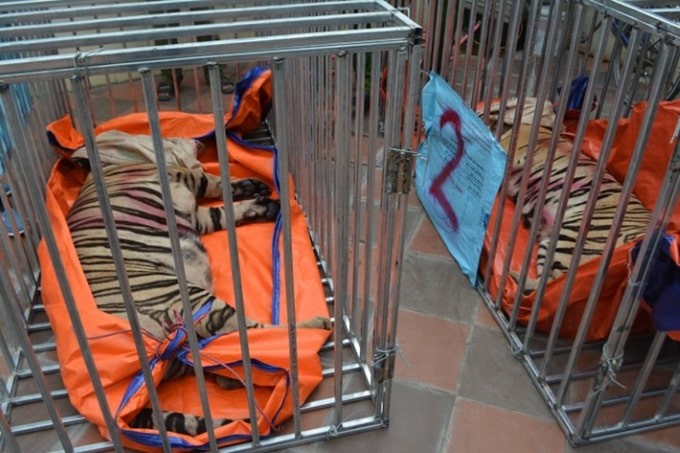 The tigers were tranquilized and transported by trucks to an ecological area in Dien Chau (Nghe An) to be taken care of. Photo courtesy of Nghe An Police Department.
Tigers are listed as endangered on the IUCN Red List. Their population is threatened by poaching for illegal wildlife trade, as some people believe their bones could be used to make traditional medicine to treat certain ailments.
Tigers are critically endangered in Vietnam, with only five thought to be left in the wild in 2016, down from 30 in 2011, according to the World Wildlife Fund.
Animal bones of certain species, including tigers and langurs, are thought by some in Vietnam to have medicinal properties.
It is illegal to hunt, kill, possess, capture, transport, or trade protected animals in Vietnam, with violations carrying penalties of up to 15 years in prison and fines of up to US$ 645,000.
National
The trip demonstrates Vietnam's proactivity in making responsible contributions to ASEAN and the international community in the context of the region and the world facing complicated developments and unforeseeable challenges.